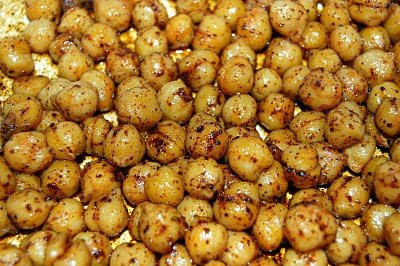 Want to make up for that overindulgent dessert or that chocholate bar?
When I first served this side dish to my husband, he was skeptical…he ate it because I told him it was good for him. Now he eats it because he really likes it.
For a different, easy, good for you side dish try Roasted Chickpeas.
Roasted Chickpeas
2-15 ounce cans of chickpeas (also called garbanzo beans)
3 tablespoons of olive oil (I like extra light olive oil)
1 tablespoon chili powder
1/8 teaspoon red pepper
sprinkling of salt and pepper
Drain and rinse the beans. Blot dry In a small bowl combine spices. In a mediun bowl coat beans with the olive oil. Add in the spice mix.
Bake in/on baking sheet or glass dish at 400 degrees for 15-20 minutes. Toss often.
Add additional spices to your liking