Chicken Cordon Bleu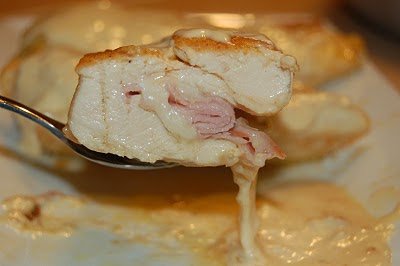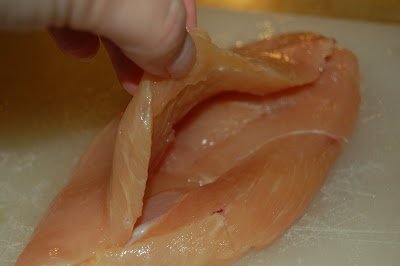 I think Chicken Cordon Bleu was the first "grown up" dish I ever made.
I remember it was my parents anniversary…I sent my parents an invitation to the "event" and told them to dress up.
I then set up a small table with linen's, china, crystal and candles in the living room.
When they arrived to my "restaurant" I handed each of them a menu, I had a helper who was the sommelier (complete with a white towel over his forearm…lol).
They were greeted, poured a glass of wine and handed a menu – the choice was Chicken Marsala or Chicken Cordon Bleu.
It was a lovely night complete with music and dancing.
I had hung a sheet across the opening to the kitchen but remember peeking out from time to time.
Funny how so many of my memories involve FOOD!!
Chicken Cordon Bleu
6 boneless chicken breasts
6 slices Swiss cheese
1/2 pound of sliced deli ham
3 tablespoons flour
1 1/2 tsp paprika
6-7 TBS butter
3/4 cup white wine
1 tsp of chicken bullion
1 TBS cornstarch
2-3 dashes of Tabasco (optional, but I think it gives a nice flavor)
1 cup whipping cream
Salt and pepper to taste
Mix flour, paprika, salt and pepper on a plate, set aside.
Trim chicken breasts, gently slice a pocket into the side of the breast cutting crosswise from right to left – do not slice all the way through.
Place a slice of cheese and the amount of ham you would like into each pocket, fold cheese in half.
Gently dredge each assembled breast in the flour mixture, set aside.
In a large frying pan over medium heat, melt 5 TBS butter, add the chicken, saute until browned all over. Add in the wine and simmer on med-low heat for 20 minutes or until cooked through (depends on the size of chicken breasts you use).
Remove from pan and cover with foil.
In a mixing cup, blend cream and cornstarch until smooth.
Add 1-2 TBS of butter to the pan and scrape down the pan, sprinkle in the chicken bullion, add in the cream mixture and Tabasco stir constantly until thickened.
Spoon some sauce onto serving dish, plate chicken and spoon some sauce over the chicken.
Enjoy!!
Colleen