Raspberry Butter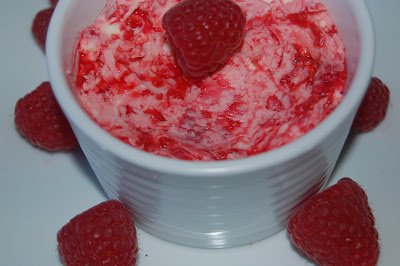 The kids and I made some Raspberry Butter in little crocks to give as gifts to the grandparents for Valentines Day.
They had fun making it and hopefully the recipients will enjoy spreading their gifts of Raspberry Butter made with little hands and love.
Raspberry Butter
1 stick butter, softened
2 1/2 tablespoons powdered sugar
1/2 cup fresh raspberries (about 18)
Let the kids smash the berries in a bowl, add in the softened butter and cream together. Add in the powdered sugar and mix until fully incorporated.
Scrape butter into a small crock or bowl and cover tightly with wrap. You could also form it into a log or a heart – your call. Place into the freezer for 1 hour then store in the refrigerator until ready to gift or use. Let the butter soften a bit prior to using.
Enjoy!!
Colleen