Shrimp and Pasta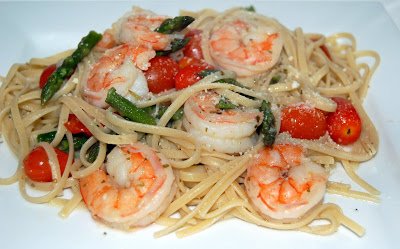 I love shrimp.
I love pasta.
Enough said!!
I could sing about it but trust me that would NOT be good!
Here is a very easy dish to throw together, serve with a nice Caesar salad, a hunk of crusty warm bread and a bottle of wine and you are good to go!
Shrimp and Pasta
1 pound of linguine (or your favorite pasta)
1 pound of raw shrimp, cleaned, shells and tails removed
1 pint of grape tomatoes
1 bunch of asparagus, trimmed and cut into 1 inch pieces
3 cloves of garlic, minced
Salt and pepper
4 TBS Butter
1 can (about a cup and 3/4)chicken broth
1/2 cup light olive oil, plus additional 2 TBS
1/4 cup grated Parmesan Cheese
Optional – red pepper to taste
Optional – 2 TBS fresh parsley, chopped
Cook your pasta according to package directions.
In a sauce pot, melt butter, add in the oil and 2TBS of the garlic and cook for about a minute. Add in the chicken broth and bring to a boil. Reduce by 40%.
Sautee 1 TBS of the garlic in 2 TBS olive oil for 1 minute over medium heat.
Add in asparagus, sautee for 2 minutes.
Add in Shrimp and tomatoes sautee until shrimp pinks up and tomatoes begin to burst.
Toss pasta with the sauce, add in the Parmesan cheese, sauteed shrimp, tomatoes, asparagus and salt and pepper (red pepper and Parsley if adding) toss well.
You could also throw in some capers, olives, sauteed peppers – whatever you happen to enjoy in your pasta or happen to have in your pantry.
Enjoy!
Colleen