Grilled Chicken Sandwich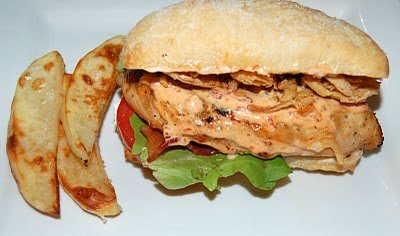 I threw some stuff together that I had on hand for a spur of the moment lunch by the pool with friends and this Grilled Chicken Sandwich was the result, I really enjoyed it and hope you do too! It was big bites of messy goodness.
Grilled Chicken Sandwich
4 boneless chicken breasts
8 slices bacon, cooked (apple wood smoked bacon or whatever you happen to have on hand)
4 oz garlic and herb goat cheese
Rolls (I used Portuguese)
Tomatoes
Greens
Sauce
Season your chicken breasts with a bit of salt and pepper and grill until cooked.
If your chicken breasts are large, slice them in half lenghtwise prior to grilling.
Once removed from the grill, let the chicken rest for 5 minutes.
Assemble the sandwiches by smearing the bottom of the roll with goat cheese and the top of the roll with the sauce.
Place greens and tomato on top of the bottom of the roll, place the bacon next, followed by the chicken.
Drizzle the chicken with a bit of sauce. Sprinkle some crunchy onions atop the chicken and smash the sandwich down a bit.
*Make the sauce by combining mayonnaise and Asian chili with garlic sauce, mix well.
1/2 cup mayo
Dash of lemon juice
1-2 TBS Asian chili with garlic sauce
By the way as you can see I use Asian chili garlic sauce in a number of my dishes. It's one of my favorite ingredients for sauces and marinades. I just love the flavor it gives. If you are unfamiliar, here is a link to a photo of it on Amazon. Here. I buy it in the supermarket. 2 out of the 4 markets I shop at carry it, in the international section with the Asian products.
You will soon see how awesome it is!
Enjoy!
Colleen