Roasted Butternut Squash and Bacon Pasta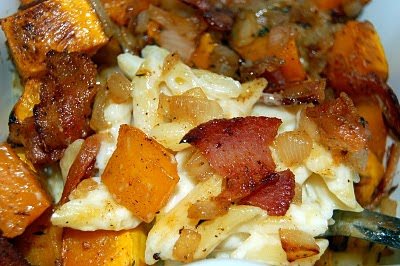 OK, OK I will accept that Fall is here…I was really trying to hold on to Summer but guess I have to wake up and smell the Mums!
I love Fall, take today for example, does it get any more beautiful out, does the sky get bluer, the breeze better…don't think so! Makes me want to hop on a horse and ride, pack up a fantastic picnic for family and friends, or roll around on a hillside with my husband! Was that TMI?
Anyway, I had purchased a few beautiful butternut squash (squashes ha ha not sure what the multiple is there) and came across an very interesting recipe that I knew I immediately need to try, so I dropped what I was planning for dinner…where I was just going to roast some squash as a side and tried this.
Gotta tell you…I loved it…my husband hated it…so much so he cooked up some Bagel Bites after dinner HA!!! The kids liked it. My husband is NOT a fan of butternut squash…but I will keep trying to convert him!
OH and here is a huge tip for you….I have wondered how folks don't loose a finger or two working with butternut squash and pumpkins. I Placed 1 squash in my microwave for 3 minutes (I was scared it may blow up so the first one I did in 1 minute intervals…the second I did 3 minutes straight…no explosion!) and it completely changed our working relationship!!!! Smooth sailing, believe me for this alone it was worth a post…tried it with pumpkin…again waiting for an explosion…but it didn't really help there.
Roasted Butternut Squash and Bacon Pasta
adapted from Cooking Light
3 cups of cubed (peeled) butternut squash
1 tsp olive oil
2 TBS honey
Few dashes of salt
8 slices of hickory-smoked bacon slices (raw)
1 cup diced onion
8 ounces uncooked mini or full sized penne
1/4 cup flour
2 cups 2% milk
1 cup sharp provolone cheese, sliced into thin strips
1/3 cup fresh grated Parmesan cheese
1/2 tsp nutmeg
Few dashes of Tabasco
Preheat oven to 425 degrees
Toss your squash cubes with a bit of olive oil. Place squash on a foil-lined baking sheet and sprinkle with salt. Bake at 425° for 30 minutes or until tender and lightly browned. Drizzle with the honey after you remove it from the oven, toss.
Cook the bacon in a large nonstick skillet over medium heat until crisp. Remove bacon from pan, reserving 1 1/2 teaspoons drippings in pan; crumble bacon. Increase heat to medium-high. Add onions to pan; saute 8 minutes or until tender. Combine squash, bacon, and onions; set aside.
Cook pasta according to the package directions, omitting salt and fat. Drain well.
Combine flour and 1/2 teaspoon salt in a sauce pan over medium-high heat. Add in 1 cup of the milk whisking constantly, slowly add in second cup of milk; bring to a boil whisking the whole time.. Cook 1 minute or until slightly thick, stirring constantly. Remove from heat. Add in provolone and Parmesan, stirring until cheese melts. Add pasta to cheese mixture, tossing well to combine. Spoon pasta mixture into an 11 x 7-inch baking dish lightly coated with cooking spray; top with squash mixture. Bake at 425 for 10 minutes and serve.
Your children may enjoy a different cheese than the sharp taste of Provolone, so go ahead and experiment. I love the sweet and savory tastes of this dish!
FYI: It reheated well the next day for my lunch, tasted just as good.
Also I roasted the Squash with a number of sprigs of fresh Thyme…but don't think it was necessary…either way. If you are growing it go for it but save the $2.99 the dish really does not need it.
Enjoy!
Colleen