Spinach and Sausage Pasta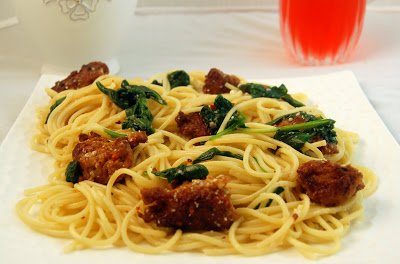 Recipe #17 In my 40 Day Challenge
Jen from the site How To: Simplify is a master at making everything seem simple and she takes beautiful photographs. I saw this dish on Twitter and giving my love of Pasta, I knew I had to try it!
For most of my life I have not wanted anything to do with pasta and meat on the same plate..why you ask?
Well, I am convinced my Mom was trying to kill me off many, many years ago…lol!
I am the oldest of 5 and BOY was I ever a picky eater, I wanted nothing to do with so many foods. I can not even go into detail with you (ok maybe just a little…how about me clogging up the toilet with the meat that I would hide in my hands or mouth then spit out and flush away…or so I thought…or me hiding meat and veggies in the flower beds – can you imagine the smell…starting to get the picture??)
One afternoon, I came home from school and the dreaded pressure cooker was doing it's thing on the counter…I knew I was doomed! Lucky for me (yeah right) my Mom let me have the leftovers from the previous night…Pasta shells stuffed with ground meat…funny how I can't recall her ever making them before…anyway…I am sure you can guess what happened – one seriously bad case of food poisoning, I thought I was going to die…really…and it took me about 20 years to ever attempt to eat meat and pasta combined again!! It's ok mom….I know it wasn't your fault!! Oh, and Mom and Dad sorry about all the trouble I caused when it came to food!!
This dish really was simple and my husband and I enjoyed it, hope you do too…Thanks Jen!
Spinach and Sausage Pasta
-How To: Simplify
•1 package thick spaghetti noodles
•2-3 tablespoons extra virgin olive oil
•5 mild Italian sausages, casings removed and cut into 1 inch pieces
•3-4 tablespoons butter
•1/2 cup shredded Parmesan cheese
•1 package (10 ounces) frozen spinach, thawed
•1/2 teaspoon Oregano
•1/2 teaspoon Parsley
•1/2 teaspoon Garlic Salt (depending on taste)
•Dash of salt (depending on taste)
•Dash of Cayenne Pepper (depending on taste)
Fill a pot with water and bring to a boil. Put a dash of salt into the boiling water and then add the pasta. Cook the pasta according to the directions.
Pour olive oil into a frying pan, heat the oil and then add the sausage pieces. Cook the sausage thoroughly and then remove and set the sausage on paper towel and allow to drain.
Drain the pasta and then return to the pot. Add the spinach, sausage and remaining ingredients into the pot and stir the noodles to coat.
Enjoy!!