Endive with Sweet Potato, Bacon and Chives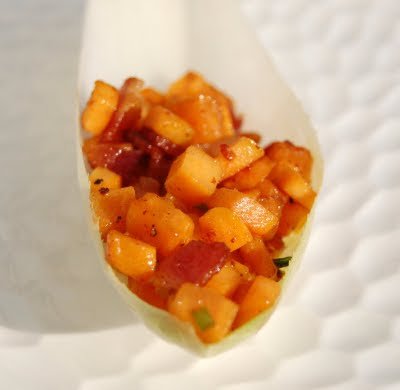 This past weekend, I headed to Washington DC to an event called Eat, Write, Retreat. I didn't know a soul going but you know what….with food bloggers…it doesn't matter!
We share a passion for food, the excitement of blogging and the camaraderie of friends. The weekend did not disappoint! (Thank you Casey and Robin!)
I learned so much, met many wonderful people, tasted new foods and came away richer in many ways.
An immediate highlight for me was discovering a new favorite appetizer during the Friday afternoon meet and greet reception. One of the sponsors for the event was California Endives and they had a local chef (Chef Bernard)prepare a fantastic appetizer featuring endive that I was smitten with – Raw endive loaded with bits of sweet potato and bacon. It was a party in my mouth!
I thought about it all weekend long. The crunch of the endive, the sweetness of the potatoes and the saltiness of the bacon were just perfect, so you know I just had to replicate it once home.
I have no idea how close this is to the original, but both my husband and I enjoyed a number of these beautiful "boats" with our dinner. They turned a simple dinner of grilled pork chops into something special.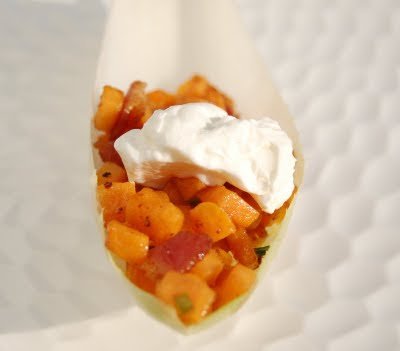 Add a dollop of sour cream and wow, it gets even better!
Endive with Sweet Potato, Bacon and Chives
2-3 nice heads of red or white endive
2 sweet potatoes
8 slices bacon
salt and pepper to taste
1 1/2 tsp brown sugar
2 tsps snipped chives
Sour Cream for topping
Pierce your cleaned sweet potatoes with a fork a few times and place in your microwave for 3 minutes (flipping potatoes over halfway through).
Remove from the microwave and allow to sit for a few minutes.
Dice, or use kitchen scissors to cut your bacon into small pieces, place in a large frying pan and cook over medium high heat until crispy, remove leaving grease in the pan. Peel your potatoes, slice them longways about 1/4 inch thick. Then, slice them again into strips (think julienne) followed by chopping into the small squares as you see above. Throw them in the frying pan and saute in the bacon fat. Moving them around carefully every so often with a spatula. Add in salt and pepper and brown sugar and continue cooking until tender. If your bacon yielded little grease you may need to add a few drops of olive oil. Add in the snipped chives and cook for another 2 minutes, serve in the endive leaves topping with sour cream.
Serve warm or at room temperature.

Now back to the weekend:
We ate, we learned, we styled food, we took a fun cooking class at CulinAerie (endive 3 ways anyone?) and we laughed and then ate some more! It really was a laid back yet enriching experience.
10 things I learned at Eat, Write Retreat 2011!
What I have always called Belgian-style endive (en-dive) is actually pronounced
ahn-deeve. Many of us were correcting ourselves all weekend long; as a matter of fact I am still correcting myself! lol!
Desserts as cocktails…Rock!
"Do what you love…we all have something to offer…just be"
– Shauna aka Gluten Free Girl
I ♥ freshly made Naan and Pupusa!
Swag is fun! Especially when it is from Calphalon and OXO!!
Be protective of your brand
– Jennifer Perillo
There are so many amazing food bloggers, each with a different reason for blogging. I just love hearing about what each one (whose path I cross) is passionate about, as well as why they do what they do.
Be a friend to other bloggers (I so agree, we are all here to support one another!)
– Pam Anderson
There is a candy called a Goo Goo Cluster and its darn good…who knew?
Cocktails as a dessert are really, really good!!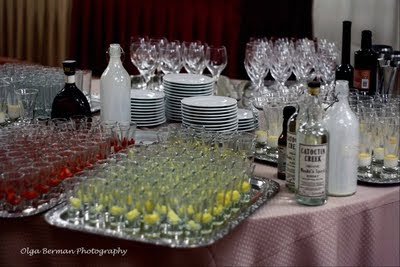 I have to give a couple of shout outs…McCormick and Schmicks (home of my 9 year old sons absolute #1 ranked cheeseburger in the world…really) treated us to a fantastic lunch. The Wild Alaskan Halibut and the Strawberry Rhubarb Shortcake dessert were fantastic (no matter who you are I just will never like beets…never…however many I saw just adored the Anchovy and Roasted Beet Salad). Good food, good wine and good company – can't beat it! You just have to love a restaurant who works with local seafood purveyors to highlight fresh seafood!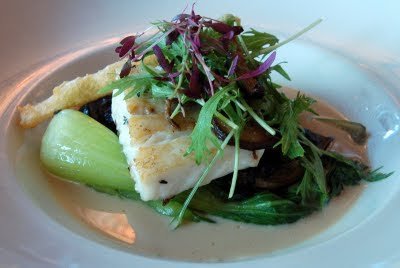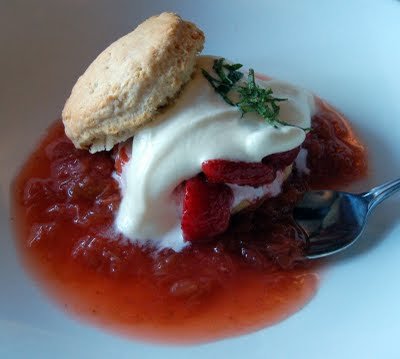 (I could have went swimming in that sweet, silky rhubarb sauce!)
I have always been mad for black olives, who knew there was a green olive out there that I like! Thanks for making me try them Lindsay Olives!
I am about to have a new favorite wine!! Mirassou Moscato – Hurry up and get it to PA please!!
Kelly from Way More than Cheesesteak the cutest roommate a gal could ask for!
Mike from Verses From My Kitchen thanks for the camera pointers! One of these days I will "get it" lol
Lauren from Healthy-Delicious I had a blast walking (and eating) around DC with you!
Ethan from Tastes Better with Friends – I am on a mission to find you a lady! Any guy as nice, cute and funny as you…who cooks too should have a lady!
Big Summer Potluck may hold the key!!
I know it was a super long post, so much to share, I only glazed over it!! Enjoy the Sweet Potato Bacon filled Endives…ahem…ahn-deeeeeves!
One more thing!! Calphalon wants to continue the fun so they are allowing me/us to extend a 10% off code to YOU!! Is their a piece of Calphalon or a set you have been dreaming about? If so now is the time – use this code for your own sale!! C95926 And use this link to check out some of the amazing products Calphalon has that sets them apart from the rest!!
*Clearance Items and Gift Certificates do not qualify. Excludes John Boos & Co. Cannot be combined with other special offers or applied to previous purchases. Terms subject to change. Offer valid through June 6th, 2011.
*Above photo of the cocktails as desserts taken by Olga of MangoTomato.