Blueberry White Chocolate Muffins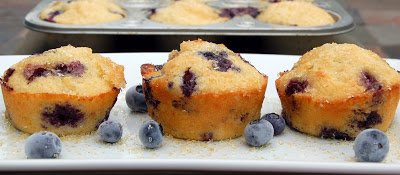 In my house, muffins of some sort make a weekly appearance. The four of us are crazy for a good muffin. Between the fun we have making them together, the anticipation of what lies ahead as the heady aroma fills our home, the deliciousness of a hot-from-the-oven muffin and the thought of more later in the day or the following day – why not!
And you know what, I really, really think, my kids will think of me no matter how old they get as they continue making muffins down their road of life. The whole process is just filled with love 🙂 And THAT is what excites me about cooking the most. Not the result of what we make, or why we had to make it but the act of working together to create something – these are precious memories for me, and I hope for my kids as well.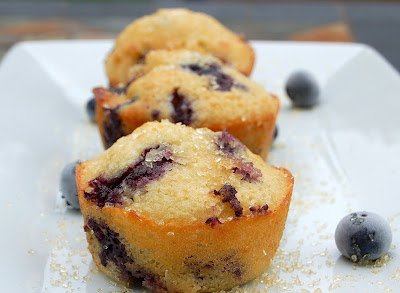 What's one of your favorite kitchen traditions with your kids or grandkids?
These beautiful Blueberry White Chocolate Muffins came from an cookbook I received a couple of weekends ago when I attended The Big Potluck. The book is titled Flavors of Ireland.
I own a number of Irish cookbooks, but this one had a bunch of recipes I can't wait to try out – the muffins being one of them. I just loved the idea of the addition of the white chocolate. The recipe comes from Lough Eske Castle which dates back to the 1400's – Any recipe that comes from a castle has to be great right?? LOL! And the kicker is I have seen this very castle with my own two eyes!! It's located in the same area I spent a summer in as a teen – how about that!!
We shamelessly devoured these Blueberry White Chocolate Muffins. I don't know about you but whenever I grab for a muffin after it has cooled, I always pop it into the microwave for 30 seconds or so, just like I do with my Irish Soda Bread (which I happen to be jonesing for and am making today…yeah). I think that's what the I mainly use a microwave for – seriously!
Blueberry White Chocolate Muffins
2 cups flour
3/4 tsp baking powder
1/2 tsp baking soda
1/4 tsp salt
3/4 cup granulated sugar
2 large eggs
4 TBS butter, melted
1 1/2 cups buttermilk
1/4 cup white chocolate, melted
1 tsp. lemon zest
1 1/2 cups blueberries
Preheat your oven to 400 degrees. Spray your muffin pan with non-stick cooking spray.
In a large bowl, combine the flour, baking powder, baking soda, salt, and sugar. Set aside. In another large bowl, whisk together eggs, butter, and buttermilk until smooth. Stir in the flour mixture then stir in the white chocolate, lemon zest, and blueberries. Bake for 20–25 minutes. Remove from the oven and let cool for 5 minutes or so, then gently run a butter knife around each muffin and gently pop each one free, place on a wire rack for 10–15 minutes or until cool….if they last that long wink!!
Cooling muffins on a rack, I think, is key. That way you don't end up with a soggy bottom.
Enjoy!!