I've always said sweet & spicy should have been the name of my food blog, I can't get enough of that flavor profile! These Sriracha Honey Chicken Mini Chicken Meatballs are a perfect example!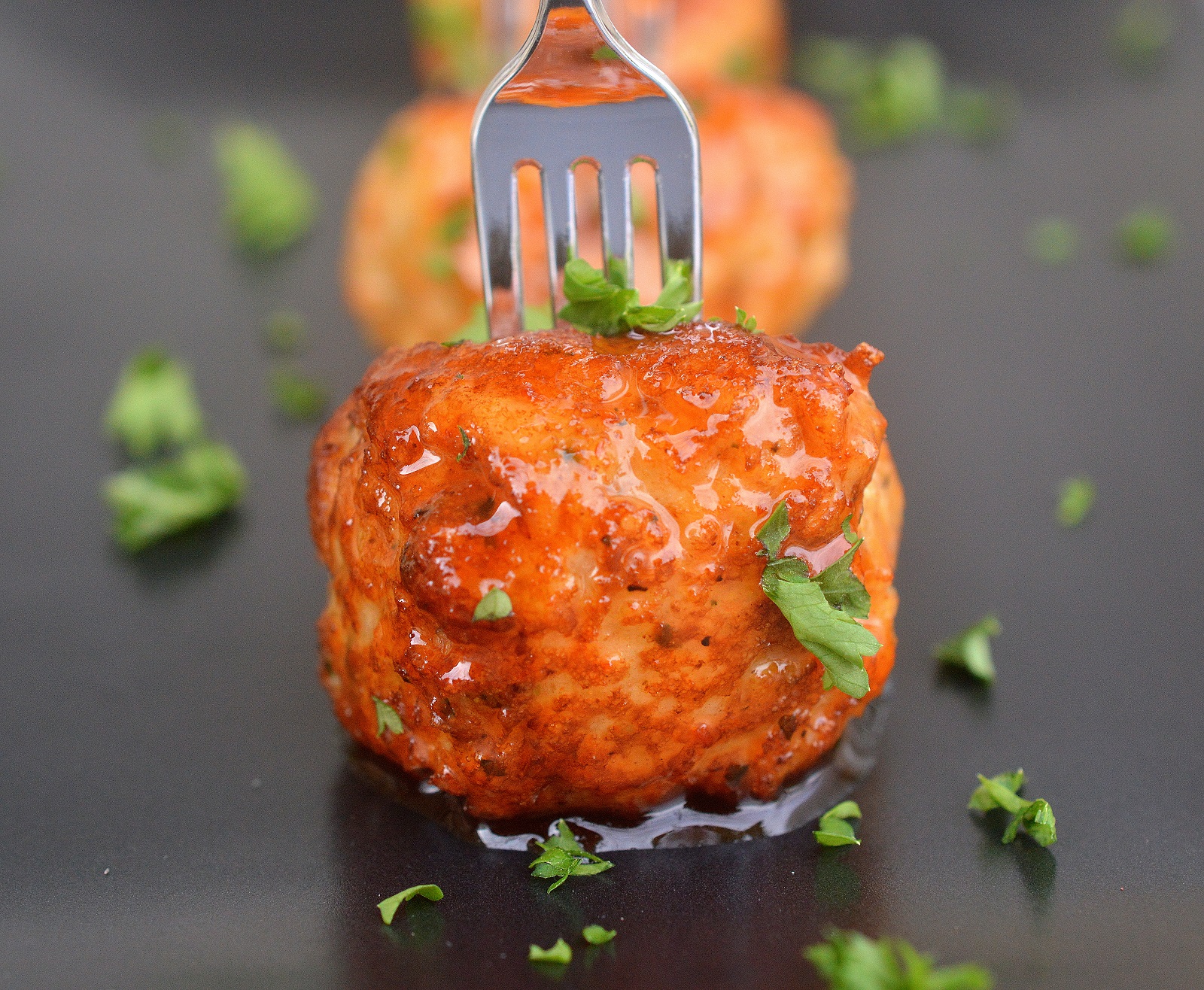 In addition to being full of flavor, these Sriracha Honey Mini Chicken Meatballs are dairy free thanks to Good Karma Foods Dairy Free Probiotic Drinkable Yogurts.
Both of my kids have a number of food allergies.  My oldest had a milk allergy until he was about 5 years old. That was really tough, especially when he was an infant, and it actually was a bit of a struggle to find out just what was going on with him back then. I am completely empathetic to parents as they struggle with kids with dairy allergies as well as the litany of other food allergies that they may be dealing with.
Today I teamed up with Good Karma Foods, maker of multiple varieties of Flaxmilk, Dairy-Free Yogurts and their new Dairy-Free Probiotic Drinkable Yogurt's. All of Good Karma Foods products are GMO Free, dairy free and have a pretty good shelf life! They are a great option when searching for foods you feel good about serving your family, especially when allergies or health concerns come into play. Their new Dairy Free Probiotic Drinkable Yogurt comes in 4 flavors and in quart size! Which is fantastic for drinking, adding to smoothies and using in recipes like this one! Plenty to go around!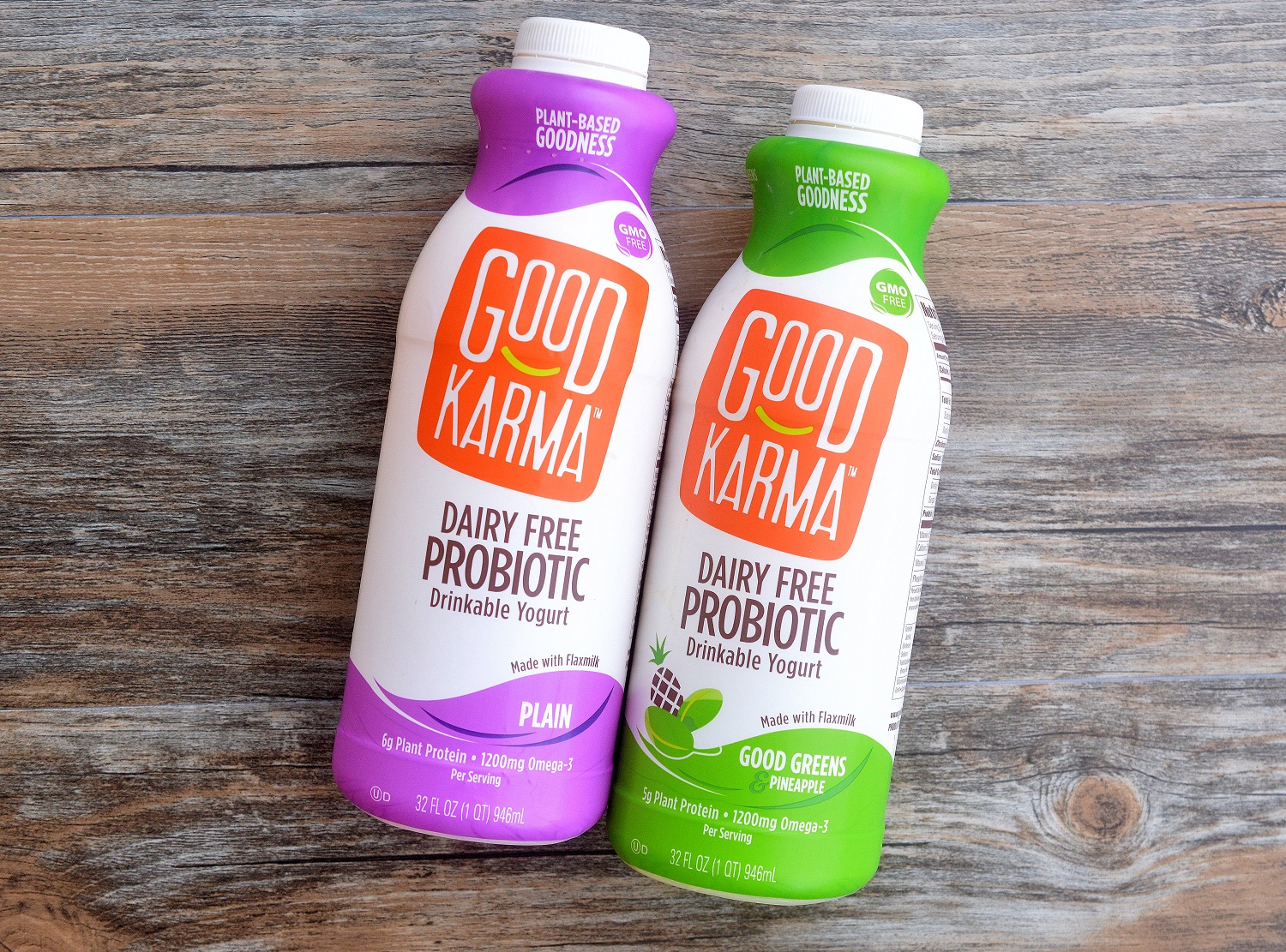 I decided to make a couple of versions of these chicken meatballs. I made one that younger kids could think are chicken nuggets (and my youngest said that was what she thought they tasted like). Kids would likley eat them plain however if they wanted a dipping sauce you could make a simple yogurt sriracha sauce or they could dip into honey or honey mustard. Adding Good Karma Dairy Free Probiotic Drinkable Yogurt to the chicken keeps them nice and moist as they cook.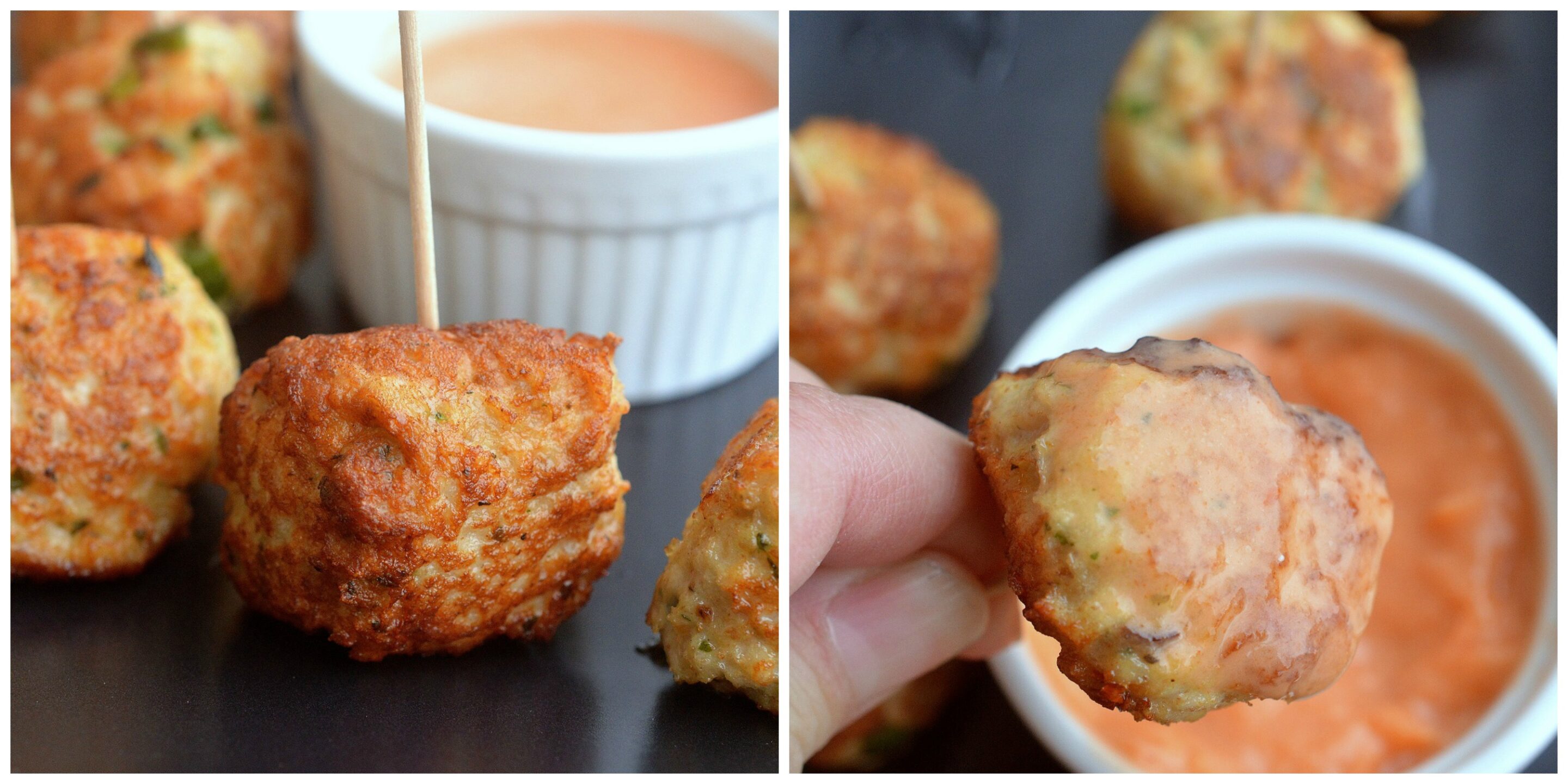 Last weekend, my daughter had a new friend over who happened to be lactose intolerant. Both the Sriracha Honey Mini Chicken Meatballs and the "chicken nugget version" came in handy for her, she tried both. I find it interesting that the older my kids get, the more I find out about both dairy and other food issues their friends have and that the kids with dairy issues often "blow them off" and eat things with dairy anyway, then pay for that choice later.  Maybe because its not life-threatening like a nut or seafood allergy can be, however I want to accommodate visitors any way I can and I would hope other parents would want to do the same for my children. So I am always happy to find Brands that not only are allergy-friendly, but taste good and are made well like Good Karma Foods.
The Sriracha Honey Mini Chicken Meatballs go great over rice, on their own with a salad or as a party appetizer. I baked a batch as well as fried a batch. Don't fear frying these. All you need is 2 TBS of grapeseed oil (you can also use olive oil) and you get a wonderful crisp outside. Turning them throughout the cooking process gives them a nice even crust (which is why you can pass them off as chicken nuggets to the kiddos).
The batch I baked in the oven tastes good, really good and full of flavor. However they are only browned on the bottom.  I prefer the look of the fried ones, they also are a bit moister and the browning is even throughout the meatball. Your call.
Check out the Good Karma Foods product line. My daughter and niece are enjoying the new Dairy Free Probiotic Drinkable Yogurts. Their favorites are the Strawberry and the Pineapple!
Good Karma Flaxmilk:

Our Flaxmilk will have you hooked on that tiny but mighty seed. Made with cold-pressed flaxseed oil, Good Karma Flaxmilk has the same calcium and vitamin D as dairy milk, plus boosts your well-being with 1200mg of Omega-3s in every creamy, delicious and versatile sip.

Good Karma Flaxmilk + Protein:

It's got all the good stuff of our original Flaxmilk line, and allows you to plus-up your nutrition with 8g of plant-based protein, the same amount of protein as dairy milk.

Good Karma Probiotic Drinkable Yogurt:

Sip a little smarter with these first-of-their-kind Drinkable Yogurts that provide 5g of plant-based protein, 1,200mg Omega-3s and seven live and active cultures. Smooth, creamy and so good, the four flavor varieties will activate goodness through a happy gut. Available in Plain, Strawberry, Blueberry and the Good Greens with Pineapple (which was surprisingly tasty!).

Good Karma Dairy Free Yogurts:

We've packed as much goodness as possible into a little container. Our crazy-delicious and spoonable Dairy Free Yogurts pack 5-6g of plant-based protein, 800mg Omega-3s and seven live and active cultures per serving. Available in five of your favorite flavors, these yogurts are also vegan and all allergen-friendly. So go ahead and dig in! Available in 
Good Karma Foods products are available nationally in natural food stores, mainstream supermarkets and superstores  like Giant, Whole Foods and Sprouts. You can find a store near you by using their online store locator HERE .
Print at home coupon for $1.50 off any ONE (1) Good Karma Foods® Dairy Free Flaxmilk or Probiotic Drinkable Yogurts. (The image it shows is just Flaxmilk, however the coupon will work on the Probiotic Drinkable Yogurts as well.)
Follow Good Karma Foods on Facebook, Instagram, Twitter and Pinterest for some amazing recipes as well as special offers and news!
I also have a GIVEAWAY!! 
One of you will win a swag bag of Good Karma Foods items including 10 coupons for free product!
Valued at over $75.00
Good Luck!!
Disclosure: Both this post and this giveaway have been sponsored by Good Karma Foods.
a Rafflecopter giveaway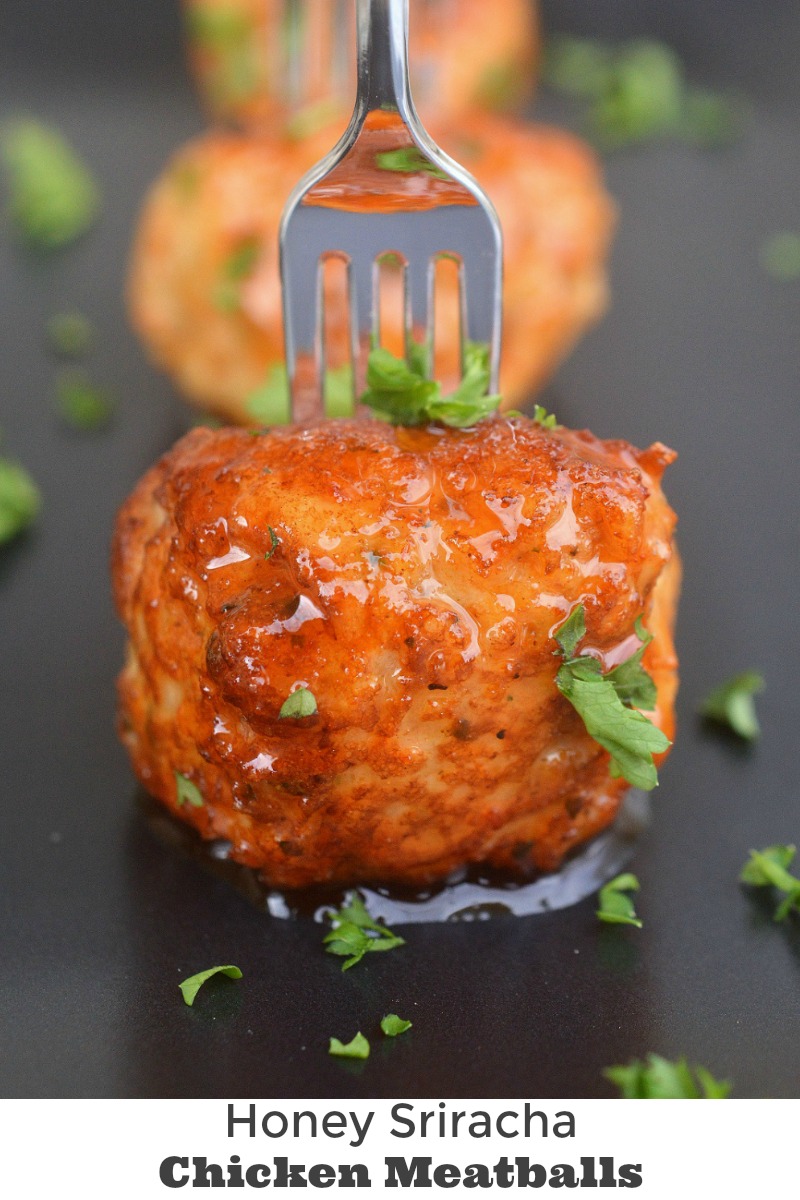 Sriracha Honey Mini Chicken Meatballs
Ingredients
For the Meatballs
1 pound ground chicken
½ cup breadcrumbs
Salt & pepper
1 small egg (or half a larger egg)
2 TBS Good Karma Plain Probiotic Drinkable Yogurt
A bit of lemon zest
1-2 TBS chopped parsley
2 scallions sliced thin
1 TBS soy sauce
1 TBS garlic paste (or 1 clove of garlic, minced)
Pinch or two of red pepper flakes
For Sriracha Yogurt Sauce (for the kids)
¼ cup Good Karma Plain Probiotic Drinkable Yogurt
½ TBS or more to taste Sriracha
For the Sriracha Honey Glaze
¼ cup Honey
2 TBS Sriracha
1 tsp Worcestershire
Instructions
Combine all ingredients in a small bowl and mix well.
Allow the mixture to chill for 30 minutes or more.
Roll into small balls about 2 inches in diameter. Mixture will be a bit sticky but it works.
Heat 2 TBS grapeseed oil in a nonstick skillet and fry balls until browned on all sides and cooked through, about 5-7 minutes. Alternatively you can bake the meatballs on a greased baking sheet at 375 degrees for 12 minutes, however in my opinion they just taste better fried because of the browned edges
Serve alongside the Yogurt Sriracha Sauce or glaze with the Sriracha Honey Glaze.
To make either the Yogurt Sriracha Sauce or the Sriracha Honey Glaze, simply mix the ingredients until fully incorporated in a small bowl.
Notes
Notes: Ground chicken varieties can vary. If your chicken is too wet, feel free to add in additional breadcrumbs. Just not too much or the meatballs may be dry. Even though the mixture seems wet and sticky, by chilling the mixture or the balls after you roll them, it will ensure they hold together nicely! You can even pop either the mixture or the balls in the freezer for a bit to rush the process.

Also feel free to use ground white chicken or dark or like typically I do, a mixture of the two.
Enjoy!!