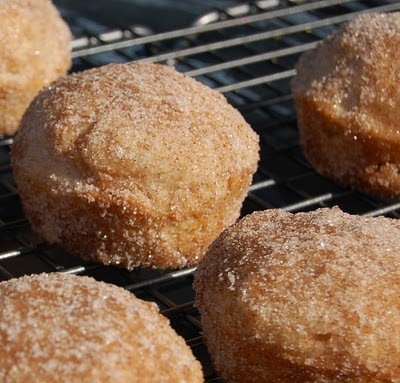 I am one of those kitchen cooks that just whips stuff up, spur of the moment or based on a memory or thought. I eat something out and think I can make this…or if I made it I would have done x, y or z. Since starting this site and becoming aware and apart of the online "Foodie" world, I am amazed at the wonderful offerings and creative dishes from the many talented food blogger whose paths I have crossed. I really don't have people in my life that are passionate about cooking, coming up with new dishes or, trying many new recipes – no one I would really label a "Foodie" so to me, it was and is amazing inspiring and fun to find it all in an online community. That coupled with a TON of cookbooks on shelves, in cabinets, in boxes in my house and I could easily cook up a new dish (or two) every day for the rest of my life…if I only had the time that is…that and one heck of a metabolism lol!
Case in point…these Donut Muffins from How To: Simplify I first tried these last Summer and they have become a staple around my home. We can not get enough of them! Yest I have made donuts before, muffins before, even little donut holes with Auntie Anne's Pretzels in mind but none ever compared to these – Thanks Jen!
About 8 years ago my family and cousins had a web site developed by one of my brothers and one of my cousins which enabled us all to keep in touch and entertain one another – you could post articles, pictures etc. It never took off, guess most of us were to busy or maybe it was a bit ahead of it's time for of us to see the value in it.
The one (and I am sorry to say only article I posted (sorry Ed) was one titled "30 New Recipes in 40 Days". My thought process was that most people stick to what they know in the kitchen – you have your staples and often don't venture to far away from them unless you are hosting a party, event or get inspired. Sooooo I challenged myself back then to make 30 new recipes in 40 days. I cooked around a baby, work and all that life throws at us and came up with some new favorites. I am feeling that urge again. So beginning on March 7th I am going to do this again – I can't wait to see what new staples and surprise favorites I come across!
Anyone want to join in the challenge? Stay tuned!
Colleen