Apple Nachos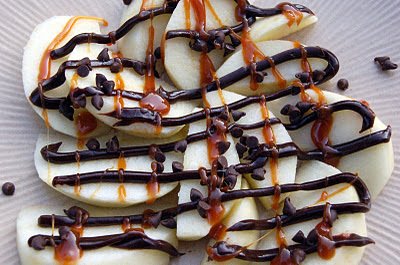 I don't know about you but I am always looking for fun food for my kids. I love to surprise them with new foods, fun foods or food they can help whip up.
I have seen these Apple Nachos all over the internet lately, so we had fun making (and eating them). I think food that is a "project" first is extra fun for the kids...it's a craft AND a treat! Have fun with these Apple Nachos!!
No real recipe here...just grab a couple of apples and raid your pantry for add-ins such as caramel, hot fudge, mini chocolate chips, raisins, nuts, granola or anything else your kids might get a kick out of. Maybe even slightly melt a little peanut butter and/or fluff throw it in a little sandwich bag, snip off the end and let the squeeze away (just though of that now...sounds fun) and then why not add a few rounds of banana. Let me know what your kids come up with on their Apple Nachos! 🙂
OK...I think I need to grab my kids and head to the kitchen now!
Enjoy!!