Bacon Wrapped Chicken and Shrimp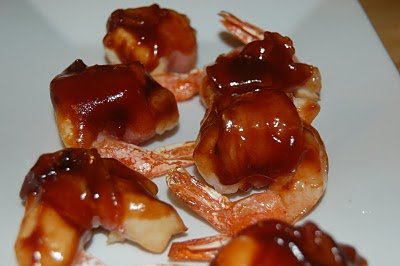 I don't know about you all…but I am beat!! I think we need a holiday the day after Christmas to recuperate. 2 weeks ago I came down with Shingles (I am too young for that!!) and let me tell you it was and is no fun…no fun at all. I called my husband the morning after the weirdness began to say I was on the way to the doctors…he was like whoa…you are going to the doctors?? I have been to a family doctor once in 10 years prior to that lol…so you know this was painful!! One of my brothers worked on the vaccine for 2 years…how ironic that his sister gets it…where's the karma…lol!!
Apparently a bunch of folks have come down with Shingles this year and an unusual amount were in their 30's and early 40's – wonder what's up?
Well 100% or not, the show must go on!! So I hope everyone out there has an absolutely wonderful, warm and tasty Holiday Season! Enjoy your families, friends, a cocktail or two (or three or four) and eat all the cookies you want!
Thanks for being so awesome!!
Here is a fun app that my sister whips up often; Barbecue Bacon Wrapped Shrimp and Chicken. The chicken adds an extra dimension, so stinkin' good!!
Bacon Wrapped Chicken and Shrimp
2 boneless chicken breasts
1 pound large raw shrimp (21/20 or 16/20), peeled and deveined
1 package of bacon
Your favorite BBQ sauce
Wooden toothpicks
Cut chicken into 1-inch pieces, set aside.
You can choose to leave the tails on or off the shrimp, your preference. I usually leave them on for easier pick up.
Depending on the size of the bacon you are using, you may want to cut the slices in half. To much bacon wrapped around will not cook evenly.
Grab a shrimp and a piece of chicken, press them together and wrap a piece of bacon around securing it with a toothpick. Place on a broiler pan or baking sheet. Repeat.
When you cook these, the bacon, chicken and shrimp will fuse together so if you think that you hadn't secured each piece perfectly, it will be fine in the end.
Bake at 400 degrees for about 5 minutes, gently turn over, bake for an additional 5 minutes and finish under the broiler for a minute or two if you want it crispier.
Remove from the oven, gently remove the tooth picks, and brush with warmed BBQ sauce.
Have an additional small bowl of the sauce nearby for those that may want a bit more.
Enjoy!