BBQ Beer Glazed Chicken Skewers with Sriracha Candied Bacon
Are you ready for a delicious Grilled Chicken Recipe
and an even better Giveaway?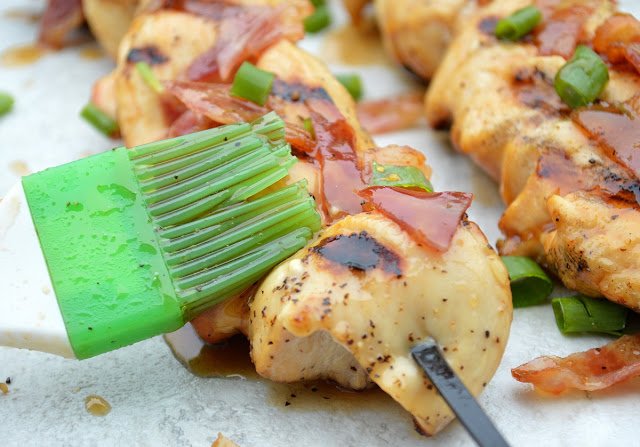 It's grill season all across the country now.  The smells wafting around our neighborhoods are nothing short of intoxicating! If you are a reader of my site, you know I adore both grilling and eating food pulled hot from the grill!  Mmm-mmm-m…almost nothing tops that in my book!
One of the biggest grill days of the season is almost upon us….Fathers Day!  What dad wouldn't appreciate sitting back with cold beer in hand, letting someone else make him some delicious grill-grub!
I made some Beer BBQ Glazed Chicken Kebabs and paired them with Pig Candy aka Candied Bacon!  Bacon & chicken are always great together and I kicked it up a bit with some Sriracha, then I even went a little crazy and threw some Feta cheese on some of the skewers, which I totally dug! Sweet, salty & spicy?? I'm in! 

Have you ever had Candied Bacon before? If not you are in for a treat, get my recipe for Sriracha Candied Bacon here.  
To help you get ready to celebrate Fathers Day (or grill season in general), I gathered
9 fantastic food blogger friends who each came up with  recipes that are sure to please any man….we also have an incredible giveaway that will make any dad have a #BetterFathersDay!
Ready?? 
We are giving one lucky winner a grill, and not just any grill a top of the line SABER Cast 500 Grill, with a cover and a set of SABER BBQ Tools – a prize worth $1140.00.  
You can say wow now!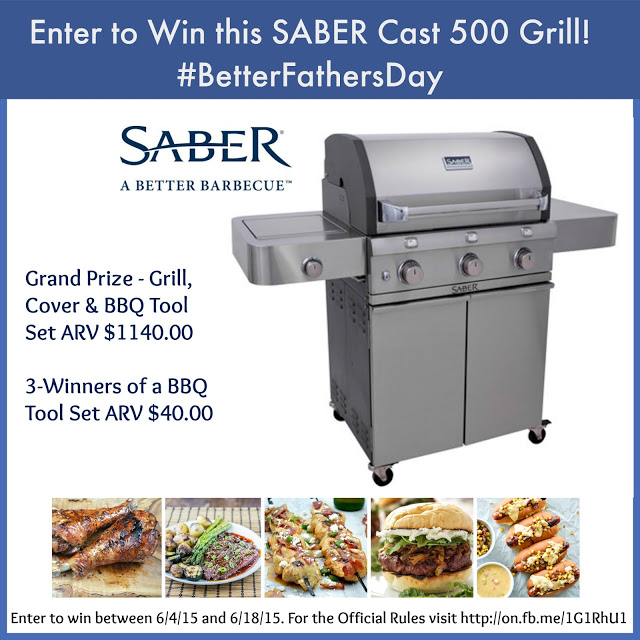 And if you don't win anything…well that is a-ok,  you still get these 10 amazing grill recipes…not too shabby!
I happen to own a SABER Grill and let me tell you it is not only gorgeous, it is a beast and it cooks beautifully!  We just love it!  SABER grills were designed by a team of outdoor cooking experts with one goal in mind, to engineer a better barbecue: one that is constructed better (using premium materials), cooks better (even heat and no flare-ups), and is priced better than competing premium grills.

BETTER TECHNOLOGY + BETTER CONSTRUCTION = BETTER EXPERIENCE
I my humble opinion they did just that! Last year, when our SABER grill arrived by pallet (we chose the 4 burner), my husband was like "let the fun begin" and by that he meant the blood sweat, tears and grumbling to assemble it. HOWEVER…let me tell you…not only was it
the easiest
grill he has ever assembled, it was one of the easiest
things
he's ever assembled – 11 pieces…all made so well to fit right together. We were both amazed!
The SABER line includes eight premium infrared gas grills priced from $799 to $1,699, as well as a full line of outdoor kitchen components and grilling tools/accessories for the ultimate outdoor grilling area.
At the heart of all SABER grills is an infrared cooking system that uses 30% less gas than traditional gas grills, has a wide temperature range for slow roasting or searing, and a rapid pre-heat cycle of 0 to 700 degrees in less than 10 minutes. The cooking surfaces are made of highly durable commercial grade 304 stainless steel that generate even, uniform heat across the entire surface (no more hot or cold spots).
SABER even recently debuted an award-winning "smart" grill called
The Edge
– seeing is believing! You can check that out
here
.
Saber Grills, LLC is a division of Char-Broil®, America's oldest and most innovative outdoor cooking company. The grills are sold exclusively through independent outdoor retailers.
Thanks so much to Saber Grills, LLC for sponsoring both the posts and the giveaway! Cant't wait to see who wins! 
Here are 9 more mouth-watering recipe ideas for for your Father's Day Barbecue (or any barbecue) from some of my foodie friends. Plus, you can earn additional entries for our #BetterFathersDay Saber Grill Giveaway by commenting on their recipes.
The Official Rules for the SABER #BetterFathersDay giveaway can be found here.

BBQ Beer Glazed Chicken Skewers with Sriracha Candied Bacon
3 pounds chicken breast cut into 2-inch thick segments
1 TBS grapeseed or olive oil
Kosher salt & pepper
1/4 cup thinly sliced scallions
Optional: 1/2 cup Feta cheese crumbled
Dip your fingertips in a bit of oil and oil up your skewers.  Lightly coat your chicken pieces in a bit of oil, season with salt and pepper and thread them onto your skewers, folding each piece over once so it is secure. Of you have a favorite spicy seasoning or rub…You could also go ahead and use that.
Preheat your grill lightly oiled grill to med-high.  Cook your skewers for 4 minutes on the first side, flip, brush the cooked size with a bit of the glaze, cook an additional 3 minutes, flip brush that side with the glaze and remove from grill.  Allow chicken to rest for 5 minutes (brush with glaze again).
Assemble recipe by scattering Candied Bacon over-top the skewers, along with scallions and if you are in the mood for it some Feta cheese crumbles.
Colleen's Notes: Cook time will depend on the size of your chicken pieces.  You can also use this glaze on bone in chicken.  Just watch for flare ups.  After the chicken gets some nice grill marks on it, continue cooking over indirect heat to prevent that.
Chicken can get dried out fast on a grill.  Watch your time and remember it will continue to cook for a few minutes after you pull it off.
Sriracha Beer Glaze
1/2  cup lager (beer)
2/3 cup pure maple syrup
1/4 tsp black pepper
1/2 tsp teaspoon Kosher salt
1-2  TBS Sriracha
Combine beer, syrup, pepper salt and Sriracha in a small saucepan.  Bring mixture to a boil, then reduce it to a simmer.  Continue simmering  for 10 minutes, remove from heat.  Glaze should be a little thicker than when it started out but not too thick.
Colleen's Notes: To keep it simple, the sauce for the chicken and the sauce for the Candied Bacon are the same…the only difference is cook time and the fact that I personally spice up the sauce for the chicken with a little more Sriracha.  So you could make enough for both and simply remove what you need for the chicken before you finish cooking the sauce down for the bacon. – Your call.
Enjoy & Good Luck with the giveaway!