I have a confession to make…I really don't like pizza. My whole family is infatuated with it, but not me. (I think it's because in my early corporate life, they gave us pizza all-the-time! And THAT did me in.) Actually, it's typical pizza that I am not into, instead I opt for a Brooklyn Pie with a ton of sauce, plops of beautiful mozzarella and plenty of basil leaves, a goat cheese pizza or my favorite – BBQ Chicken Pizza.
I don't get "my" kind of pizza often since my son, daughter & husband opt for the traditional. So last week, while in line at the butcher counter at my local farmer market, I had a random thought…why not put the flavors of a BBQ Chicken Pizza in a meatball???
And that is what I did!
Minus the dough (technically you could consider a roll the dough, just saying! lol).


These were a hit with my husband…my kids, well they have yet to discover the joy of an onion in any form other than things like leeks or chives. Soon, they will understand!!


I must say that I really I am a meatball aficionado I just love small bites of food…I always have.
What is your favorite type of meatball? If you have a link to it leave it below, I would love to check it out…if not just tell me about it. I am hungry already at the thought!!
Another question…do you fry your meatballs or bake them? My earliest memories are of baking them and that is what I have always done. I'm not sure if there is a difference in taste, I'm curious now.
Here are a few of my favorites over the years that I have made:
Buffalo Chicken Meatballs
The Perfect Meatball
Asian Chicken Meatballs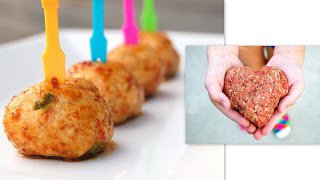 And here are a few I have discovered via Pinterest, where I have a Meatball Board!! Just saying the words…"Meatball Board" makes me happy!! Next, I want to try a Lamb Meatball. I have never had one but have been thinking about it for a couple of years. I just never seem to come across ground lamb – so I guess I will take matters into my own hands….stay tuned!
BBQ Chicken Pizza in a Meatball
2 eggs
2 TBS milk
3/4 cup Panko
1/2 cup chopped red onion
3 TBS parsley
1 pound ground chicken
1/2 cup your favorite BBQ sauce
1/3 cup chopped mozzarella
Salt & pepper
Combine all ingredients in a large bowl and mix well with your hands until combined. Form into balls and bake when ready on a baking sheet greased with a bit of olive oil at 350 degrees for 20 minutes.
BBQ Sauce
1 tsp olive oil
1/3 cup chopped red onion
2 cups of your favorite BBQ sauce
2 TBS Balsamic vinegar
1/4 cup water
Saute your onions in a large pot for 2-3 minutes, until tender. Add in the BBQ sauce, Balsamic and water. Bring to a boil. Adjust to your liking (more water if you want a thinner sauce more or less BBQ and or Balsamic).
Place the meatballs in your sauce and gently coat each one. Once meatballs and sauce are heated through, serve.
Notes: You can make these appetizer-size or regular-size (if making app-size, reduce cooking time).
You can make these up to 3 hours ahead, place on your greased baking sheet and wrap tightly with plastic wrap or aluminum foil. If you like Cilantro better than parsley, feel free to substitute.
You could serve these on a roll or stand alone – we opted for stand alone.
Feel free to leave the Balsamic out of the sauce if your not a fan. I just wanted a thinner sauce thus the Balsamic & water. Plus I am a fan of a good Balsamic BBQ sauce 🙂
Enjoy!!