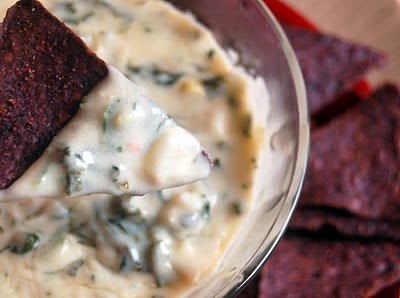 I have been a fan of hot Spinach and Artichoke Dip for longer than my thighs care to remember! I can't quite put my finger on the first time I had it, but soon after, I knew I needed to make it at home. I have tinkered with this many times over the years to get it to where my husband and I like it best. No need to order it out when you can make it just as good or better at home!
I like this best when we are having or attending a fun night in with friends. Especially when we have a Texas Hold 'Em night which we do about 4 times a year! Friends, drinks, good food and if I am lucky…the pot, what more can you ask for??
Enjoy!
Colleen
Spinach and Artichoke Dip
2 Tbsp olive oil
2 Tbsp butter
3/4 cup diced Vidalia onion
1 clove garlic minced
1/2 cup flour
1 1/2 cups heavy cream
1 cup chicken stock
1 1/2 cups sour cream
3/4 cup Parmesan cheese, shredded
8 ounces Monterey Jack (pepper jack) cheese, sliced or shredded
1 1/2 TBS chicken bullion
2 tsp lemon juice
1 TBS sugar
5-6 shakes of Tabasco sauce
12 oz frozen chopped spinach, thawed, and squeezed dry
6 – 6.5 ounce jar of artichokes, drained and chopped
Warm olive oil and butter in a large pot over medium heat. Add in onions and saute for 3-4 minutes. Add in garlic and saute for 2 minutes longer, stirring frequently. Sprinkle flour in and whisk vigorously. Remove from heat. Slowly pour in chicken stock, whisking vigorously. Place back on burner once simmering add in cream while whisking, Then add in Parmesan cheese, Monterey Jack cheese, lemon juice, chicken bullion, sugar and Tabasco. Stir well. Add in spinach and artichoke stirring until fully incorporated and bubbly. Serve warm with tortilla chips.