Bittersweet Chocolate and Red Pepper Cookies
Can you feel it…or better yet can you smell it?
The holidays are just around the corner!! We're, shopping. we're planning, we're decorating and best of all we're baking! It's the same thing every year but somehow it's SO MUCH FUN!
This year a new bit of excitement popped up, Julie of The Little Kitchen and Lindsay of Love and Olive Oil got together and decided…"hey, wouldn't it be fun to do a HUGE cookie swap"?? They put the word out to food bloggers across the U.S. and Canada and "we" responded with a resounding Y-E-S!!! After all we sure do like to make stuff 🙂
I don't know which part was more fun, making and shipping the cookies off or getting the tasty surprises in the mail!!
First, I received gingerbread cookies from Anh-Chi of The Foodie Next Door. They were delicious and my kids loved them…they were just as good as the famous "orange box" from my neck of the woods (Sweetzles).
Next, I received a bar cookie, one I had never heard of from Danielle of Table Talk and Walk. They were Caramel Scotch Bars and they were really good and different, I loved the taste of the scotch, and the caramel – well let's just say that anything with caramel in it is A-Ok in my book! I wonder if a dish exists that combines caramel, shrimp and bacon – because if so I am in BIG trouble! So you better not tell me if you know of one!!
Last, I received this pretty box from Valerie of Don't Forget Delicious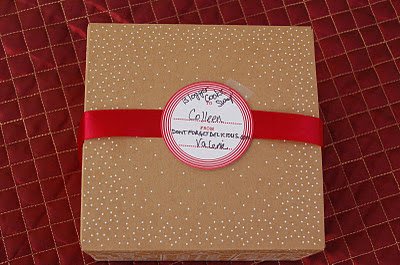 Which held another bar cookie I had never seen – Pistachio Cranberry Bars. Talk about festive! These are so pretty!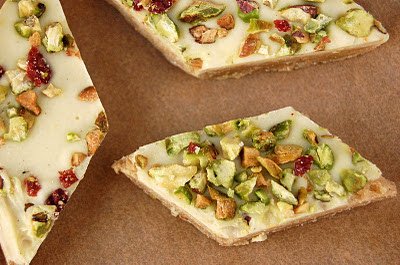 My favorite cookie is a Pizzelle…I just LOVE them. I decided against mailing them as they are a bit fragile. In the end I settled on mailing sugar cookies and these Bittersweet Chocolate and Red Pepper Cookies.
I had been messing around with these for awhile. I myself am not a huge fan of chocolate. A nice piece of dark chocolate is wonderful but much more than that (other than brownies that is) and I am not that interested. My husband, sister and my friend Susie however are chocolate fiends! So, I assumed they would enjoy these. I also have a friend that is gluten-free and these are perfect for her as well.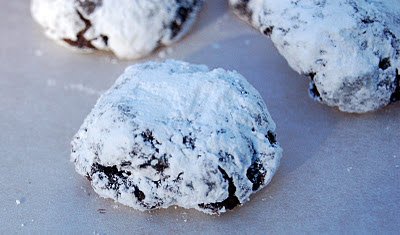 Usually these are made with powdered sugar, however I was out of it the first time I made these and just stuck to using granulated sugar…works for me and it gives the cookie a nice crunch.
Last year when visiting Hershey Park for some Christmas fun we visited the new Milton Hershey Museum and made our own chocolate bars. You could add in a variety or things to your chocolate thus creating your own bar. My husband (who loves spicy food) decided to add a bunch of Cayenne pepper to his. We thought no one would ever eat it – but it was so good! With that in mind I set out to make a cookie with a kick. After you eat a bite all of a sudden you are like…hmmmm, spicy and I kinda like that. A glass of red wine would be a nice companion to this cookie.
Bittersweet Chocolate & Red Pepper Cookies
adapted from Divine Baking
8 ounces of bittersweet chocolate (60% cacao bar, I use 2 bars of Ghirardelli)
3 egg whites, room temperature
2 cups sugar, divided
1/2 cup unsweetened cocoa powder
3/4 TBS cornstarch
Dash of salt
1 1/4 tsp red pepper (more or less – its up to you)
1/2 tsp cinnamon
4 ounces of semi-sweet chocolate (I use a bar baking bar and chop it up in the food processor)
3/4 cup powdered sugar
Melt your bittersweet chocolate, break it up into squares and melt in a bowl in your microwave for 50 seconds. Stir it up and melt for an additional 20-30 seconds. It really depends on how strong your microwave is. Mix your egg whites in a large bowl until soft peaks form, about 2-2 1/2 minutes. Add in 1 cup of sugar and continue mixing until it is the consistency of marshmallow cream (about 2 minutes). In a separate bowl, combine the cocoa powder, cornstarch, salt, red pepper, cinnamon and 1cup of sugar. Add that to your meringue and mix until incorporated. Fold your melted chocolate into the mix by hand with a spatula. Mixing until fully incorporated.
This is not one of those cookie doughs you can refrigerate and make later, you need to make them right away. The dough is thick. Using your hands, roll into 1-inch balls, flatten a bit into a disk and drop into your bowl of powdered sugar. Coat and place on a parchment paper lined baking sheet. Bake at 350 for 10-11 minutes.
Once you remove them from the oven. Allow them to cool for 10 minutes on the baking pan. Move them with a spatula to a cooling rack and allow to cool completely. Enjoy them soon after baking for a ooey gooey chocolate fix or wait until the next day for a crunchy cookie. These last well – I'd say for a week to 10 days.
This was fun!! Thanks Julie & Lindsay for hosting such a fun (and tasty) event!!
Happy Holidays!!