Black Bean & Tomato Salad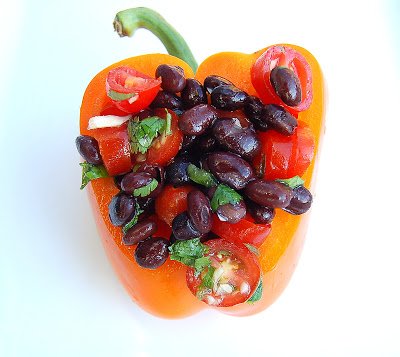 Don't you love it when you find a dish that is good for you, fills you up and still tastes great?
I am one of those people who eats what she wants. I have never counted calories or dieted. I did do a cleanse earlier this year with my husband…a 3 day cleanse and I thought I was going to eat one of my kids by the middle of day 2!
So for me, eating what I want in moderation has always worked. I may not look like a supermodel but them again, they probably don't get to enjoy food the way I do!
Lunch is my favorite meal of the day. I really don't care if I eat in the morning or not and I can go without dinner…BUT if I miss lunch, I am not a happy gal!
Here is a great lunch, dinner or party side dish, one that balances the scales. I love the flavors of this Black Bean & Tomato Salad and I love that it is good for me. I make a batch of this for me usually on a Thursday or a Monday…It makes me feel better about indulging on the weekends, yet doesn't sacrifice on flavor.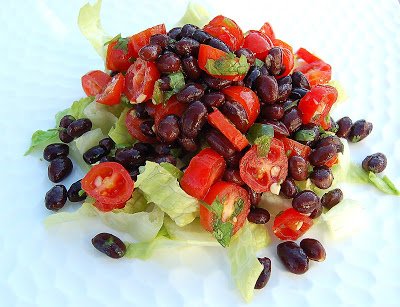 Sometimes, I fill a hallowed out pepper with this, cut it up and enjoy, sometimes I omit the tomatoes and fill a hollowed out tomato instead and sometimes I toss it with some torn Romaine lettuce. Yum!!
Do you have a go-to dish for when you want to limit on fat and/or calories or one that packs a nutritional punch?
Black Bean & Tomato Salad
1 can black beans (organic if possible)
1 jalapeno, minced
1 clove of garlic, minced
3 TBS chopped cilantro
1 cup of grape tomatoes, halved or cut into thirds
1 TBS olive oil
1 tsp balsamic vinegar
Kosher salt
Black pepper
Drain & rinse your beans. Combine beans, jalapeno, garlic, cilantro, tomatoes, salt and pepper in a bowl. Drizzle with the olive oil and balsamic. Gently toss with a large spoon. Allow the flavors to mingle for at least 15 minutes.
*I mince the whole jalapeno, seeds and all for extra heat. Sometimes I also add in a 1/2 tsp of Chili with Garlic sauce to kick it up a notch. Recently I added in some cubed roasted butternut squash but I have to say I wasn't a fan of the addition.
Enjoy!!