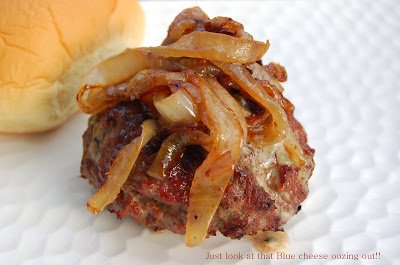 In March I shared my adventure to NYC to hang out with the Kerrygold crew and the incredible Darina Allen at Cooking By the Book. I have said many times how much I respect Kerrygold as a company and that both their cheese line and butter make me, my family and our friends tongues and tummy's dance with delight!
Well, as I previously shared, I came home from that event with a roller bag full of Kerrygold products and, let me tell you, we had some good eating from that glorious surprise!!
The only cheese I actually really don't have a taste for like is blue cheese. My husband, my siblings and my friends all love blue cheese and when we get together and a blue cheese appetizer of some sort is there…it's gone in a flash. Meanwhile I want nooothing to do with it and yes…they think I am nuts!
Since I had come home with a huge beautiful round of Kerrygold's Cashel Blue Cheese, made by a husband and wife team for Kerrygold on a farm in Tipperary, I KNEW I would be looking for ways to use it up. Now believe me…my friends were like…HELLO…just cut us each a hunk and that cheese will go to a grateful home…lol! I did that for some of it, of course, but one night, thinking of all the times my husband has ordered a Black & Blue Burger when out to lunch or a blue cheese encrusted steak when out to dinner I decided to whip him up a blue cheese treat!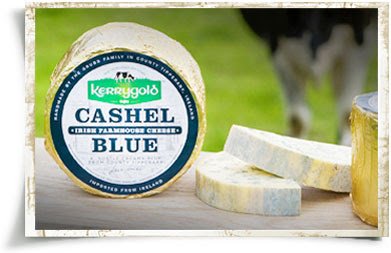 I decided on burgers stuffed with blue cheese, slathered in carmelized onions. Two things my man loves. I cut the cheese with a bit of cream cheese and froze rounds of it, thinking it would grill better that way. I figured similar to pasta butters I have made, I could freeze these rounds for use later. That way, whenever burgers are on the menu…they could be instantly customizable.
Of course I also had to try one of these burgers…and guess what…I lived to tell the tale. It actually was quite good to my non-blue cheese eating self! Maybe it was the cream cheese, or the combination of that beautiful farmers market meat and succulent carmamelized onions…either way I enjoyed it! My blue cheese loving man was crazy for it 🙂
Blue Cheese & Caramelizedlized Onion Burgers
Filling:
3/4 cup blue cheese, room temperature
1 TBS cream cheese, room temperature
Onions:
2 Vidilia or red onions
2 TBS butter
Salt and peppert to taste
Burgers:
1 pound ground meat
Salt and pepper
Combine your blue and cream cheese in a small bowl and mash together until combined and smooth. Use a small cookie scoop or tablespoon and form into balls. Place on a small plate, wrap gently and stick it in your freezer for at least 30 minutes.
Slice your onions and saute them with the butter in a large pan over meduim heat, stirring every so often until caramelized. Add a pinch or two of sugar to speed up the process if you like.
Make your burgers. I made 8 thin-ish burgers from my meat, then once I was ready to grill, I placed a round of the Blue cheese mixture in the center of 4 burgers, places another burger ontop and sealed them shut. I them pressed down a but to flatten the mound of chesse a little.
Grill to your liking.
Allow the burgers to sit for a couple of minutes, (if you bite in right away, hot cheese may squirt out…just sayin) top with the caramelized onions and enjoy!