Blueberry Tea Cake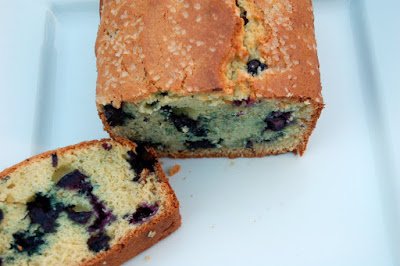 I have issues with cooking breakfast…I swear I can't make a decent pancake.
Case in point, last weekend I whipped up a batch of blueberry pancakes as a way to get some blueberries into my family….The only place those pancakes went was to Oscar…as in "The Grouch"
They were a hot mess – Literally – They looked cooked but were soppy inside…my husband just cracked up.
He always tells me that I mess up the "simple" dishes, he says If I was making a fritatta or quiche I'd be fine but something like pancakes…maybe I should to diners, the boxed stuff or his all time favorite French Toast, Sheesh!
One of these days!!
I think my problem is when it comes to baking…it's a science and I am such an improviser and throw bits of this and that into things and often don't make a dish the same way twice.
Determined to get blueberries into my family I used the rest of what I had (some from our blueberry bush and some store bought) to make a tea cake.
My daughter and I smeared just a bit of butter on our slices…and I had iced tea – YUM!
What gives you trouble in the kitchen?
Blueberry Tea Cake
adapted from-Lisa Yockleson Baking for Gift-Giving
2 cups flour
1 tsp baking powder
1/2 tsp baking soda
1/4 tsp salt
1/2 tsp nutmeg
1 cup fresh blueberries
1 stick butter
1 cup sugar, plus 1 teaspoon of sugar
2 eggs
1 tsp vanilla
1/4 cup sour cream
Preheat oven to 350 degrees.
Combine the flour, baking powder, baking soda, salt and nutmeg.
Take 1 TBS of the dry mixture add a teaspoon of sugar and toss the blueberries in it.
Cream the butter and sugar, and beat with your mixer for 2 minutes. Add in the eggs, blending well. Blend in the vanilla.
Add in the dry ingredients , then the sour cream. Once the batter is creamy and fully blended gently stir in the blueberries.
Pour into a loaf pan (9x5x3) and bake for 55 minutes to an hour or until a toothpick inserted in the center comes out clean.
Once removed from the over cool for 5 minutes, loosen the cake from the pan and place on a plate to cool. Cool completely.
Enjoy!
Colleen