Browned Endive with Lime Butter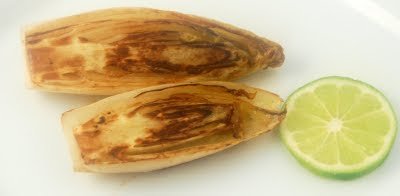 Recipe #10 in my 40 Day Challenge
This one just sounded interesting to me. I have only used/eaten endive as a vehicle in its raw state for dips and my favorite Bloody Mary Shrimp. I have always enjoyed the peppery taste and was very curious how it would taste on its own.
I made this for my sister and myself one night while my husband was at a hockey game and we both liked it, we both agreed, it was a really different taste.
This is another from the book Big Flavors I went through a couple of weeks ago – I found some really good stuff in that book!
Try it!
Browned Endive with Lime Butter
-Jim Fobel
4 firm Belgian endive
2 TBS butter
1 TBS fresh lime juice
Salt and pepper
Trim about 1/8 inch from the stem end of each endive. Pull off any wilted outer leaved. Cut the heads in half lengthwise.
Melt 1 TBS butter over med-high heat in a non reactive skillet. Place endives, cut side down in your pan and saute until browned. About 4 minutes. Turn them and pour in 1/2 cup hot water, cover and braise till tender (about 2-3 minutes more).
Gently remove with a slotted spoon or spatula and arrange on a plate.
Drizzle remaining TBS of butter over the tops, spoon the lime juice over as well, sprinkle with salt and pepper and serve.
Enjoy!!