Buffalo Chicken Balls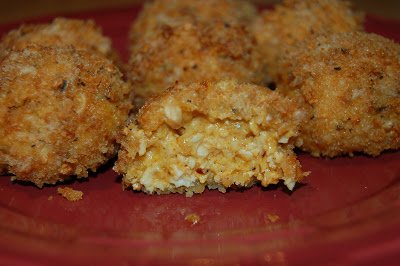 All I can say is yum, yum, yum, yum!!
I saw this recipe over on Tasty Kitchen and knew it had my name written all over it!
This past weekend we went to dinner at my sisters...however I brought everything but the kitchen sink to cook there. 2 apps, dinner, veggies and funnel cake to cook up for dessert (and yes I did get burned - ouch!)
Well, as soon as I got there, as promised, I took my daughter (5) and my niece (6) to Justice so they could get their first ever perfume...they were super excited and smelled quite yummy!
When we got back...THEY were eating this as a dip...I had yet to roll it into balls.
My husband, brother-in-law and a friend of ours were doing the happy food dance as they scooped up the microwaved "dip" onto tortilla chips and ate it.
OOOOOH Mamma! My husband took one look at my face and was like we are sooo in trouble!!
Anyway...I then finished making them THE RIGHT WAY and OMGosh were they good!!! Even though there were only a few to go round hem hem!
Funny, my husband said HE liked it better as a dip...I myself thought the finished product was one of the best things I ever tasted!
Thanks to the Mags (one sassy lady) over at http://othersideof50.blogspot.com/ for this awesome idea!
Buffalo Chicken Balls
adapted from The Other Side of 50
5-6 thin, cooked and cooled chicken breasts (I grilled mine plain)
(if you have large chicken breasts on hand just use 3, halve them lengthwise and grill/bake)
4 ounces cream cheese, softened
½ cup wing sauce
A few dashes (or more) of Tabasco
¾ teaspoon garlic powder
½ teaspoon onion salt
1 ¾ cup shredded cheddar cheese
1 cup flour
2 eggs, lightly beaten with about a tablespoon of water
2 cups Panko breadcrumbs
oil
Place chicken into food processor bowl and pulse 5-6 times or until chicken is finely chopped. Remove chicken to a large bowl and set aside.
Add cream cheese to food processor bowl and pulse until smooth. Add in wing sauce, Tabasco, and spices pulse until smooth.
Add the mixture to the chicken. Sprinkle in the cheddar cheese. Stir to combine.
Shape mixture into ¾-1" balls and place on wax paper lined baking sheet. Using a fryer or a s frying pan heat about 2 inches of oil to 350 degrees or use Set up a work station with three small bowls. Place the flour in one pan and season with salt and pepper. Whisk the eggs and water in the second pan. Place the Panko in the third pan. Roll each chicken ball in the flour, then dip in the egg, then roll in the Panko.
Drop carefully into the oil and fry for 2-3 minutes or until nicely browned. Drain on paper towel. If you are using a fryer submerge balls for less than a minute, just until browned. If you had made the mixture earlier and had it refrigerated, fry for a half minute more.
Serve with blue cheese or ranch dressing as a dip if you like - they were perfect for me as it!
Enjoy!!
Colleen