Challah French Toast!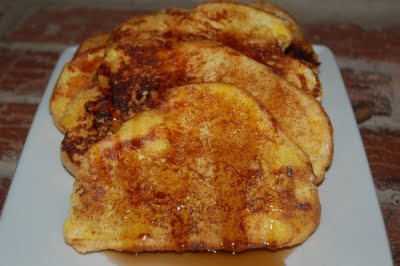 THIS is a go to breakfast of mine for special occasions like Christmas, a birthday in our home or on weekend get-a-ways or vacations with friends and family.
If you want to make breakfast extra special (we are talking vacation resort good here) it is so worth it to use a loaf or two of Challah Bread with some warmed syrup. Around my way it runs about $5.00 a loaf.
It's quick and easy, no real prep work and as a bonus your home will smell delicious.
On Christmas morning, the kids begin to open presents, one by one, and then we take a break and have a lovely breakfast. After, the fun resumes…hopefully everyone forgets about the stockings (my favorite part) and we do those later in the day.
This year for breakfast I am planning Challah French Toast, bacon, a zucchini frittata, fresh fruit and tangerine mimosa's (just plain OJ for the kids of course).
Since having children, we stay home on Christmas and usually do not get out of our pajama's (new ones that Santa magically changes us into while we sleep…who knew!).
For me it's a wonderful day filled with laughter, good food and family. I always cook a hearty breakfast that tides us over for a wonderful dinner and I always say…whomever wants to join us is welcome, pajama's optional lol!
FYI: Challah or hallah is traditional braided Jewish bread eaten on Shabbat and Jewish holidays (except Passover, when leavened bread is not allowed).
Challah French Toast
I would say 1 loaf of Challah for 3 adults or 2 adults 2 children unless you have a hungry bear at the table!!
Recipe for 1 loaf
4 eggs
½ cup of milk
1/3 cup sugar
2 tablespoons cinnamon
Butter
Slice the "butt" off either end of the Challah and discard or snack on.
Slice Challah loaf into thick slices (about ½ inch thick) with a bread knife. Set aside.
In a oblong bowl if you have one, beat eggs and milk, set aside
In a small bowl combine sugar and cinnamon. Set aside.
Heat your skillet or frying pan over medium high heat with a pat of butter spread around – you want the pan to get hot prior to putting the first round of French toast on.
Dredge slices of French toast in egg/milk mixture, sprinkle each side generously with the cinnamon and sugar mixture. Place in pan and cook for approximately 1 minute a side or until each side in crisp, not soggy. Keep warm in the oven at 250 degrees until all slices are ready to serve. Add additional butter to pan prior to each new batch being cooked up.
Drizzle with syrup and enjoy!
Colleen