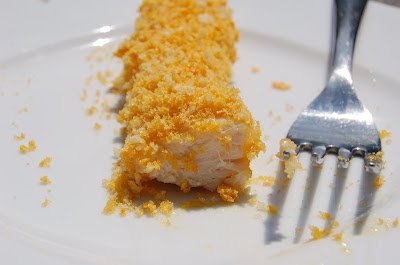 A couple of months ago my family and I tried out a new-ish restaurant in our area. My daughter ordered the chicken fingers. I knew as I looked across the table at her dish that something was different about them…the color was different, but I didn't think much about it due to the beautiful plate of food that was sitting in front of me just begging to be devoured.
As we were happily eating our dinner, the chef came out to stop by our table, he asked each of us how we were enjoying our meals and my son who had ordered the lollipop lamb chops, showed him what was left (picture a pile of bones lol) told him "they were awesome!", My husband and I also expressed how delicious each of our dishes were and just how happy we were to find his place. Then chef then turned to my daughter, who was happily muching away, and asked her how she liked her chicken, she replied "these are really good but they taste a little sweet…why?". The chef lowered down to her level and said "I'll tell you my chef secret!" My daughters eyes got huge as she anxiously awaited what he was going to say next "I made your chicken with Captain Crunch!!" She was like "REALLY" as she looked back and forth from the chef to her plate.
The second the chef finished talking to Samantha and walked away 3 hands darted out for my daughter's plate to have a taste…and it was good!!

Forget our fancy plates…Samantha was the one with the order we now all wanted lol!
Where has this idea been all my life? They were so, good! They were moist and crunchy with a wonderful hint of sweetness. I knew I had to whip them up asap! I was lucky to get a picture of these…they were gone in an instant 🙂
I chose to use both Captain Crunch and Panko and I was really happy with the results…and so were my kids! In the end it was my kids who in fact made these. This is a fun and tasty recipe for kids…any age really, to take the lead on.
Captain Crunch Chicken
2 cups of plain Captain Crunch
1 cup Panko
Salt & pepper (optional)
1 TBS mayonnaise
4 boneless chicken breasts, sliced into strips
Preheat your oven to 375
Lightly oil or spray your baking pan. Ground the Captain Crunch in your food processor (or have the kids hit a sealed gallon bag with a rubber mallet or small frying pan). Combine the Captain Crunch, Panko and salt & pepper then spread the mixture out on a plate (you may want to only put half on the plate in case you don't use it all…reserving the rest for the next time you make these). With clean hands, spread just a bit of mayo on each chicken strip, and then coat each strip in coating mixture. Place strips on your baking sheet and bake for 15-20 minutes or until crispy and cooked through. It really depends on the thickness of your chicken.
Enjoy!!
PS: If you do let your kids either make these or help you make these…remember to take a picture!! Later on in life photos of them cooking with the people they love the most will be cherished!