The holidays are just about here whether we are ready for them or not…How are YOU making out?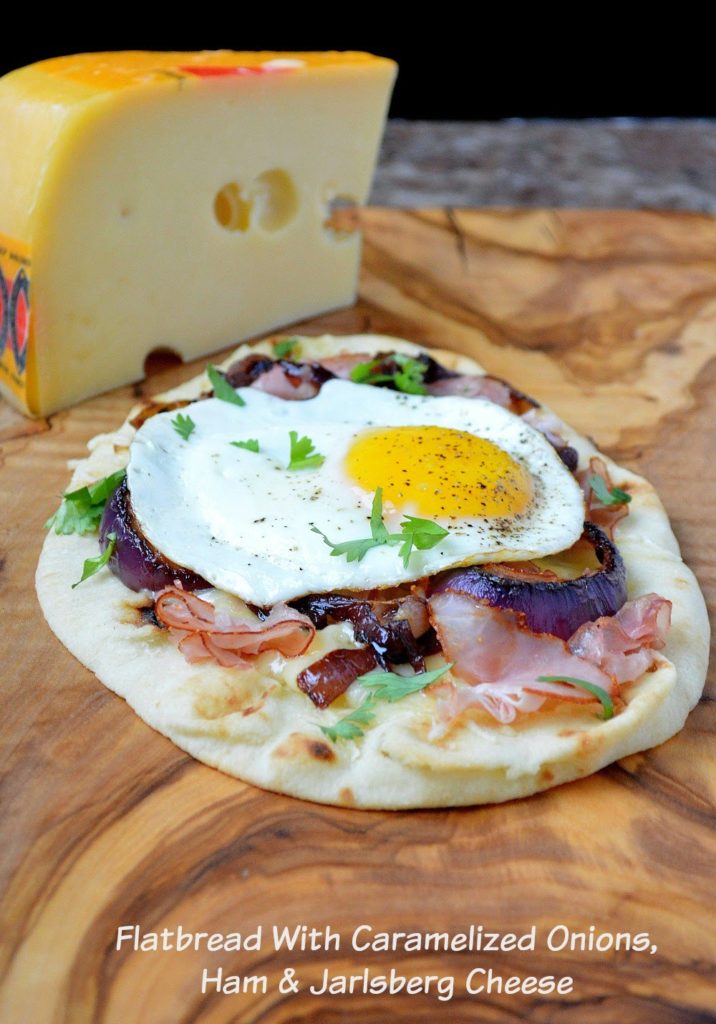 Me…I'm so-not-ready!
For one, I feel like ice hockey has taken over of family's life! Lets see, in the last 6 days we have had 2 practices, a clinic and 3 games…crazypants!! Between that, other activities, play-dates, my husbands birthday and just life in general…I can't catch my breath!
One thing I won't sacrifice is eating tasty meals…Well of course I won't since "food" is what I think about 50% of the time, lol! No matter how busy we are, there is always time for meals that taste great and leave you thinking, mmm-m! That was good!
This easy Caramelized Onion Ham & Jarlsberg Flatbread Pizza is one of those. You can have it for breakfast, lunch or dinner. You will feel satisfied and you might just do the happy food dance!
My just turned 13 year old son tells me "I could eat this every day and mom, if this were on a menu I would order it all the time!" SO there you have it straight from a brand-new teenagers mouth!
Start with pre-made flatbreads, I usually buy a 4-pack and the kids are plenty full splitting one (I just put an egg on each side for them), you can also customize each flatbread for each person with little effort. The kids say hold the onions while my husband says slather it up with onions for me babe. Easily accomplished! You can add some veg like shredded Brussels sprouts, asparagus tops, fresh baby spinach…whatever you like.
One thing we all agree upon is the cheese. My whole family enjoys Jarlsberg cheese, it melts nice, and has great flavor, so I start with a bowl of freshly shredded Jarlsberg (usually one of the minions…err I mean kids does that part for me) and we go from there.
Cheese is a big part of our life and around the holidays it seems its everywhere and I for one can never get enough! What's your favorite way to use Jarlsberg Cheese? Submit your favorite cheese pairing HERE for a chance to win some Jarlsberg of your own, plus a $25 gift certificate to Wine.com and fun party kit. Enter daily now until December 31st!
This post has been sponsored by one of our favorite cheeses…Jarlsberg! Whether you are using Jarlsberg "in" your dishes, on a cheese plate or just popping a hunk into your mouth…its a great go-to cheese for the holiday season and beyond!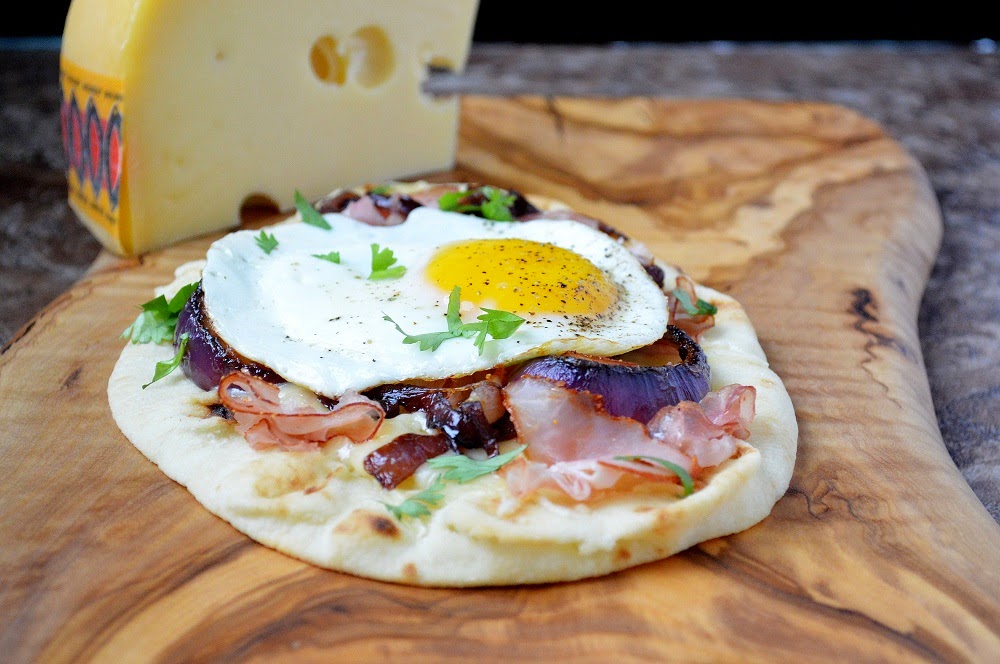 Caramelized Onion Ham & Jarlsberg Flatbread Pizza
1 onion (red or Vidalia)
2 TBS butter
2 store-bought flatbreads
Olive oil
Salt & pepper
1 cup shredded Jarlsberg
3/4 cup deli ham pulled apart or chopped sliced ham
2 (or more) eggs
Parsley or Cilantro for garnish
Slice your onions and saute them in the butter over medium heat for 12-15 minutes or until caramelized to your liking. Meanwhile, preheat your oven to 400 degrees and very lightly brush your flatbreads with olive oil, season with salt & pepper and sprinkle with the cheese. Place caramelized onions atop each flatbread, place bundles of either deli or sliced ham across the flatbreads and bake for 6 minutes.
While the flatbreads are baking, in a small fryng pan, cook your eggs sunny-side up for 2 minutes and season with salt & pepper. Once the eggs are stable enough, transfer them atop the flatbreads and continue cooking for 2-3 more minutes or until the eggs are done to your liking. Garnish with herbs and serve.
Enjoy!