Cheesecake Shooters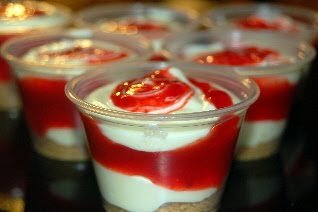 Yesterday I had an event to attend and I put a new twist on an old favorite.
For years, usually in the summer for barbecues, one treat I make is a Cheesecake-like parfait. This time for small portion sizes as well as the cute factor I changed it up a bit and made it in 2 ½ ounce shooter cups (I usually use these cups for jello shots which are always fun, but that's another story or two, three or four…lol).
They were a huge hit and traveled well.
The kids really like these too, matter of fact they could certainly whip these up themselves with a little guidance from a helper.
Cheesecake Shooters Recipe

8oz cream cheese, softened
16 oz sour cream
1 small box vanilla instant pudding
1/2 cup sugar, plus 1 TBS
1 1/2 teaspoons vanilla
1 can of cherry pie filling
1 pack (not box) of plain graham crackers
3 TBS melted butter
Optional: 2 1/2 ounce shooter cups with lids usually found at party stores or wholesale clubs.
In your mixing bowl combine the cream cheese and sour cream until blended. Pour in the pudding mix, sugar and vanilla and mix on medium for 3 minutes more. Place in the refrigerator for at least 15 minutes.
Crush the graham crackers in your food processor until just crumbs. Add in the butter and 1 TBS sugar and pulse until combined. Place in a small bowl and set aside.
In your blender or food processor blend/pulse the cherry pie filling until it become syrup (no chunks left). You can of course make your own syrup from strawberries, blueberries etc instead of the pie filling if you have the time. Set aside.
In the shooter cups, wine glasses or whatever you may be using, first spoon enough graham cracker mixture to cover the bottom. Then spoon or pipe in some cheesecake mixture, then spoon enough syrup in to cover the cheesecake mixture, then spoon or pipe in second layer of cheesecake mixture, then place a few drops of syrup on top and swirl around for a spiral design by using a wooden toothpick or skewer.
Keep cold until ready to serve or transport. These really are so easy; folks will think you worked harder than you actually did 🙂
Enjoy!!
Colleen