Cheesesteak Eggrolls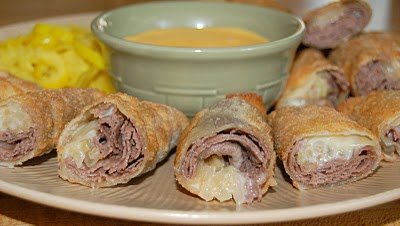 Being born and raised in Philly has plenty of perks which include having access to awesome cheese steaks, water ice (Rita's began by my childhood home) and soft pretzels! We can hit the beach, the mountains or NYC in less that 2 hours aaaaand we have a city rich with history! Not bad huh!
Last week I hit Dave and Busters with my kids for some first day of Summer vacation fun and I spied cheese steak eggrolls on their menu so I thought I would attempt to make them for Fathers Day….men around here do love their cheese steaks!
(I seriously think it's all about the roll!)
I was not sure if I was going to have a disaster on my hands or not – I hadn't ordered them, so I was going off of the description…I was pleasantly surprised, they were great…my husband, father in law and guests loved them…hope you do too!
I actually made them twice…one for a trial run earlier in the week – my husband is a happy, happy man!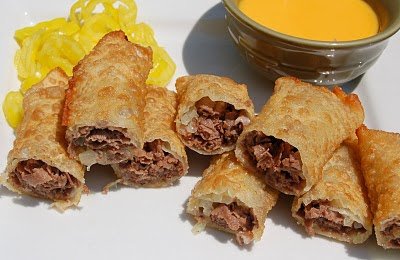 Cheese Steak Eggrolls
6 pieces of Steak Um sliced steaks(freezer section)broken up into pieces
OR very thin slices of ribeye, chopped.
1 small Vidalia onion, chopped
2 slices American cheese
6 egg roll wrappers
vegetable oil for frying
Banana peppers
Cheese Whiz
Small bowl of water for wetting eggroll wrapper
This will make 6 eggrolls, cut them in half s/b enough to serve 4 or more as an app, or serve with some potato fries and call it a meal! They will fill you up!
Saute the onions in a bit of butter until tender, about 3 minutes. Set aside.
Cook the steak – it cooks quickly takes just about a minute. Do it in batches so as not to crowd.
Blot the steak dry to remove some of the grease.
Place about 1 steaks worth of meat on a eggroll wrapper, sprinkle with about a teaspoon of sauteed onion and 1/3 strip of cheese. Roll up the eggroll.
Dip your finger in water and run it along the edge of the wrapper to moisten, then seal. Do the same with the ends…press together to close and fold in the sides to make small triangles, moisten to close. Set aside on a plate, repeat.
Heat your oil(375)for frying, fry for less than a minute (especially if using a fryer). You just want the eggroll to get crispy and golden brown. Serve with banana peppers and some warmed cheese whiz for dipping…feel guilty later!
Enjoy!
Colleen