These Cheesy Mushroom Meatless Meatballs will surprise even those that give mushrooms the side-eye. Trust me!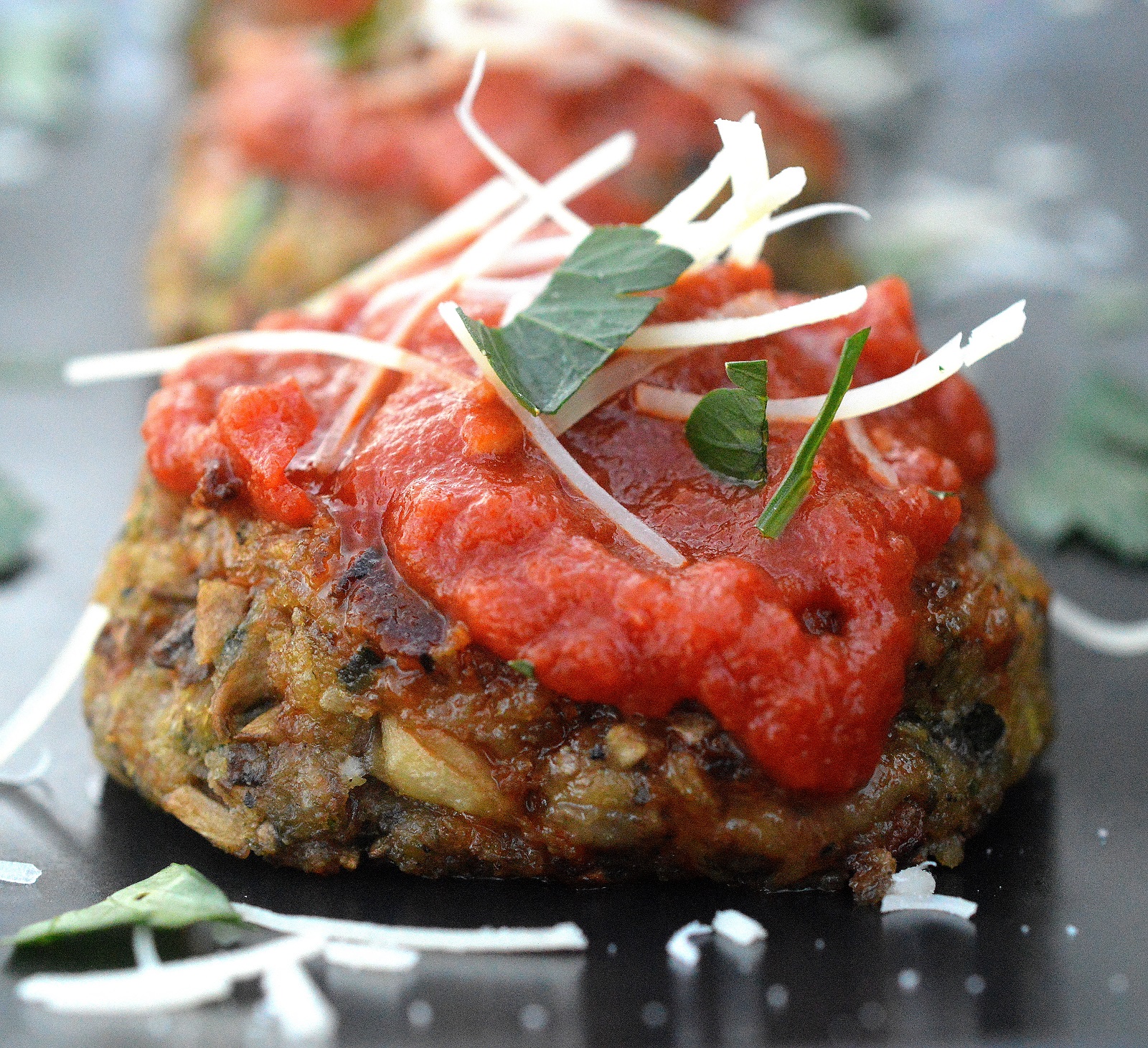 These Cheesy Mushroom Meatless Meatballs will leave you doubting that these little flavor-packed nuggets are meatless. Both the texture and the flavor of these "meat" balls are meat-like and the flavors are seriously delicious. Bite after bite they sing in your mouth! You can taste the spices and the richness of the mushrooms and cheese.
Eaten on their own, with sauce or with pasta and sauce...These Cheesy Mushroom Meatless Meatballs are a fantastic meatless meal option! I decided that 2017 is the year I cut down a bit on meat dinners. We really don't need to eat meat every day for dinner.
Recently I heard about an all-natural Non-GMO verified, clean label line of specialty sauces called Jar Goods and was told that the taste would blow my socks off if I gave it a taste. Between the creators of the sauce being local, and the fact that I heard that Jar Goods, was one of six small business in the food industry selected out of 400+ applicants for the inaugural year of the Chobani Food Incubator. (Wow!!) And the quality of the sauce...I had to try it out.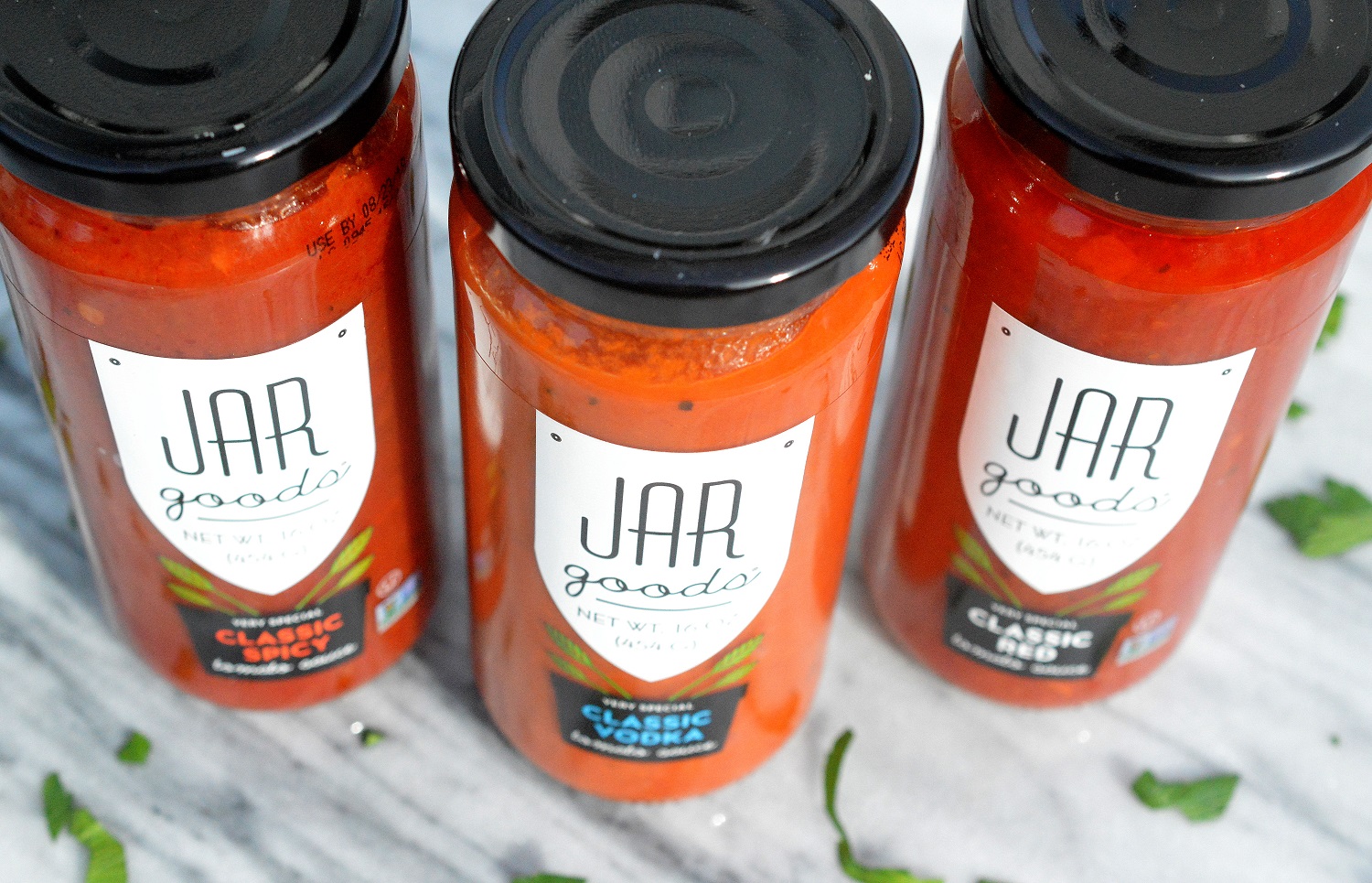 The selection criteria for the Incubator Group was based on the applicant's business ideas and shared values. The fact that Chobani is giving support to start-ups and the fact that a local company who just so happens to have a delicious product made the cut is impressive!
In case you are wondering..."Clean label" means a product is natural and chemical-free. A growing ingredient and labeling trend that many consumers are thrilled about.
Jar Goods currently has 3 specialty pasta sauces. Classic Red, Classic Spicy and Classic Vodka. If you ask me which is my favorite?? I can't answer. You know how sometimes you are in the mood for a plain sauce and sometimes a spicy sauce? Jar Goods delivers on bot varieties and boy are they both good!  I would bet that if you poured those sauces in a pot...no one would ever guess that you didn't make the sauce yourself. They also deliver on their promise of "homemade in a jar". And the Vodka Sauce?? Mmmm, that's one of my favorite sauces ever and Jar Goods nailed it.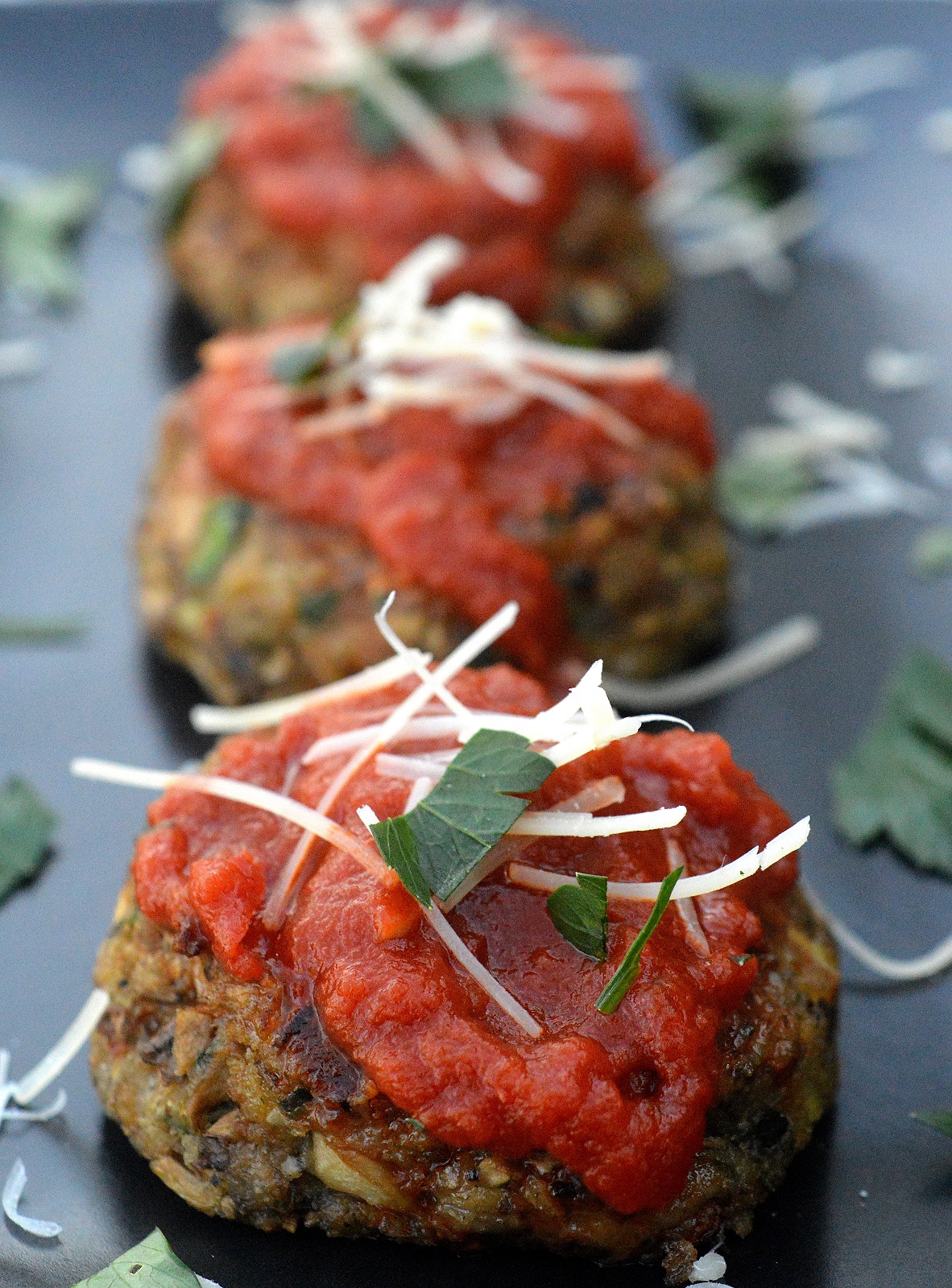 Just look at that rich vibrant sauce above on the meatballs!
Jar Goods recipe is based on the sauce that Pa Vitelli lovingly made every day for 50 years at the famed New Jersey restaurant Jules. Jar Goods as a specialty food was brought-to-life as a retail product by his daughter and daughter-in-law. Love that!
If you love a good quality sauce with you pasta, chicken, meatballs, mozzarella sticks, stromboli, garlic bread or whatever it is you enjoy sauced with. Give Jar Goods a try.  I enjoy a litany of specialty foods...If I find something unique or seriously delicious and I don't have to make it...err what I really mean is I don't have to clean up AFTER making it....I am in. One day I will have to share my list of my favorite specialty foods with you.  
I also like to go out of my way to support start-ups and small business...especially when I love their product.
Jar Goods Specialty Pasta Sauces fit both of these categories for me.
Here's where you can buy them.
Follow Jar Goods on Facebook, Twitter and Instagram for recipes, news and specials.
Since I can remember, mushrooms have been in my top 3 "Nope, not gonna put that in my mouth" list.  I cook with mushrooms a lot and I make some crave-worthy dishes with them. Everyone is always amazed at how I do it when I won't put one in my mouth, lol! I ask questions...I understand how mushrooms work flavor-wise and know what my husband, family, and friends love most about mushrooms in general and somehow I just do it.
I had the idea for these for my husband and kids, the day I began tinkering with these Cheesy Mushroom Meatless Meatballs, my sister was here. She is a true mushroom lover (like my husband). So I was shoving bites her way asking 32 questions about flavor texture taste etc since ya know I don't eat mushrooms. Then I decided...what the heck and popped one in my mouth. I was shocked at the taste...This mushroom-avoider went back for a second, a third and a fourth. I had to get out of my own head, but man the taste is really really good!  This is the third time in the last few years I decided to eat anything mushroom and enjoyed them each time.  The first time was at a vegetarian's book launch. The second was with the Mushroom Council.  I guess I have turned a corner 🙂
When my 15-year-old some got home from school, I said: "here Connor, I made some meatballs". He inhaled them. Then I asked, "what kind of meat do you think I used in these?". He guessed lamb and asked for more...Should I tell him?? Haha, I did tell him and he was amazed...and he did eat more!
Let me know what you think!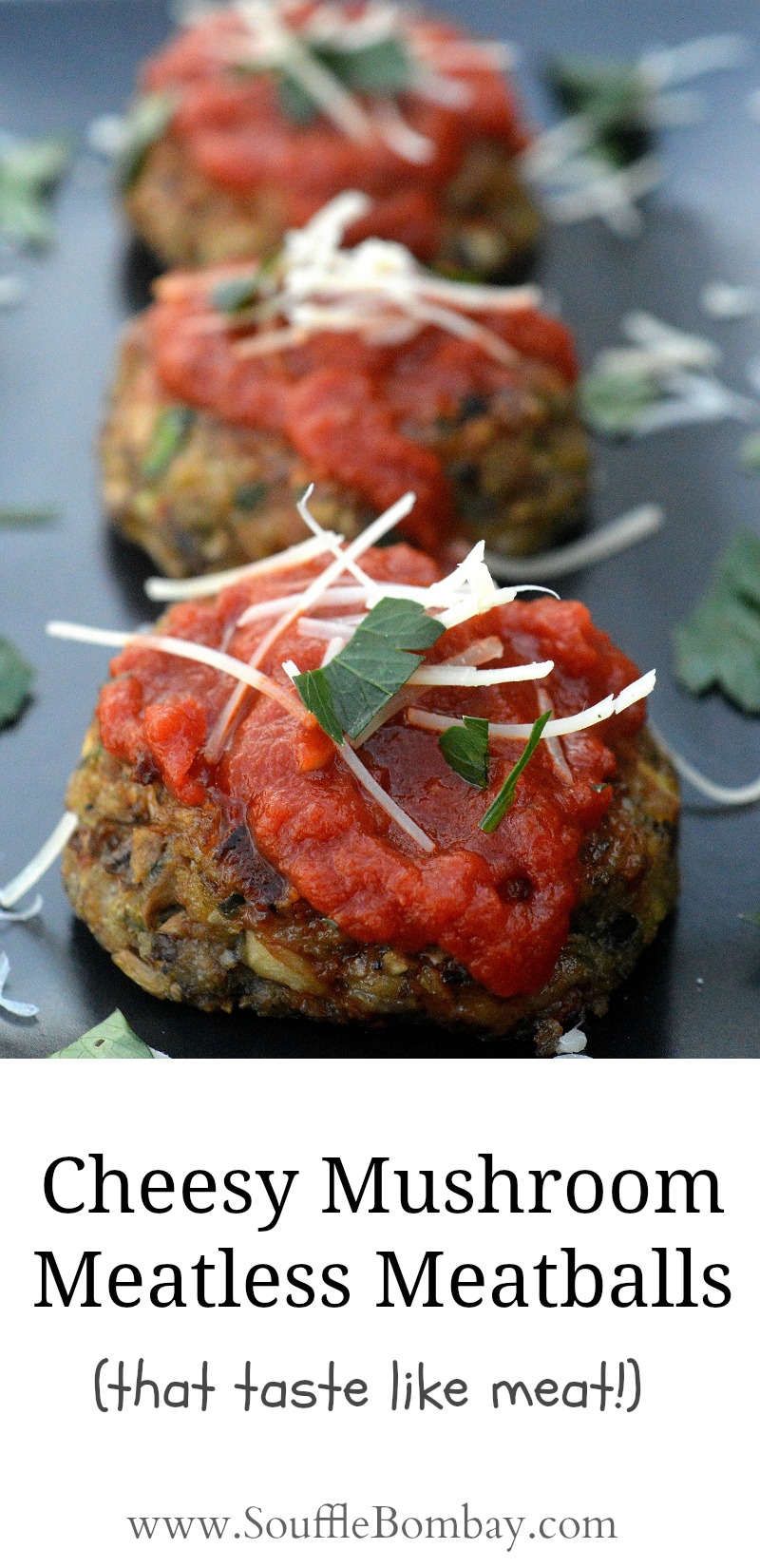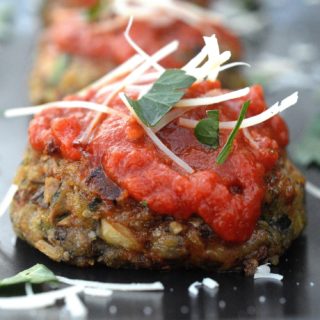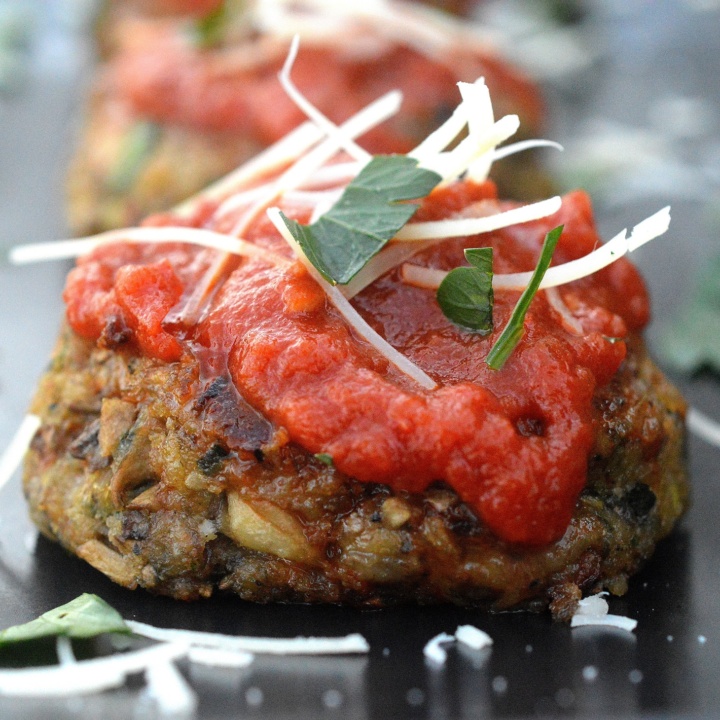 Cheesy Mushroom Meatless Meatballs
Ingredients
1

TBS

grapeseed or olive oil

1

pound

of mushrooms

minced (I used white mushrooms)

Salt and black pepper

½

TBS

butter

½

cup

of Vidallia onion

minced

5

cloves

of garlic

minced

¾

cup

shredded Mozzarella cheese

½

cup

chopped parsley

¾

cup

to 1 cup of breadcrumbs

1

large egg

Cayenne

red pepper (optional)
Instructions
Heat your oil, over medium heat.

Saute for about 6 minutes, add in the onions and garlic and continue to cook, stirring often, until the liquid is gone.

Season with salt and pepper.

Add in the butter and cook until the mixture begins to brown. The darker brown the mushrooms become, the richer tasting they will be.

Remove from heat and add in the Mozzarella. Allow the mixture to cool for 15 minutes or so.

Add in the parsley and ¾ of the breadcrumbs, stir to combine.

Mix in the egg.

Season a bit more with Salt & pepper and if you like a bit of heat some Cayenne pepper.

If mixture still looks wet, add in another ¼ cup of breadcrumbs.

Refrigerate at least 1 hour and up to overnight.

The flavors will mingle and the consistency will be better for the balls.

When ready to cook, preheat your oven to 350 degrees and form into meatball shape.

It's OK if they seem moist, they will hold together.

Heat some grapeseed or olive oil in a non-stick frying pan and brown your mushroom. You want them crispy...yet not burnt.

Transfer to the oven and cook for 15 minutes.

Serve them with Jar Goods Sauce (we love them with the Classic Spicy Sauce) on their own, topped with some fresh Parmesan cheese, with pasta or on a roll with some greens. Yummmm!
Notes
You never know just how much liquid may be in your mushrooms, which is why I vary the breadcrumbs quantity. Use your judgement.
Follow me on Tik Tok for 1 minute videos