Chicken and Pork Potstickers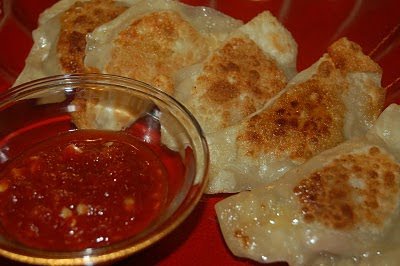 One of my favorite things about New Years Eve is the appetizers!!
It doesn't matter if we are out, hosting or at a friend's house or just snuggled down at home as a family, we have plenty of apps!!
Tonight we are taking it easy and staying home, just the hubby, kids and I (aaaah!!).
One of the tasty treats in our near future are potstickers. I am sooo not proficient at making these, they sure don't look like a beautifully made potsticker…more like a pierogi…lol…go figure. But in the end it's the taste I was after and it hit the mark. I just love fresh ginger in marinades! So many people have never purchased and used fresh ginger – they sure are missing out.
Whatever you are doing for New Years Eve…may it be fun, may it be save and may it be tasty!! Wishing you all health and luck in 2010!!
Chicken and Pork Potstickers Recipe

Wonton Wrappers
1/2 pound ground pork
1 pound ground chicken
2 cups Napa Cabbage, chopped fine
1 bunch of green onions, white and green sliced thin
4 TBS minced garlic
2 1/2 TBS soy sauce
4 TBS minced ginger root
2 TBS Asian sesame oil
1 teaspoon cornstarch mixed with 1 TBS water
Olive, peanut or Canola oil for frying
Mix together chicken, pork, cabbage, green onions, garlic, soy sauce, ginger and sesame oil. Use your hands until well incorporated. Lay out a dozen wrappers at a time and mound 1 to 1 1/2 teaspoonful of the filling (depending on size/shape of your wrappers) onto the center of your wrappers.
Wash your hands, then moisten edge of one wrapper at a time by dipping your fingers into the water/cornstarch mixture, run your finger around the edge, quickly fold over, press down and move to the next one. Go back to each wonton, moisten a bit more and fold edges over and pinch to seam. If using square wrappers fold the three "triangle" ends over. If using circle pinch and fold edges closed, like little pleats. A little extra of the water cornstarch mixture helps it along. Place assembled potstickers onto a baking sheet.
Preheat oven to 350 degrees.
Heat a large frying pan over medium-high heat; place enough oil to cover the bottom. Once hot, gently place potstickers into pan, careful not to crowd to much.
Fry for about 1-2 minutes per side…just until brown (pans vary). Place back on baking sheet and bake for 8 minutes. This gives you crispy fully cooked potstickers.
Just the way we like them.
If you like yours soft; use the biggest skillet you have and place enough water in it to cover the bottom about 1/4 inch. Add 1 teaspoon of oil to it and cook over med-high heat. Place the potstickers in there for about 5 -6 minutes, cover with a lid and steam to completion.
In a large bowl, combine
Dipping Sauce:
1/4 cup soy sauce
2 TBS unseasoned rice vinegar
3 TBS chopped scallions
1 TBS minced garlic
1 TBS minced ginger
1/2 TBS Asian sesame oil
1 teaspoon Asian Chili sauce or Chili garlic sauce (you could substitute a couple of dashes of Tabasco)
Mix all ingredients well with a whisk or fork. Serve with potstickers for dipping.
To use all the wonton wrappers if you purchase a pack of 50 or 60, you can easily double the recipe and freeze some uncooked on baking sheets for 2 hours, then transfer to freezer bags. When ready to use thaw for an hour, then cook.
This go round I could only find square wrappers, they typically hold a bit less filling than circle wrappers.