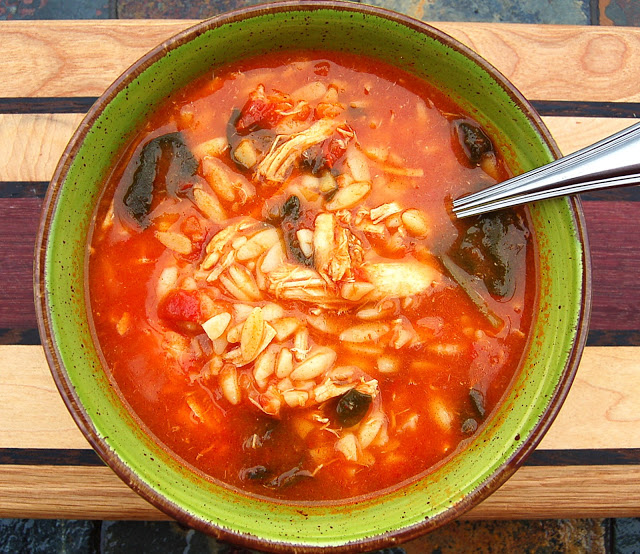 I think we all show our love differently. Some write moving love letters, some express their love for someone in a song, for some maybe it is something as simple as packing the perfect lunch for someone they love.
Every time I cook with my kids, I think we add in a special, secret and invisible ingredient, yup you guessed it...l-o-v-e... and I also believe we are making memories that, in my opinion, will last forever! (Love you two SO much!!)
When cooking with either my 11 year old son or my 8 year old daughter one thing they have in common is that they BOTH talk non-stop...about everything! I swear!! I get more scoop on what happened at school or whats going on with their friends, or what he or she now wants to do when they grow up, etc when we are chopping, measuring and stirring. I've always known how many things they learn in the process of cooking but it took me awhile to realize just how at ease and chatty they become. I just love it!!
The other day, my daughter & I made this superfantasticalydelicious soup. I was inspired by this soup which I pinned on my Soup Pinterest Board awhile back, then I adjusted it similar to one of my very favorite soups - Garlicky Tortellini Soup with Spinach & Tomatoes. The result was fabulous!! I let Samantha decide how much spinach and Orzo to add...she loved making the decisions 🙂
We made a HUGE pot of it and it was gone in under 24 hours. It was SO stinking good and packed with flavor! And do you know what?? I think it was because of all the fun Samantha & I had while whipping it up! We used the chicken stock we made a couple of weeks ago that was packed full of flavor and Samantha was excited to see it go full circle 🙂
The next time you want to show someone how much you love them...make them soup...because after all isn't a big bowl of fragrant, steamy soup just like a big old hug filled with love? I think so!


Chicken Tomato Orzo & Spinach Soup
2 TBS olive oil
2 big cloves of garlic, minced
1 cup of chopped onion
1 28 oz can crushed tomatoes
2 ½ quarts of chicken stock
2 cups of water
1 cup of orzo pasta
Kosher salt & pepper to taste
Red pepper to taste (start with ¼ tsp)
12-16 oz baby spinach
2-3 cups of shredded chicken (from a rotisserie chicken)
In a large pot, saute your onions & garlic in the oil for about 2 minutes, stirring often. Add in your tomatoes, stock and water and bring to a boil. Add in your orzo and boil according to package directions until cooked (about 9-10 minutes), stirring often. Season your soup with Kosher salt, black pepper and red pepper to taste. We like some spice in our soup. Taste as you go until you get the flavor you are looking for. Add in the spinach and simmer for 2 minutes. Add in the chicken, warm it through and serve.
Notes: Since I use homemade stock, the flavors are different than if I used store bought due to how I seasoned the stock. Play with your seasoning until you get a great flavor. A note about the orzo...it soaks up a good amount of liquid from your soup. You may want more or less orzo in your soup...more makes it stew-like which is still delicious. If your soup gets to thick the next day, just add water, vegetable or chicken stock to it to get the consistency you like and adjust seasoning if necessary.
I hope you enjoy this!!