Chicken Tortilla Soup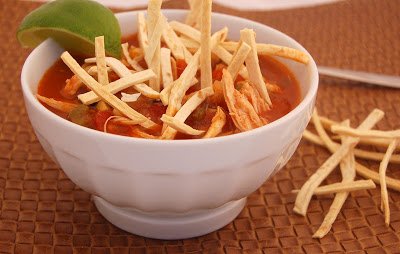 Soup! Who doesn't love it...right?
Plus, I love how after you lovingly make a big pot of soup, it lasts for a day or two and just keeps developing flavor...it just lkeeps on giving!
Love soup...well you are in luck!! Today 2/28/12 is the 2nd annual SoupaPalooza!! So come join SoupaPalooza at TidyMom and Dine and Dish sponsored by KitchenAid, Red Star Yeast and Le Creuset" Not only will it be tasty...you may get lucky as well!
We all have our favorites when it comes to soup, I usually go for creamy soups and bisque's (sorry thighs but it's oh so true). However, I do love Chicken Tortilla Soup - I love the spice, the crunch and the chicken!
I don't think I made as much soup so far this winter as usual...it must be due to the odd, mild weather we have been having. Where is that big snowstorm my family and I have been waiting and waiting for?
My kids (as well as my husband and I) have been wearing pajamas inside out, had spoons under the pillows and even threw ice in the toilets (who came up with that one? lol)! But the most we has was a little more than a dusting. Boo!
I for one am hoping March does in fact come in like a lion!
Chicken Tortilla Soup
-adapted from The Food Network
2 TBS olive oil
1 cup of finely diced onion
3 TBS minced garlic
2 jalapenos, diced (I use the whole thing, seeds and all for extra heat)
6 cups chicken broth
1 can (28 oz) crushed tomatoes
1 can (14.5 oz)black beans, rinsed and drained
2-3 boneless chicken breasts
Juice of 2 limes
½ cup finely chopped cilantro (optional)
Red pepper flakes for more heat (optional)
In a large pot, heat your oil then add in your onions and saute for 2 minutes. Once the onions have softened add the garlic and jalapenos and cook for another minute. Add the chicken broth, tomatoes and beans into and bring to a boil. Lower the heat to simmer add your chicken and and cook for 20 minutes. Once chicken is cooked remove from pot. When cool enough to handle shred your chicken and add it back to your soup pot. Add lime juice and fresh cilantro to the pot. Serve when ready. If you make the soup a few hours or a day in advance the flavors intensify.
To make tortilla strips, just preheat your oven to 375 degrees, lightly brush a few tortillas with olive oil, sprinkle a bit of salt on them if you like, then cut them into 1 inch long strips then place on a baking sheet and bake until crisp, about 8-10minutes.
When ready to serve, top with tortilla pieces, lime wedge, avocado slices and or some Monterrey Jack cheese. Any or all are great additions!
Enjoy!!