Chilled Asparagus Plate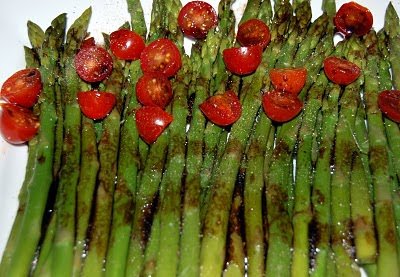 The first party I ever "catered" I served this beautiful Chilled Asparagus Plate. I just think the coloring is perfect for a buffet table.
The party happened to be for my Mother, it was her 50th birthday, at the time I was 27 and I had no idea what I was getting myself into!
Man that was some serious work!!! In the end I cooked for 100 people.
Three days off from work, 3 entrees, numerous appetizers, 40 pounds of meat, 50 pounds of vegetables and some serious luck later….I am happy to report…all went well.
Try this dish for your next gathering, the colors are gorgeous and the taste is spot on!  And you know what…people feel good about loading up on these to counter some of their party food indulgences.
Chilled Asparagus Plate
1 bunch of asparagus, ends trimmed
1 pint of grape tomatoes, halved (or any tomato variety, chopped)
1 teaspoon olive oil
A few dashes of salt and pepper
Vinaigrette
1/4 cup Balsamic vinegar
1 TBS sugar
1 cup olive oil
1 teaspoon Dijon mustard ( I love Grey Poupon Country Dijon)
In a large skillet filled 1/2 deep with water, cook your asparagus until crisp tender about 3 minutes (or if you have a steamer, steam them till crisp-tender).  If your asparagus are thicker, cook a bit longer.
Once the asparagus are done, run them under cold water or plunge them into an ice bath to stop them from continuing to cook. Gently blot them dry. Wrap in paper towels and store in your refrigerator for a few hours.
Make the vinaigrette by combining the 4 ingredients and which until combined. Taste and adjust to your liking. Some like it sweet, some more vinegar tasting.
When ready to assemble, toss the asparagus in a tsp of olive oil, use your hands to get them evenly coated. Sprinkle with salt and pepper and plate.
Sprinkle with the tomatoes, then the vinaigrette. Let the flavors mingle for an hour and serve.
This Chilled Asparagus Plate would serve 5-6 people on a buffet. You could always add some super thin slices of red onion if your guests are onion people. For a crowd, I triple or quadruple this and serve on a huge oval glass dish fan the asparagus out in a circle…so pretty!
Enjoy!!
Colleen