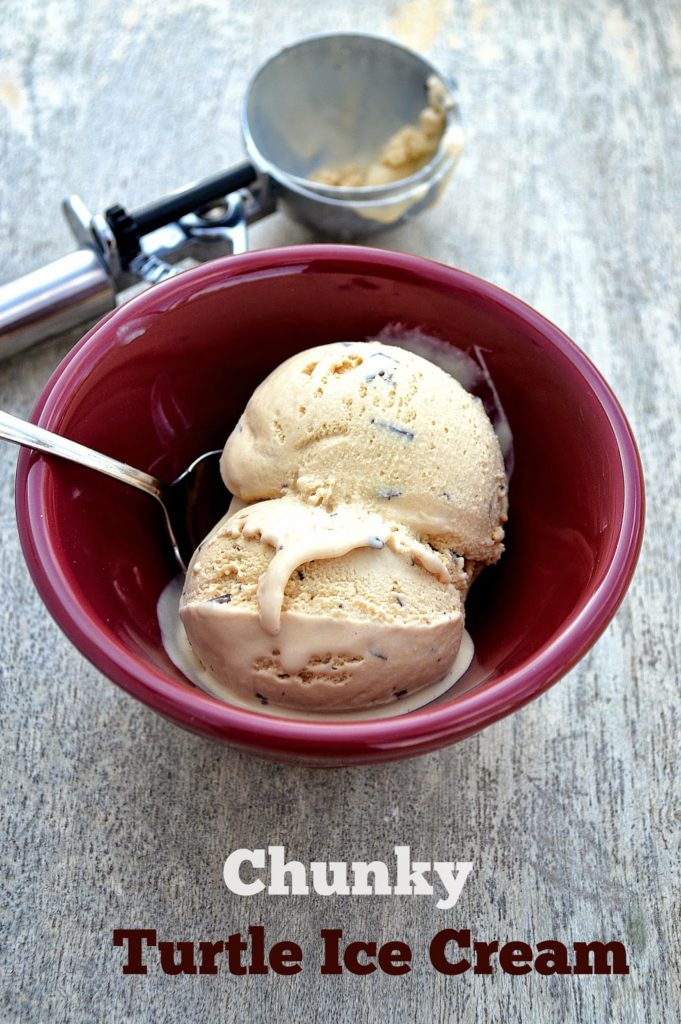 I finally made homemade ice cream last summer with the wonderful ice cream maker I had had sitting in its box, purchased about 4-5 years ago.  There it sat, patiently waiting for me to come to my senses.  I have no idea what the heck I was waiting for.  The Roasted Cherry & Vanilla  Ice Cream I made last summer when I finally cracked her open was so much better than anything I could buy at the grocery store!
A few weeks ago I received the new cookbook Scoop Adventures "The Best Ice Cream of The 50 States" by Lindsay Clendaniel and I had SO much fun looking it over.  I decided right then and there that each member of my family could pick 2 ice cream flavors from the book to try between now and the end of summer.  Oh boy are we in for some treats!  Lindsay gathered the best of the best when it came to specialty ice creams from local ice creamery's across the country – tough job, right!!  Ummm, hellloooo, does anyone need me to travel across the country or world and eat then replicate what I tasted?  I'm in if you do (wink!)!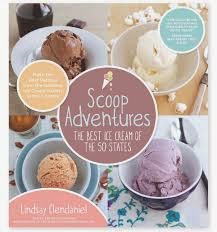 A few standouts from the book, in my opinion, are the Balsamic Fig ice Cream (Oh my gosh!!), Steen's Molasses Oatmeal Cookie Ice Cream, Key Lime Pie Ice Cream, Chipotle Raspberry Ice Cream, and this Chunky Turtle Ice Cream.
I chose to omit the salted pecans when I decided to let my minions make the ice cream (my kids are allergic to nuts).  My 9-year-old daughter and my 9-year-old niece are the ones who are to be credited with making this ice cream.  They did a wonderful job!  Both prepped the ingredients, Samantha helped man the stove, while my niece Skylar, kept reading and re-reading the steps aloud.  We had fun in the kitchen and tasted what we were making along the way and all three of us found it delicious!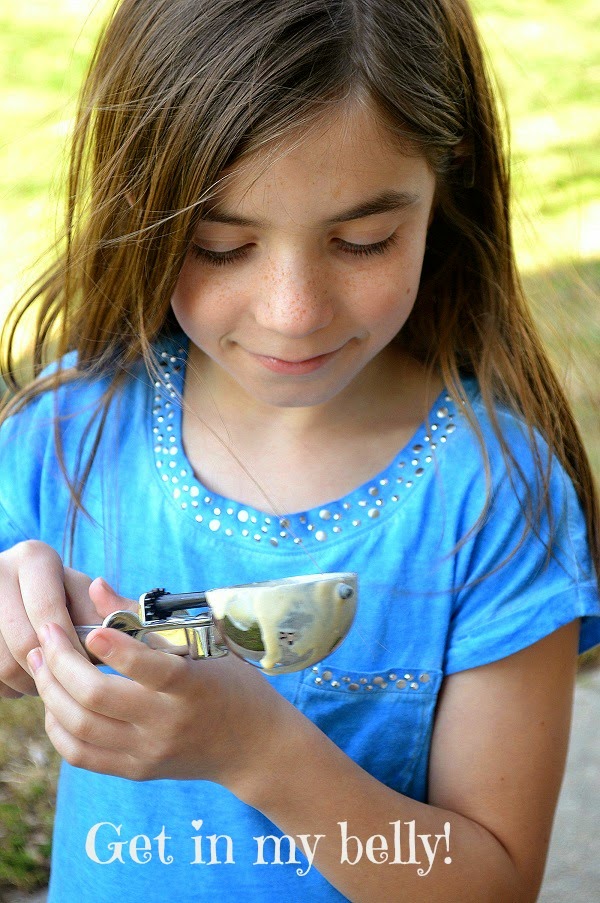 This result was a slightly salted caramel ice cream with bittersweet dark chocolate chunks and it was de-licious!
My next "Must Make" from this book is the Blueberry Mojito – OMGee! And yes, it does call for some rum!  Oh yeah!
My daughter wants to make a strawberry ice cream, so stay tuned and see what else we might make and share!
Chunky Turtle Ice Cream
Inspired by Wholly Cow Ice Cream, Charleston, South Carolina
-Scoop Adventures
MAKES 1 QUART (940ML)
Caramelized and almost burnt is one of the best ways to eat sugar. Caramel has been a favorite in candies and chocolates for a long time, but more recently ice cream shop owners have discovered the goodness of using caramel to flavor ice cream. Salted caramel is one of the most popular flavors in ice cream shops today. Wholly Cow adds glorious South Carolina pecans and chunks of chocolate to their version of caramel ice cream, resulting in a sweet, salty, crunchy, chocolate-filled scoop.
ICE CREAM BASE
1 ½ cups (355ml) whole milk, divided
1 tbsp (9g) cornstarch
⅔ cup (133g) sugar
1 ¾ cups (414ml) heavy cream
½ tsp salt
¾ cup (128g) salted pecans (see below)
2 oz (56g) dark chocolate, finely
chopped
SALTED PECANS
¾ cup (128g) unsalted pecan pieces
1 tbsp (14g) unsalted butter, melted
½ tsp salt
To make the ice cream base, fill a large bowl with ice water. In a small bowl, combine 2 tablespoons (30ml) of the milk with the cornstarch, whisk and set aside. Measure the sugar into a large, deep saucepan and place over medium heat. Do not touch the sugar until all edges begin to melt, then cook the sugar until it begins to brown, stirring gently and frequently, allowing the sugar to reach a deep amber color. Immediately and carefully add about ¼ cup (60ml) of the cream. Be careful: The mixture will bubble and spit when adding cream to the hot sugar; the sugar will harden but when returned to heat will melt again. Add remaining cream until complete, stirring to combine.
Return the pan to medium heat. Add the remaining milk and bring the mixture to a boil. Cook for 3 minutes, or until all caramelized sugar dissolves. Remove from the heat and gradually whisk in the cornstarch mixture. Return to a boil and cook over moderately high heat until the mixture is slightly thickened, about 1 minute. Pour into a medium bowl. Whisk in the salt. Set the bowl in the ice water bath to cool, 20 minutes, whisking occasionally. Cover and refrigerate until well chilled, at least 4 hours or overnight.
To make the salted pecans, preheat the oven to 350°F (180°C, or gas mark 4). Combine all the ingredients in a medium bowl, tossing to coat the pecans. Spread the mixture evenly on a baking sheet and bake for 10 to 15 minutes, stirring once, until slightly toasted and aromatic. Let cool completely before adding to the ice cream.
Once the ice cream base is chilled, pour it into an ice cream maker and churn according to the manufacturer's instructions. When churning is complete, gently fold in the salted pecans and chocolate pieces. Transfer to a freezer-safe container and freeze until firm, at least 4 hours.
Enjoy