Coconut Chicken Fingers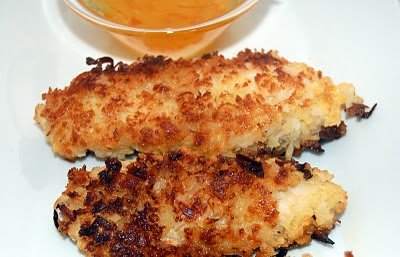 I saw these tasty treats a while back on the Pioneer Woman's awesome recipe sharing site Tasty Kitchen. (Where BTW I have met some absolute fabulous people)
They were submitted by Savory Sweet Life – she has an amazing site – her pictures are beautiful!!!
I personally dig coconut shrimp and have made it often in my life – it cracks me up how many people in my life are always like…"oh, no, no, no…I don't like coconut"!
In both coconut shrimp and this wonderful chicken – the coconut is just there to crisp it up…which is what I love.
I spiced up these Coconut Chicken Fingers from the original recipe to suite my tastes, my husband gave them two thumbs up…and so did I!!
Coconut Chicken Fingers
adapted from Savory Sweet Life http://savorysweetlife.com/
1 1/2 pounds boneless chicken breasts, cut into strips
1/2 cup orange juice
3/4 cup sweetened, condensed milk
1 egg
1 cup sweetened shredded coconut
1 1/2 cup Panko bread crumbs
Olive oil
1/2 cup honey
1/2 cup orange marmalade
A few dashes of Tabasco (or more it you want additional kick, especially in the sauce…YUM)
On a baking sheet line up your chicken strips. Set aside.
In a medium bowl, mix orange juice, condensed milk, and egg until your "wet" mixture is well incorporated.
In another bowl, mix coconut, Tabasco and Panko crumbs.
Dip and fully coat each tender in the egg mixture first and then the Panko/coconut mix. Set each coated chicken gently back on the baking sheet.
Heat olive oil in a skillet over medium-high heat.
Fill pan with a layer of olive oil.
Fry each tender for 6-8 minutes until golden brown. Serve with Spicy Honey Marmalade dipping sauce. Enjoy!
Spicy Honey Marmalade Dipping Sauce
In a small bowl, add honey, marmalade and a few dashes of Tabasco.
Heat in the microwave for 1 minute. Stir everything until well mixed and serve in a small dipping bowl with coconut chicken tenders.
You can of course just make these sweet as originally intended – but I just love some heat in my food…in this case just a hint of heat.
Enjoy!! I know I sure did 🙂
Colleen