Colleen's Spicy Shrimp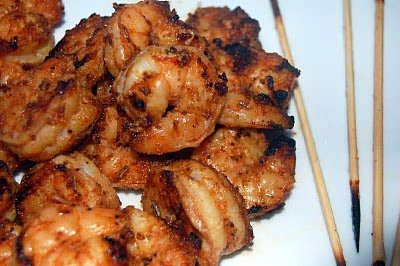 Yesterday we had some snow on and off for 2 hours, a dusting I guess you would call it, just enough to look pretty. So of course I had to send my husband out to grill!
THIS is one of my favorite recipes period. It happens to be the most requested recipe throughout my life.  I just now realized I have been making this shrimp for almost half of my life.  Wow.
The very first time I made it, I was about 19-20 everyone loved it, except my Dad, he said and I quote
"ARE YOU CRAZY!!". He likes good food, but he does not have the tolerance or desire for anything spicy.
These little spicy shrimp have a bit of a kick to them but how much of a kick of course is up to you.
If I am taking these somewhere and I always am...still. I tone it down.  If I am making these for us or those I know dig a spicy treat...then it's game on!
Can I just say as I was making these yesterday and reflecting on the countless and I mean countless times I have made this, one of the "inventions" I am most grateful for in my lifetime that have made my life so much easier (besides The Boppy, the bouncy chair and itunes/ipod) is EZ peel shrimp. Seriously...I usually bring / make 5 pounds of this shrimp at a time and I like 21-25 count size which equates to about 125 shrimp.
Prior to EZ peel shrimp, my husband or I (he is always willing to prep the shrimp...so he can eat them later...lol) Had to peel and de-vein them.  Which was such a chore...now you get it done in a fraction of the time whoohoo!!
I hope you like these as much as we do!!
Colleen's Spicy Shrimp
2 pounds of raw shrimp (don't get the small guys, go with 21-25 or 26-30 count)
¾ cup light olive oil
¾ cup low sodium soy sauce
5 tablespoons of Cajun seasoning
½ cup sesame oil*
½ cup lemon juice
4 TBS fresh ginger, minced
3 teaspoons dry mustard
Tabasco - up to you here you can go from 3 teaspoons to 10
I just shake it until it fits the mood I am in. Use whatever hot sauce you have on hand.
Optional - for extra kick you can add a few shakes of red pepper
*If you are not familiar with Asian sesame oil...it's right near the soy sauce and can be used for a number of marinades...it's in the pot stickers on this site as well and a few others soon to come as well.
Combine all ingredients except shrimp and whisk until fully incorporated.
Peel shrimp, remove the tails and pat dry.
Throw them into the marinade and stir around until they are all coated.
You can let the shrimp marinate for 30 minutes to an hour. Not much longer than that.
Skewer the shrimp onto metal or wooden skewers.
Cook on the grill for about 2 to 3 minutes per side - until all are pinked up and cooked through with a nice char.
We have a set of oven mitts we reserve for the grill -this way you just grab the skewer ends and flip them over - nice and easy that way.
Remove the shrimp from the skewers and watch them disappear!!
Enjoy!!
Colleen