Cranberry Chambord Spread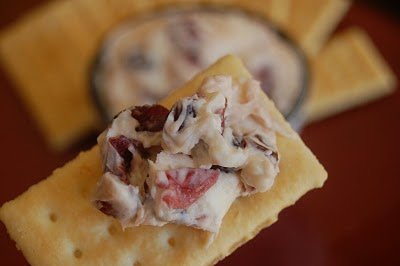 All I can say is Oh My Gosh!!
Gotta love it when an experiment turns out to be delish!! This Cranberry Chambord Spread  turned out to be trouble and as a result my dinner HA!!
Here is a treat for the adults (as you can see…still in my red phase for V-Day…lol). Cranberry Chambord Spread is a sweet and tasty spread perfect for crackers or apple slices!
I plan on serving this as part of a cheese board this Saturday for a girls night in.
Cranberry Chambord Spread
8 ounces of cream cheese, softened
2-3 Tablespoons of sugar (more or less to your taste)
3/4 cup dried cranberries
Chambord
Fill a small bowl with the cranberries and pour in just enough Chambord to cover them. Cover and set aside for 3 hours or more, stirring around every so often.
Drain cranberries (don't squeeze them or anything, just drain most of the liquid)
Combine with softened cream cheese and sugar and stir well until fully incorporated.
Refrigerate for at least an hour prior to serving.
Serve in a small crock or invert onto a cheese tray with apple slices and or crackers.
Enjoy!!
Colleen