Cranberry Champagne Cocktail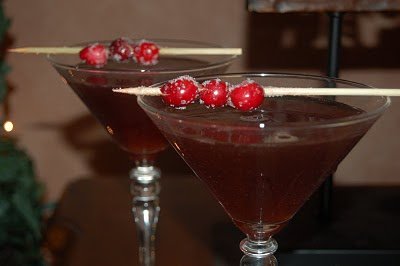 I like my wine and my drinks sweet, I have tried many types of red wine but ugh none seem to suit me. I want to like them…I try to like them…I pair them with good cheese and food but alas – no hope!
My favorite type of wine is a good Riesling. I also absolutely love Chadsford Winery's Sangria(it is red and I can fool myself that I am drinking red wine…and LIKING it) I seriously buy it by the case once or twice a year.
I have never liked beer…period. Which brings me to a dilemma – Christmas Eve, my husband purchased 3 cases of beer (We hosted). He opens the first case and inside is a golden ticket that says "Congratulations!! You win the ultimate prize"
He was like – oh funny, every case must have one of these inside of it – well, he opens the next case and nada. So we go to the computer to check things out. Turns out The brewery (Saranac) had planted 15 tickets to be found (ala Willie Wonka) and you win an overnight stay at a cushy hotel in Utica NY, a VIP tour of the 120 year old brewery led by the owners and a gourmet meal paired with appropriate beers.
What is a non-beer loving gal to do? Go with her man for a fun overnight getaway or step aside and let him enjoy it with a fellow beer loving buddy?? I have to think about this one.
Anyway – this ia a cocktail I whip up around the holidays each year. It came from an old Gourmet Magazine in the late 90's – I love, love, love Asti Spumante so this is right up my alley!!
Cranberry Champagne Cocktail
1 bottle or Asti Spumante or Champagne
1 1/4 cups Cointreau or Grand Marnier
1 1/4 cups cranberry juice
1/2 cup plus 2 TBS fresh lime juice
3 TBS sugar
Optional – sugared cranberries for garnish
Stir together everything except the asti/champagne. Cover and chill for 3-6 hours.
Just before serving, fill flutes or martini glasses 3/4 full with mixture and top off with the asti/champagne. Keep the rest chilled until refilling Yum, Yum, Yum!!
Enjoy!
Colleen