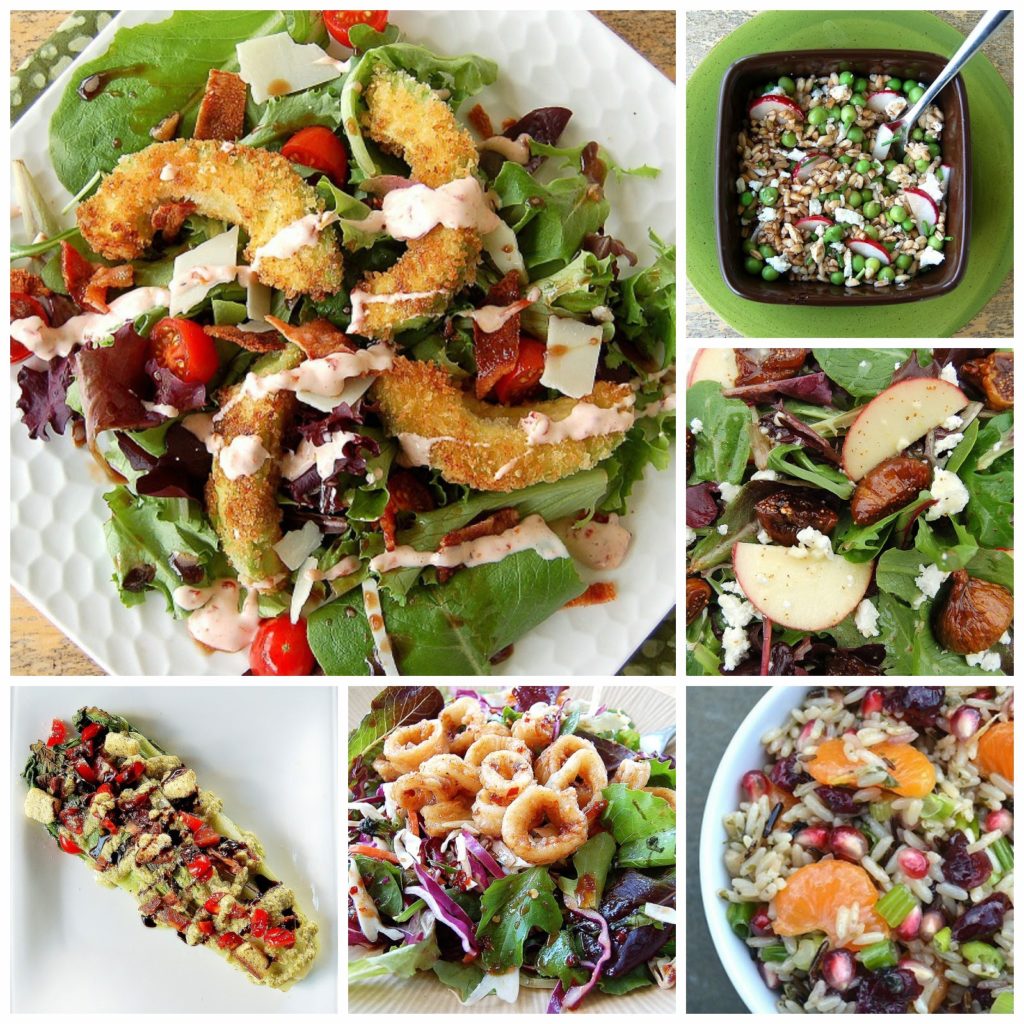 Guess what? It's my birthday!
Every year when my birthday rolls around, I start thinking about spring and summer and say to myself…Hey Col, you better start eating a little lighter to get ready for the seasons. So today I am going to share some of my favorite salads with you and I decided it would also be a great time to give something fun away 🙂
You know what else I think about? Buying something for my face…I have no clue what that is about. I just always like to buy something for my face when my birthday rolls around. I figure I have been shlepping it around all this time and its going to be with me till the end so I might as well treat it from time to time. Last year my face-treat was the Clarisonic Mia, which I love. This year, I am not sure yet – I see a trip to Sephora in my immediate future to figure that out. Any recommendations? What is your hands-down favorite product? Spill…this gal needs to know!
Its so funny, I think many of us are always in search of THAT product, lip gloss or whatever that will magically make us "beautiful". Confession time…just how many lipsticks have you owned sincey our teen years – it really is kinda crazy (seriously crazy in my case anyway)! I think what makes us beautiful, is being happy in our shoes, laughing out loud at the world around us and ourselves and not being afraid to branch ourselves out and try new things…everything from new foods, to new experiences to new friends. Know WHAT?? Just like that, I just decided that those are the 3 things I am going to focus on this year. Anyone want to join me?
OK on to the giveaway! Have you ever hear of Sticky9 (formerly StickyGrams)? They are the coolest thing! As if I didn't love Instagram enough…now you can get your favorite Instagram photos instantly turned into magnets or a collage case for your phone or tablet. Each set has 9 magnets, hence the name Sticky9. They just added a new Jigsaw choice as well, which I think is so fun! I can just see a 3 year old putting together his/her/mommy/daddy's face! Love it!
I adore Instagram for chronicling happy moments, adventures, funny moments and food successes from my life. The filters and the inter-activeness of it make it so much more fun that just snapping a traditional picture. And now I can get magnets of my favorite shots/memories with the push of a button? I-am-smitten and can see this turning into a slight obsession!
These are the first Sticky9 I ordered: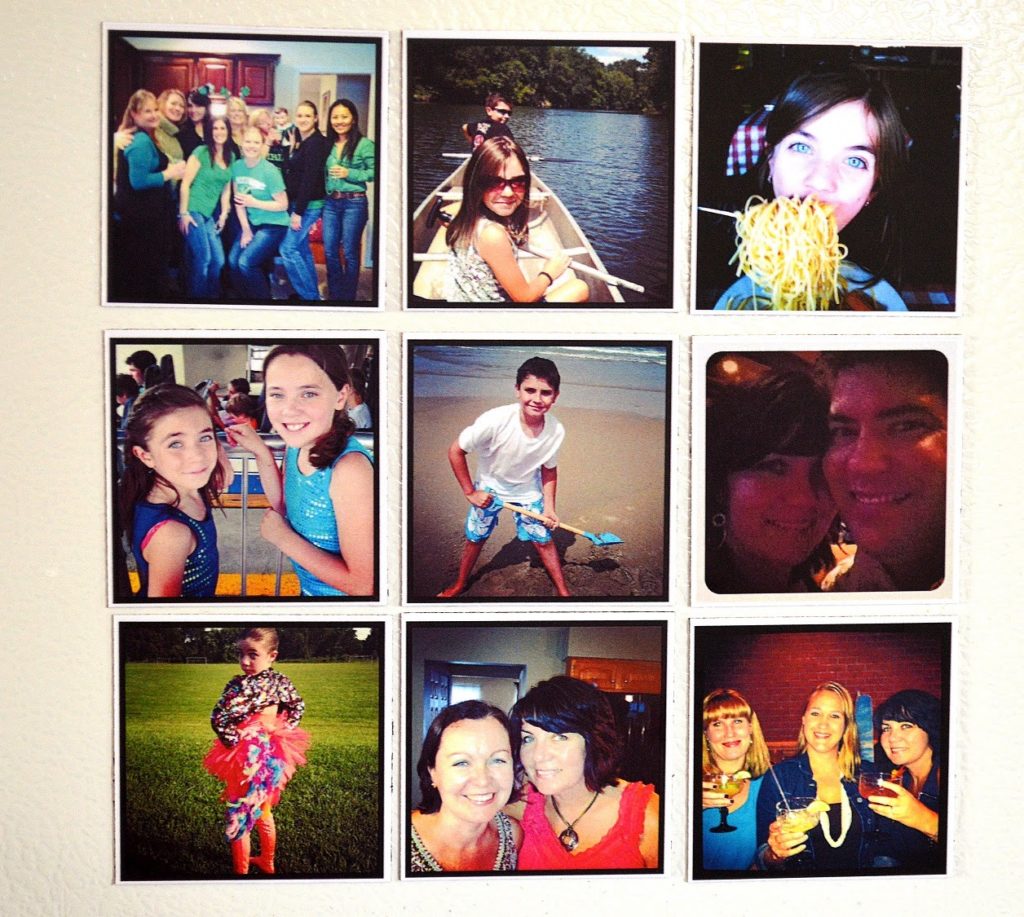 This is my favorite Instagram pic ever!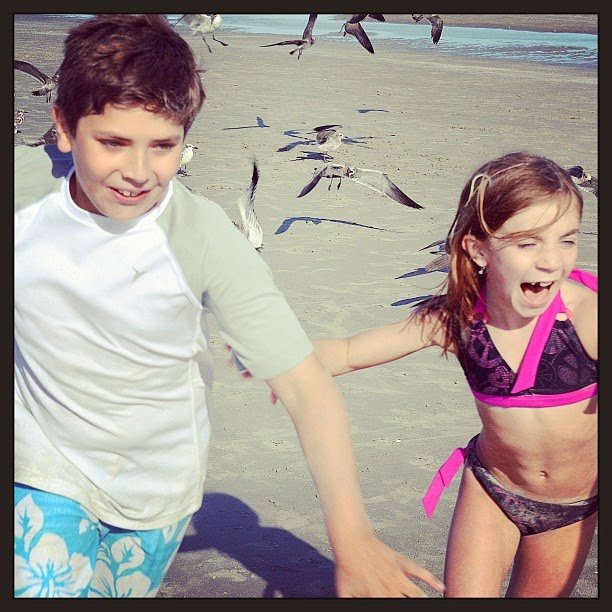 AND I forgot to order it in my first order, however…now I want it in the new Jigsaw…so it all worked out!. This pic of my kids on the beach running for their lives from seagulls (that I had thrown bread to) makes me SO happy! I remember doing that as a kid…now my kids are carefree and enjoying life with no real responsibility, with unlimited potential ahead of them, its such a magical time and this shot will forever remind me of that!
I received my first order of Syicky9's for free and already know the next 18 I want to order, and I can't wait to get them! My son is heading to middle school next year – some of these on his locker will be so fun! Seems my kids 12/9 and their friends all love Instagram even more than I do…they chronicle their life. They will just love Sticky9's!
Two of you will win your own order of Sticky9's! All you have to do is enter the giveaway below and you will soon be smiling extra (as I am) when you go to your fridge to grab something (or wherever it is you choose to stick 'em)!
Here are 6 of my favorite salads – sometimes a nice hearty salad is the best meal! Mmmmm!


Crispy Avocado Bacon and Tomato Salad (My my #1 favorite salad)
Grilled Romaine with Avocado Caesar Dressing (Grilling the romaine takes it to another level)
Asian Salad with Fried Calamari (A close 2nd to my fav!)
Wild Rice Fruit Salad (my daughters creation and a family favorite, a nice change to the usual)
Sauteed Fig & Goat Cheese Salad (Figs and cheese!)
Farro with Feta, Radish, Peas and Chives (a great take-it-with-you-lunch)