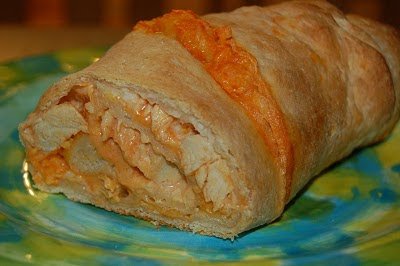 I am a white meat kinda gal, and bones in my food are really not for me…SO as much as I love the look and smell of buffalo wings, I have noooo interest in eating them…Even with that intoxicating, genius sauce, the look of the meat and bones completely freak me out.
At least my thighs can be grateful for that one.
I have made them a number of times for parties or picnics. THAT SAUCE is so very addictive. I absolutely love it. Often I slice up a boneless chicken breast and saute myself up boneless bites smothered in wing sauce for lunch.
Here is an easy Stromboli to whip up for a card night, sports game gathering or just because. It goes great with a beer…or so the husband says!
You could also serve a nice green salad along with it and call it a meal.
Take a look at the cute plate my 5 year old made for her Daddy Christmas…She was proud to have me take a picture of it.
I am still in disbelief that the plate had not a drop of pink on it lol!
Buffalo Chicken Stromboli
Pizza dough (bought or homemade)
Blue cheese dressing
1 1/2 cups shredded Cheddar and monterey jack cheese blend
3 boneless chicken breasts, diced
Your favorite wing sauce to taste
Saute chicken pieces in a skillet with a bit of olive oil for 3 minutes, you really only want to partially cook it. It will finish up in the oven.
Remove chicken and toss with chosen buffalo wing sauce. Set aside
Shape your pizza dough into a rectangle on a baking sheet.
Spread just enough blue cheese dressing to lightly coat the dough.
Sprinkle cheese over dough.
Scatter chicken chunks tossed with wing sauce evenly over dough.
Carefully, roll up dough lengthwise, forming one long roll. (Tuck and roll)
Tuck in the ends and pinch seams shut.
Make 2-3 slices across the top of the Stromboli to vent.
Bake according to chosen dough's instructions…usually 40-45 minutes or until golden brown.
Let it rest for 10 minutes prior to slicing.
Enjoy!