Endive and Celery Salad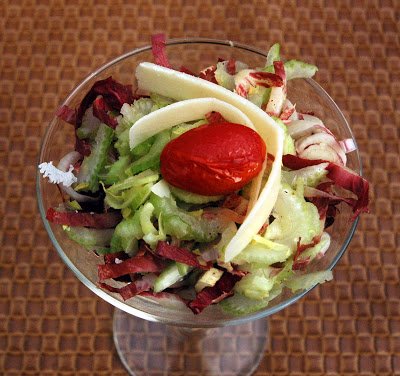 Raise your hand if you just love the crispy, crunchy, peppery taste of California Endive!!
I have been a BIG fan since I was a teen and a family friend in Connecticut served a beautiful Crab Mousse in Endive Spears. At the time I wasn't quite sure what to make of it, however after 2 bites I was hooked!
You can cook Endive or eat it raw – your call. I personally like it best raw.
I love the punch! PLUS it is a veggie that is a rich in vitamins and minerals AND is a great food to eat in the fight against ovarian cancer.
Here is a simple salad of Endive and celery that I really enjoy! Hope you do too!
Endive and Celery Salad
2 cups of thinly sliced celery (I use a mandolin)
1 cup of thinly sliced red or green Endive
A few shaves of Parmesan cheese
Roasted tomatoes (optional)
Dressing
2 TBS white wine vinegar
1/2 tsp Dijon mustard
2 TB fresh lemon juice
1/4 cup olive oil
salt and pepper
For the dressing, combine the above ingredients in a mason jar and shake well.
For the salad, combine your celery and Endive in a medium bowl, add in some roasted tomatoes, toss with dressing, top with a few shaves of the Parmesan and serve.
*For a sweeter taste add 1-2 TBS honey, for a creamier taste add 3-6 TBS Parmesan cheese and pulse in your food processor. Feel free to add additional crunch by tossing in some of your favorite nuts.
Enjoy!!