This right here is a favorite holiday appetizer of mine. Endive Stuffed with Sweet Potatoes & Bacon is sophisticated, leans a little healthy and is one of those apps you just keep coming back to for more.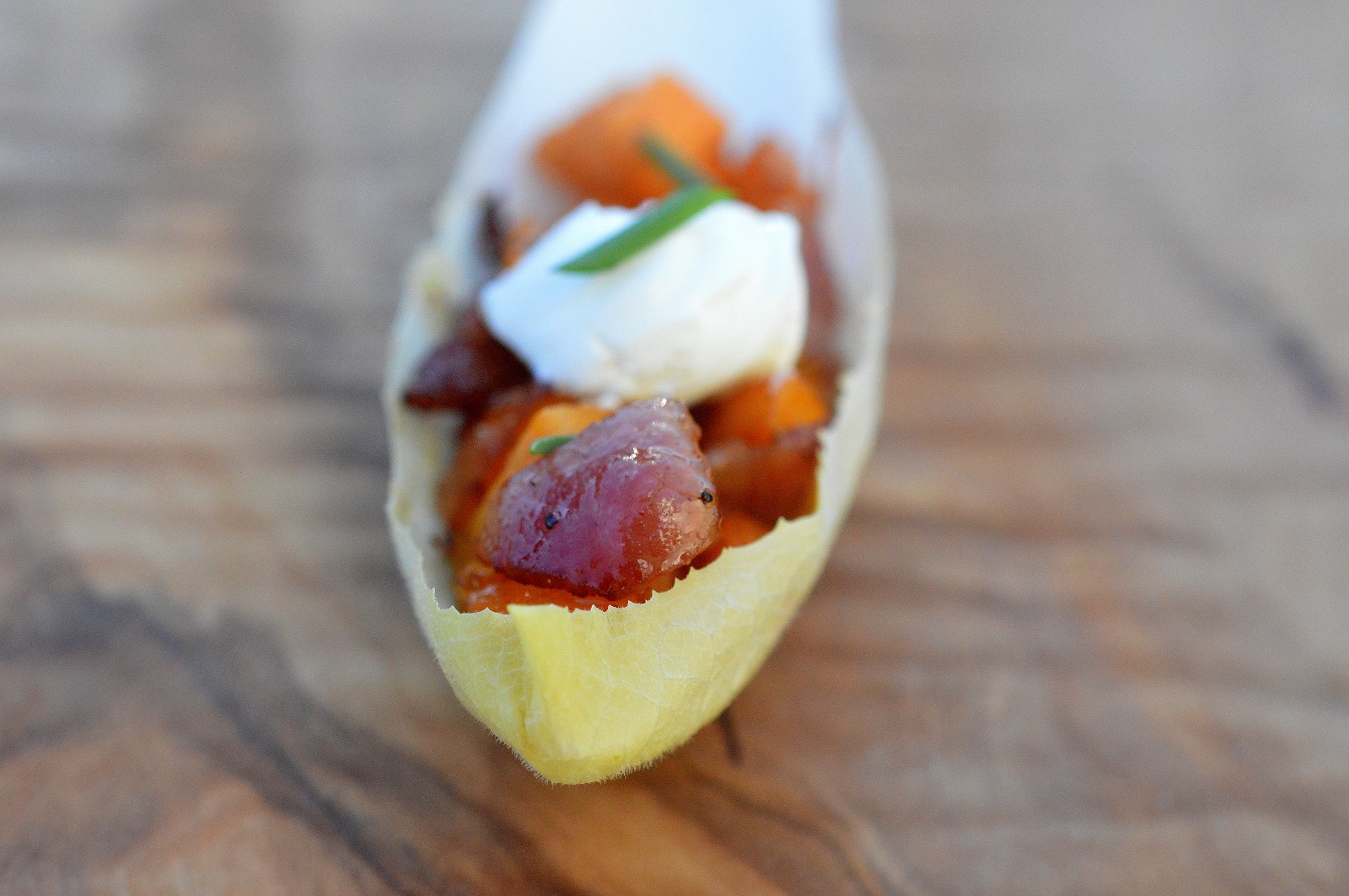 You can make the filling in advance. The great thing about this recipe for Endive Stuffed with Sweet Potatoes & Bacon is that you can serve it at room temperature or warm. Either way works.
I don't know about you…But me?? I have been so behind this holiday season. We have never decorated as late as we did this year. We love decorating outside however this year between redoing a room in our house, and a host of other things…we didn't do outside…Gasp!! I know…I know!! I just didn't see why my husband should go through all of that a week before Christmas.
I swear we will decorate the day after Thanksgiving from now on!
The one thing that has made my life easier is all of the online shopping I did this year. More than ever. I have a dozen or so sites that I trust and know I get quality products from. PotsandPans.com is one of those site.
Every order arrives quick and is quality. I have been impressed with them since discovering them about 6 months ago. When it comes to cookware, serveware, bakeware and accessories, look no further than PotsandPans.com. They have a huge selection and continue to add to it almost daily!

For this Endive Stuffed with Sweet Potatoes & Bacon I used this 14 Inch Anolon Skillet which is an AWESOME pan! I always love either really big cookware or really small cookware, ha! They are the pieces I get all excited about. This pan cooks brilliantly and cleans up very easily. The cushioned handle keeps cool and I love, because of the pans size that Anolon has an additional "helper" handle for when you may really load it up! Smart!! You can use this Anolon Pan to cook up so many things big or small! I've cooked eggs, browned huge pieces of pork, sauteed bacon and sweet potatoes and a few other things in this pan. I-love-it!!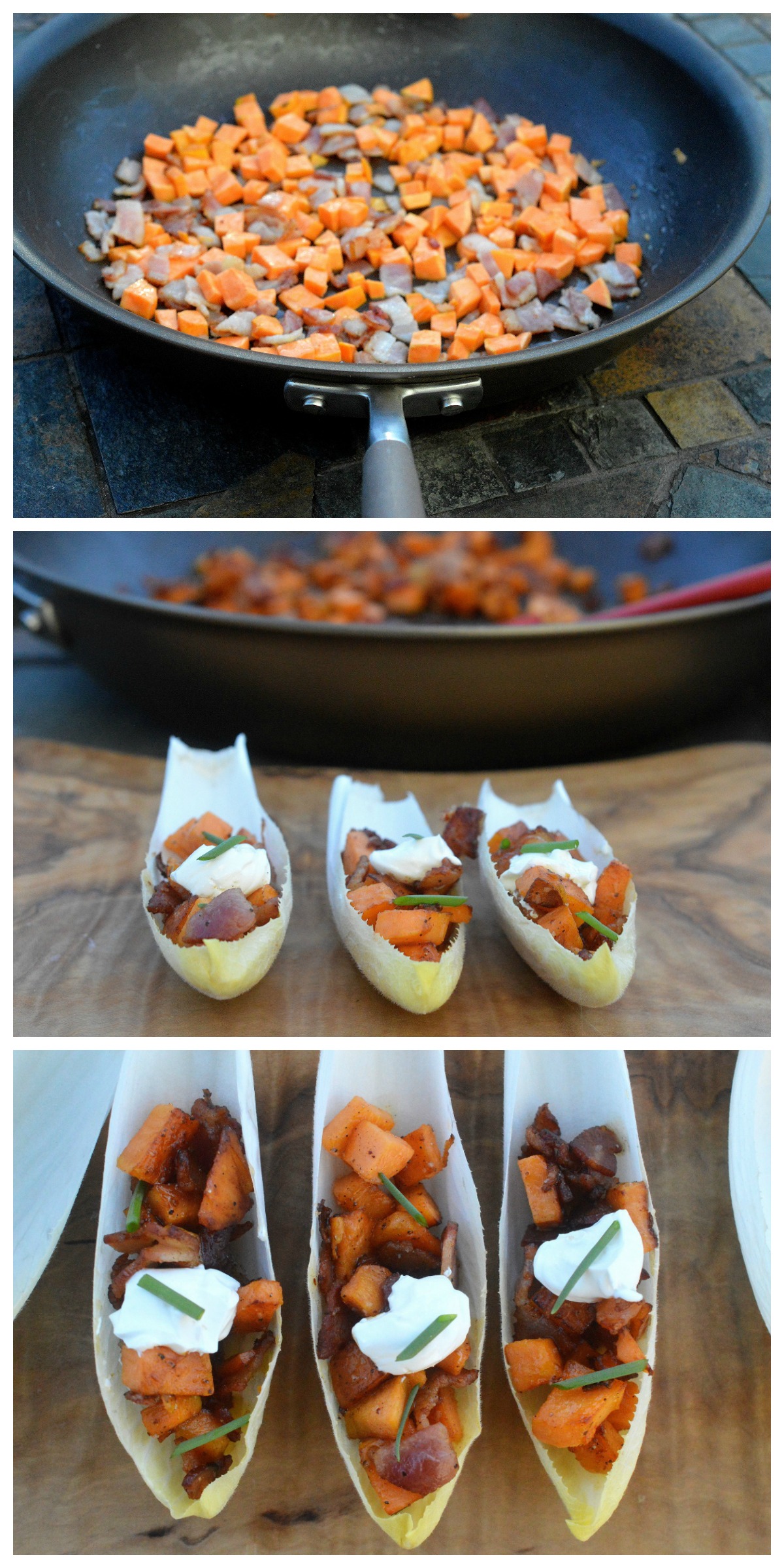 I am also smitten!! With this 2.5 Quart Round Anolon Casserole Dish. It's so pretty in red and its the perfect size and cooks so well! In all honesty, actually have a huge super pricey rectangle Le Cruscet Casserole Dish and this Anolon Round Casserole Dish is by far my favorite! I actually don't think I have ever had a lidded round casserole dish before…why not? I actually tried out my Amish Farmers markets Meatloaf Mix the other day, all I did was buy it…toss it into the casserole dish and ta-dah! I has a round meatloaf that everyone loved, I didn't even lift a finger!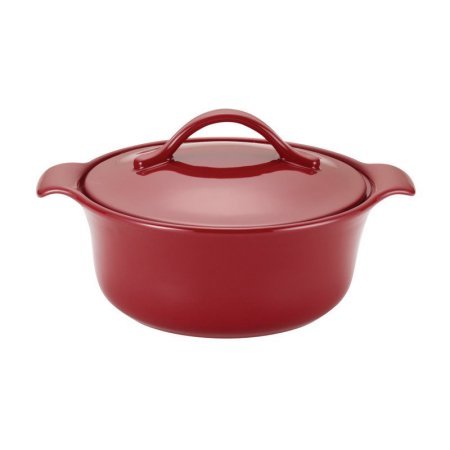 I am planning on bringing this beautiful casserole dish with me over the Christmas holidays, I know people will be asking me about it! It comes in a variety of colors and sizes…take a look here, just scroll down and you will see the choices. I do not do affiliate links…I just want you to see the choices and see what I truly think is a great product 🙂
If you are looking for a "different appetizer idea for Christmas or New Years visit PotsandPans.com for my recipe for Endive Stuffed with Sweet Potatoes & Bacon, which you can find here. This is gluten free as well…perk!
OK…one more thing!! I am giving away BOTH the 14 Inch Anolon Pan with Helper Handle AND the gorgeous 2.5 Quart Anolon Casserole Dish in Red!! I am so excited that someone will get two amazing pieces of cookware to compliment their kitchen (or give to someone as a gift)!
Good Luck & enjoy your holidays!!