What was the last new food you tried that knocked your socks off?
Me?? This week I ate my first biscotti which was de-lic-ious and tried farro for the first time.
Raise your hand if you've had farro before. What is your favorite way to eat it?
Farro -Pronounced FAHR-oh (for those of you who have yet to partake in its deliciousness) is an ancient grain in the wheat family that has been a staple in Italy (and some say as far back as ancient Rome). Farro is a plant and grain all its own. A grain of farro looks and tastes something similar to a lighter and puffier version of brown rice. It has a nutty taste with undertones of oats and barley.
I signed up to be a part of the 50 food bloggers to receiving a sample of Tuscan Fields Farro, which we would then use to come up with a recipe in an attempt to win a scholarship to this years Eat Write Retreat taking place in my birth-city, Philadelphia. I REALLY want to attend!! They have some fantastic speakers and workshops lined up. I especially would love to be a part of the Eat, Write, Retreat Culinary Challenge, sooooo fingers crossed!!
I didn't know what to expect when I started playing around with the farro Tuscan Fields shipped me. I tried the plain first.
I love that its organic and loaded with protein and iron, I love that it's non-GMO and I am falling head over heels in love with it because of how versatile it is and how good it is for me and my family! Even if I don't win the scholarship, I feel like I won something simply by being introduced to something new and tasty that I know will be gracing my table and have a place at parties to come! I can't wait to make this dish for my family & friends!
Can you see the nice sized farro pieces, they remind me visually of puffed rice cereal.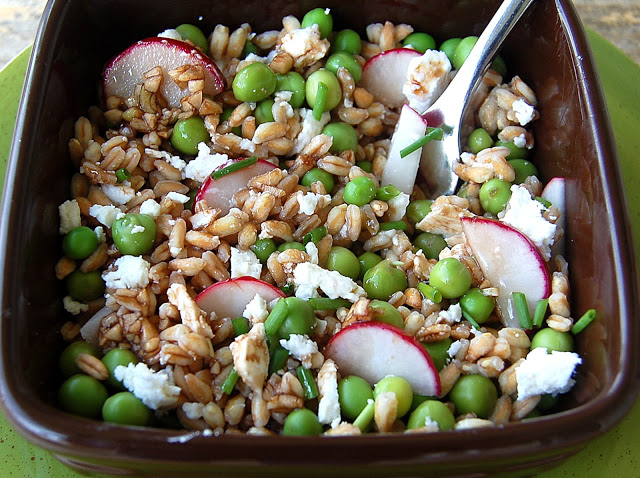 After tasting the farro, I decided to add in radishes for both kick & crunch, peas for color, chives for flavor and I was deciding between Parmesan or Feta for the cheese…I think the dressing paired wonderfully with the feta! This dish was SO SO stinking good!! I literally ate every single crumb of this and if I could have…I would have licked the bowl, lol!! I loved it, and I made it again today for my husbands lunch tomorrow (and mine as well)! This would be a fabulous side dish for BBQ's and parties as well! And I am thinking of adding some balsamic grilled chicken to it to make it a meal. I am not kidding when I say that I totally dig the flavor and texture of farro…and you know what else…I ate that bowlful you see pictured yesterday for lunch and I stayed full and satisfied for a very long time…way longer than I usually do (always being hungry is a hazard of thinking about food all the time, lol). Hmmmmm.
I hope you try this out!! For more ideas on what to do with farro, visit Tuscan Fields Pinterest Page.
Farro with Feta, Radishes, Peas & Chives with a Honey-Lime Vinaigrette
2 cups chicken broth or vegetable broth
Pinch of Kosher salt & pepper
1 cup farro (I used Tuscan Fields Farro Perlato)
1 cup freshly shelled peas
6 radish, sliced and halved
1/4 cup snipped chives
1/2 cup Feta cheese, crumbled
In a medium pot, bring your seasoned broth to a boil, add in the farro, stir and reduce to a simmer. Cook, stirring occasionally for 18-20 minutes or until mist of the liquid is absorbed and the farro is plump and cooked al-dente. Remove from the heat and cover the pot with a lid. In a pot of salted boiling water, cook your peas for 4 minutes, run them under cool water and set aside. Assemble your salad / side dish by adding the peas, radish, chives and feta to the farro, toss. Drizzle with the dressing and serve.
Honey Lime Dressing


2 TBS Balsamic vinegar
1 TBS honey
2 TBS olive oil
1 1/2 tsp fresh lime juice
1 tsp minced garlic
Salt & pepper to taste


Combine all ingredients in a mason jar, seal, shake vigorously and pour over your salad. You may have to stir this a bit as well to get the honey to combine.


Enjoy! Let me know if you try this and what you think of the farro!!