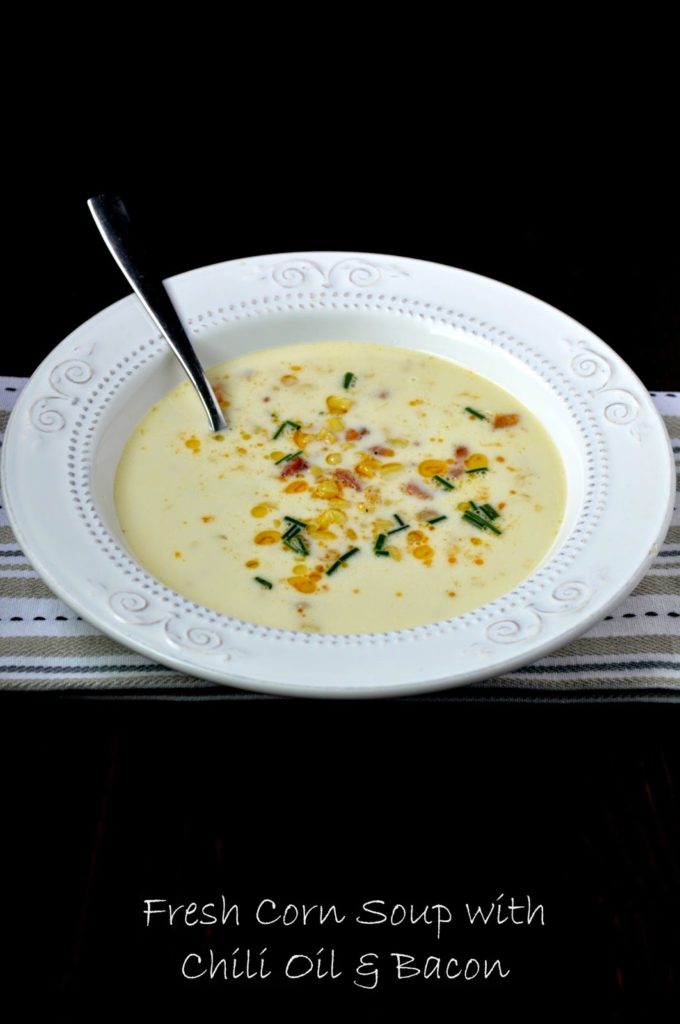 As beautiful as Fall is and as much as my family and I enjoy it, a part of me is holding on to Summer and the official week or so we have left.  We are still enjoying the bounty our Summer favorites like tomatoes, corn, and cucumbers!
Growing up in the outskirts of Philly, my dad grew a HUGE garden.  The largest in our neighborhood.  I wish now that I had paid more attention.  Lucky for me that living in Bucks County, Pennsylvania means that I have a ton of farms, farmers markets to choose ingredients from.
Nothing says makes me think of childhood summers or a quintessentially American food more than corn.  I know many concerns exist about just what is in our corn these days so as a family, we don't eat it too often.  When we do I make sure we enjoy it at its peak.
This special soup celebrates all of the above for me and being able to get local PA or NJ corn makes it even better.  My whole family enjoys this corn soup.  Usually, I go for thick soups, this one is more elegant and you taste the deliciousness of corn bite after bite…and bacon…bacon always makes me happy!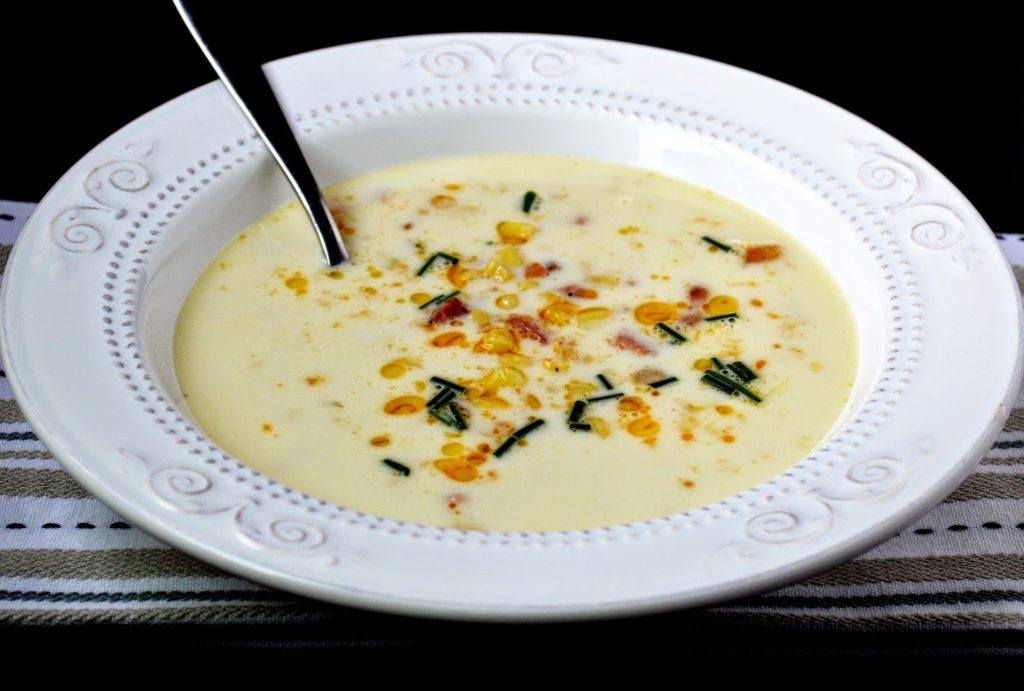 I was going for a more elegant soup and purposely wanted a thin broth for something different. I wanted to taste the corn and by using corn at its peak this soup delivered!  If you are looking for a thicker soup, you may want to cut the kernels off of the corn in the first stock, then puree them into the soup however I am not quite sure how that would be. If you love soup as much as I do, here are 2 of my favorites that I am very proud of to try: Easy Chicken Pho, Roasted Zucchini & Cheddar Soup and Garlicky Tortellini & Tomato Soup.

Fresh Corn Soup with Chili Oil And Bacon
6 ears of corn cut into thirds
3 cups water
3 cup milk
1 1/2 TBS Kosher salt
1 tsp peppercorns
Simmer corn for 30 minutes over medium heat.  Strain broth and set aside.
Step 2
4 ears of corn (kernels reserved)
1 cup whole milk
2 cups half and half
1/2 TBS Kosher salt
Cut kernels from the cobs and reserve, covered.  Cut cobs in half and simmer over med-low heat in the milk for 20 minutes.  Set aside and allow the cobs to soak for 30 minutes more.
Step 3
3/4 cup cubed bacon or pancetta
2 shallots, minced
Reserved corn kernels
Chives
Chili Oil
2 TBS snipped chives
In a saute pan, saute bacon/pancetta till just-crisp.  Remove from pan and set on paper towel.  Add shallots and corn to the skillet and bacon grease and saute for about 5 minutes or until the corn is done.  Season with salt and pepper.  Set aside.
Meanwhile, combine both broths and bring to a boil, reduce by 25%.  Taste and adjust seasoning (add a small amount of red pepper for a bit of heat if so desired).  When ready to serve, ladle broth into bowls, place corn, bacon and chives in the center, drizzle with a small bit of chili oil and serve (hot).
Enjoy!