Made famous by New Your City's very popular Serendipity 3, this take on a Frozen Hot Chocolate Recipe will excite any chocolate lovers taste buds!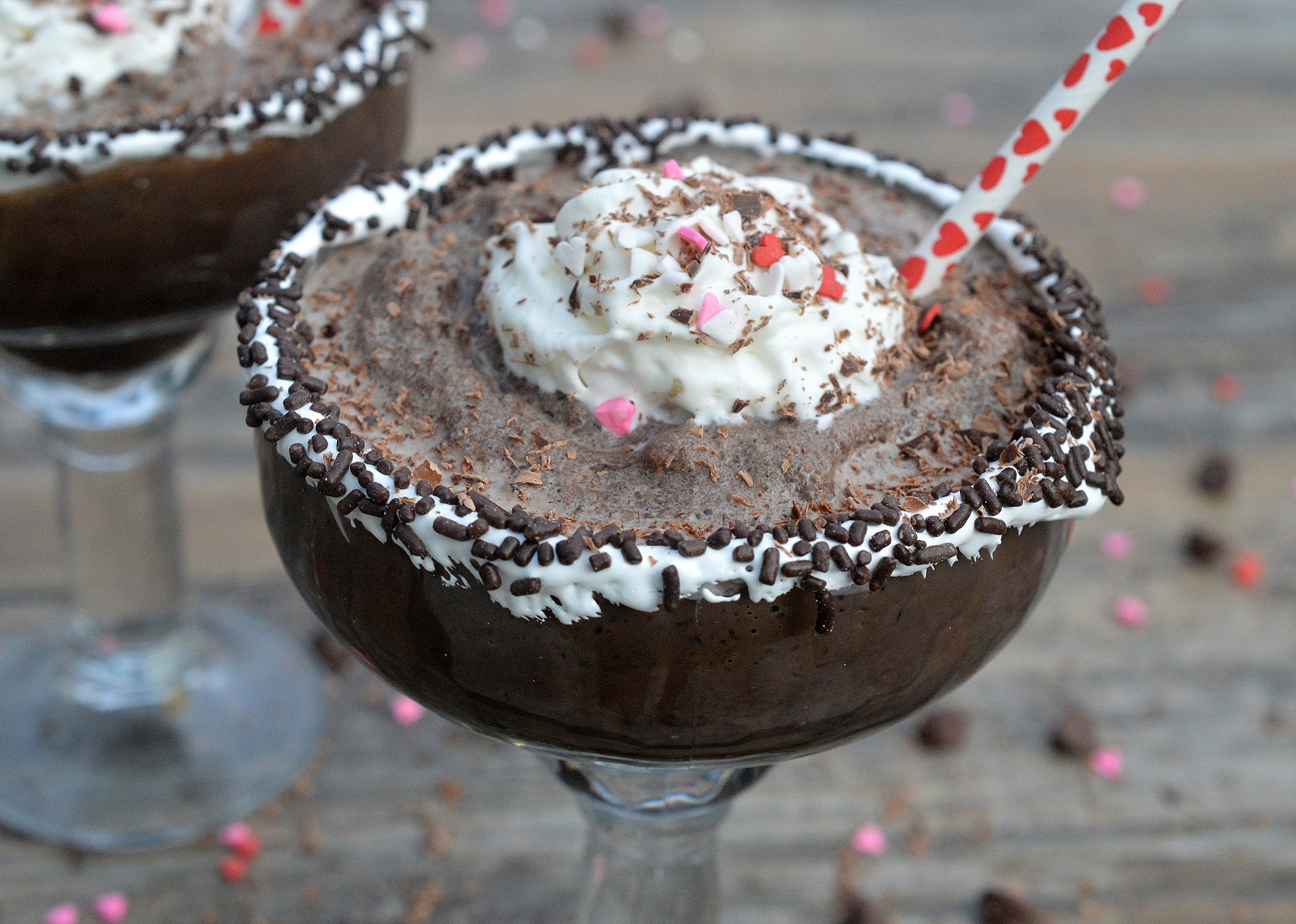 Have you been to Serendipity 3 in NYC? It's been a favorite of so many over its 64 years. The one treat from their vast menu that everyone from Marilyn Monroe, to Cary Grant to Kim Kardasian and Justin Bieber craves is its Frrrozen Hot Chocolate. So in honor of its 25 millionth being sold, I decided to share my take on a Frozen Hot Chocolate Recipe.
What better way to make this Frozen Hot Chocolate recipe at home than with a truly delicious and good-for-you milk! Today I teamed up with Maple Hill 100% grass-fed organic milk and dairy. Maple Hill's 100% Grass-fed organic milk and dairy products are better for you, better for cows, better for farmers and better for our land.
Did you know that milk from grass-fed cows (versus cows that consume a grain-based diet) is higher in the essential fatty acid alpha-linolenic acid (ALA), an omega-3 fat that reduces inflammation in the body and has been tied to a lower risk of heart disease, stroke, and type 2 diabetes? Plus, grass-fed milk has double the omega-3 fat content as conventional milk.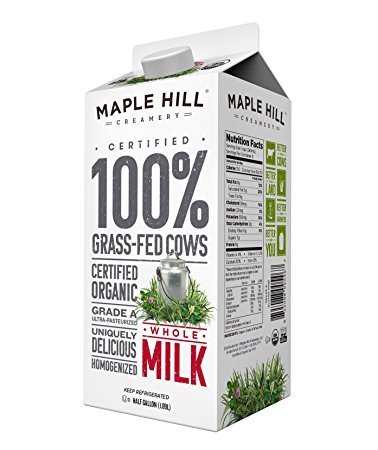 Maple

Hill

is America's original 100% grass-fed dairy
It started with Tim & Laura Joseph, 63 dairy cows on 250 acres in upstate New York.
The first product they made with their milk was yogurt, a recipe perfected on their stovetop.
Eventually they had to expand to a small facility to make their yogurt… and the story takes off from there.
Now

Maple

Hill

now procures milk from 150 farms in upstate NY. All family-owned and operated, with 30-60 cows on each farm.
The cows on these farms are treated like family. They each have a name, a personality. (Love that!!)
Maple Hill now makes many 100% grass-fed organic dairy products – cream on top yogurt, greek yogurt, drinkable yogurt, kefir, variety of cheeses and whole milk and 2% milk.
Coming soon! Maple Hill 100% grass-fed organic milk and dairy is launching a brand new traditional style blended yogurt (this month) and Chocolate Milk will be launching soon as well! Yum!!
Check out the Joseph family's amazing story here.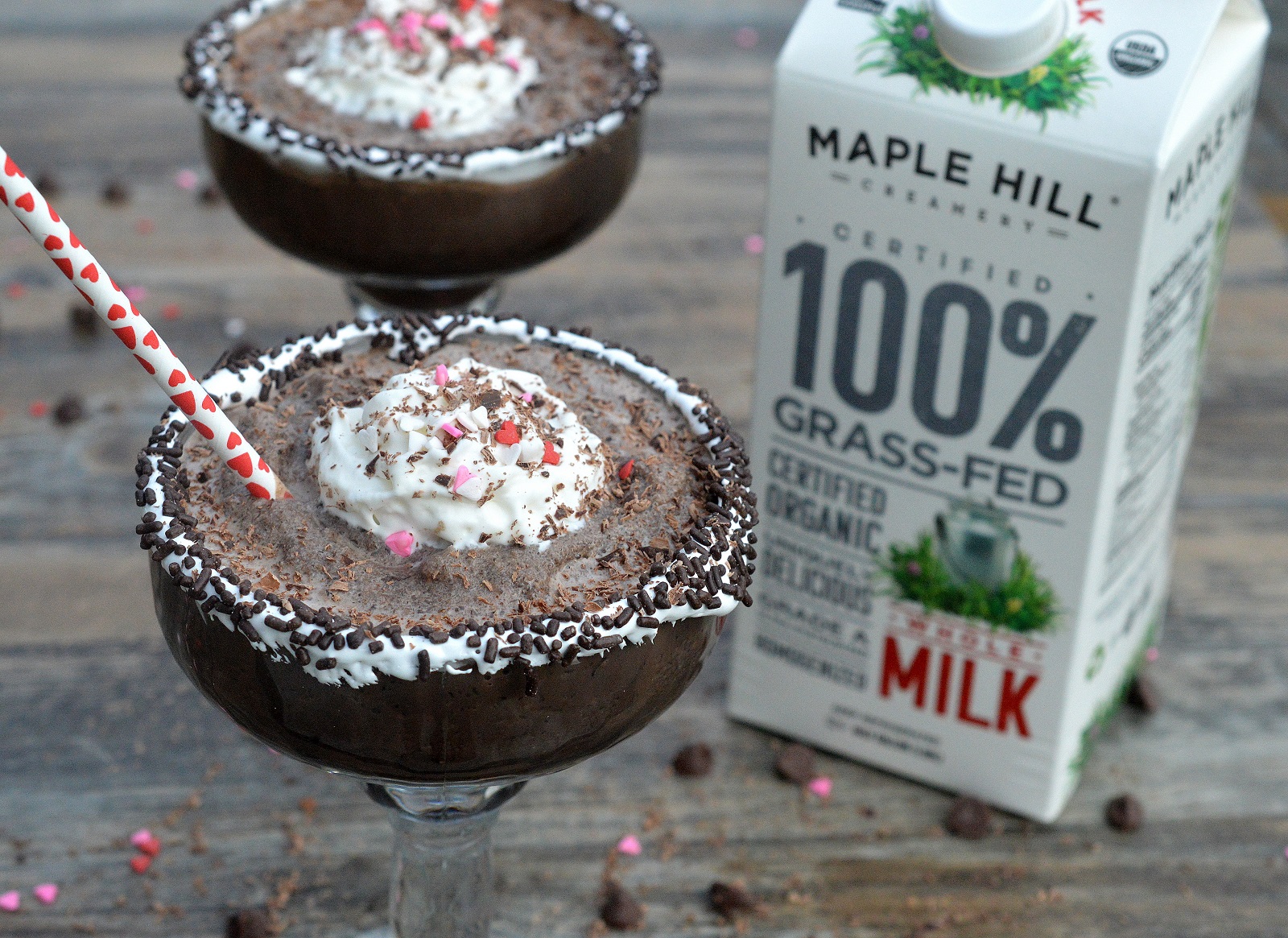 Facts about 100% grass-fed organic
Eating an exclusive diet of grass, cows are healthier, they do not experience the digestive problems as cows that eat grain may.
100% grass-fed cows live 2-3 times longer than cows fed corn and grain – living 8-10 years, compared to just 3 or 4 years for a traditional dairy cow who is culled after milk production drops.
Not only do they live longer, but 100% grass-fed cows have more healthy fats in their bodies. Which means their milk and dairy products made from their milk are healthier, too!
100% grass-fed dairy products have higher naturally occurring levels of beta-carotene, omega 3's and CLAs- a healthy omega 6.
100% grass-fed dairy farms are also better for our earth.

Maple

Hill

farmers grow all the organic grass and hay they need to feed their cows. They are not trucking in grain and corn, which drastically reduces the carbon footprint. And left to eat the way nature intended, cows are the most efficient and effective tools for igniting life back into the soil.
Not only are

Maple

Hill

's products grass-fed, but they're certified USDA and PCO organic, and GMO-free. You'll taste the difference as soon as you try it!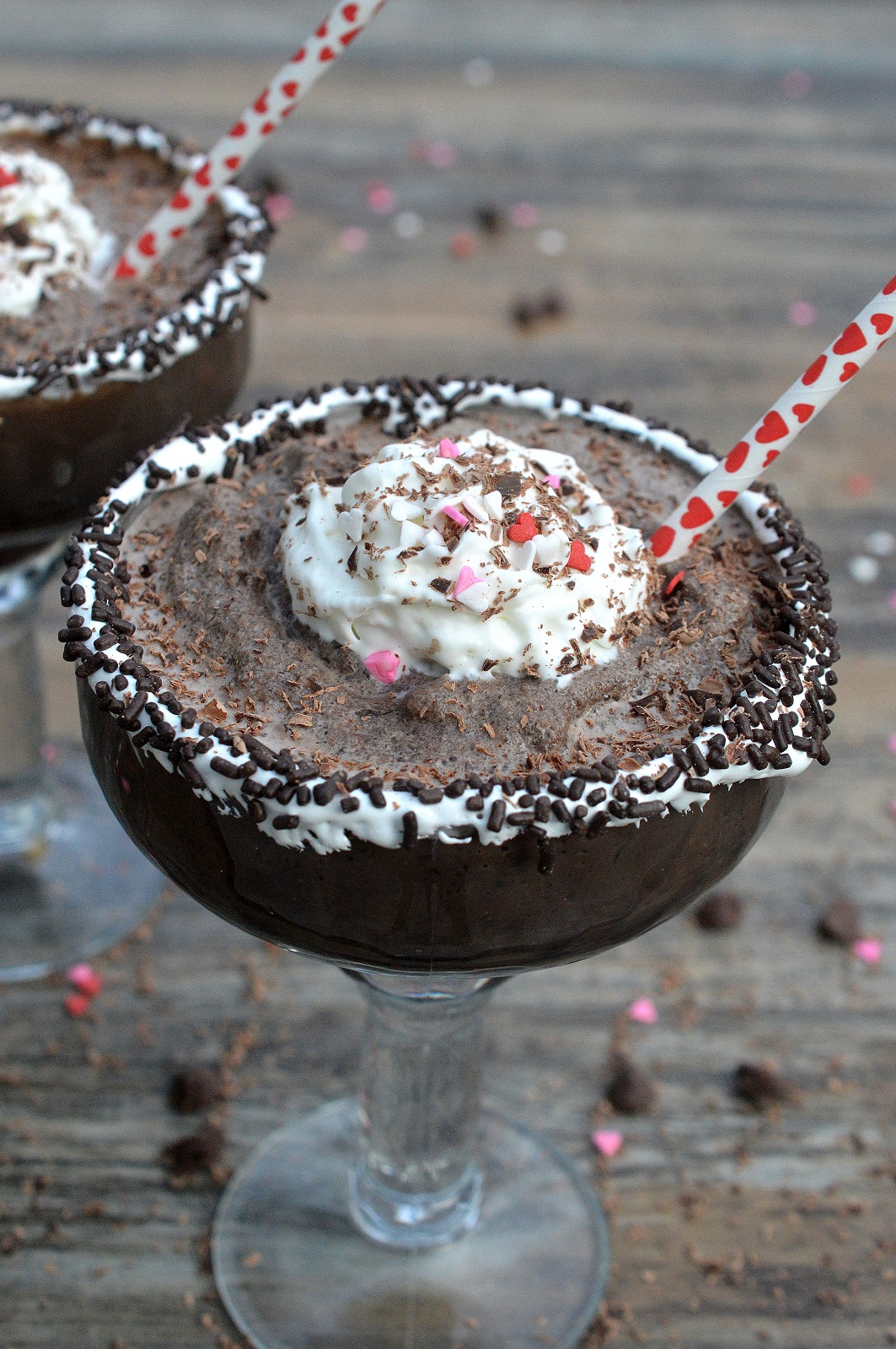 Making this Frozen Hot Chocolate recipe isn't hard, and doesn't require much time on your part. You start by making a chocolate base, then chilling it for as long or as short as you like. It all depends on how thick you want your drink to be.
It's all about enjoying the flavors of a hot chocolate, icy cold. And let me tell you it's soooooo good! When a friend first mentioned her (and her family's) love for Serendipity 3's Frozen Hot Chocolate to me years ago, I just shrugged it off. That is until I took my kids there and it blew my mind! She was right! And "I" am not even a chocolate lover, I lean towards caramel, cooked fruits and creme brulee.
The original is huge! The drink comes with a straw and a spoon. It's speckled with ice crystals and it's just delicious. Very different from a chocolate milkshake. I once saw a write up about it in a NY magazine that said:
"Serendipity 3 has one chilly bowl of magnificence that would render the place a must-visit even if it was served atop a Dumpster. Frozen Hot Chocolate — please don't try to make sense of it, just sip it, slowly — is what Cristal might taste like if it came in a flavor called fudge brownie. You have to do it at least once in your life "
Jackie Kennedy once asked for the recipe and was denied. Many a celeb is smitten with this icy-delicious beverage!
If you are curious about a Frozen Hot Chocolate and don't want to travel to NYC, wait in a long line, then get packed into a tiny, tiny place (really, the place is small) or part with quite a bit of cash by the time the visit ends….all you need are a handful of ingredients and a blender!
Make it! I tricked this one out with a marshmallow fluff rim loaded with chocolate jimmies, because…why not??
Let me know if you make this! Tag me on social media with your creation at @SouffleBombay
Thanks to Maple Hill 100% grass-fed organic milk and dairy for sponsoring today's post! Visit them on Facebook & Instagram for news, specials, recipes and more!
Enjoy!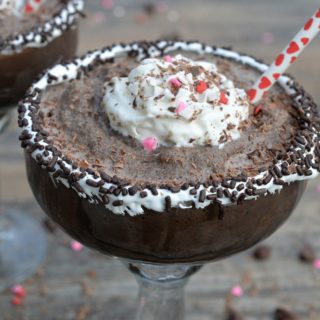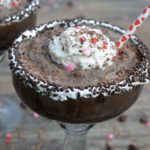 Print Recipe
Frozen Hot Chocolate Recipe
Ingredients
2 1/4

cups

of whole milk

divided

6

ounces

semi-sweet chocolate or chocolate chips

1/4

cup

sugar

2

pinches

salt

2

TBS

cocoa

I use Hershey's Special Dark

3

cups

crushed ice

Marshmallow Fluff

for riming glasses optional

Chocolate jimmies

for riming glasses optional

Whipped Cream

Chocolate shavings
Instructions
In a saute pan or small pot, combine 1 1/4 cup of milk, chocolate, salt and cocoa. Whisk over med-low heat until smooth (do not simmer).

Remove chocolate mixture from heat, pour into a small bowl or glass measuring cup, place in freezer and chill for at least 3 minutes, and up until overnight.

When ready to assemble the Frozen Hot Chocolate, rim your glasses in the marshmallow fluff and dip into the chocolate jimmies or shavings (if you choose). I do this by spreading some fluff on a plate and rolling the rim of the glasses onto it, then pouring jimmies onto a small plate and doing the same. It's just fun!

Place ice in your blender, add an additional cup of milk, add chocolate mixture and blend until ice is mostly crushed (you only want small splinters of ice).

Pour into your prepared glasses, add a dollop of whipped cream and enjoy!!
Notes
You can make your chocolate mixture and cool it in your freezer for 30 minutes, however, I personally enjoy allowing the mixture to freeze. Then scraping it onto the blender. This gives the Frozen Hot Chocolate a thicker consistency. If you do allow it to freeze, submerge your glass measuring cup or bowl in some warmish water to allow the mixture to release. I use a butter knife or spoon to "pop" it out and into the blender.
Trick this delicious drink out any way you desire.
Best made with whole milk.
Nutrition