Fruit Jewels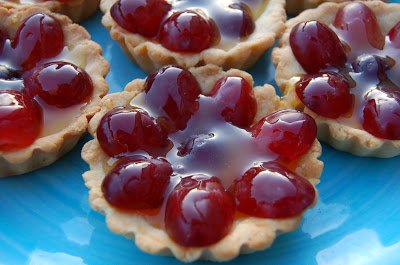 It's rare that I cook or bake something without my kids, asking to help (insert huge smile here). My daughter especially is both completely excited by at the prospect of cooking or baking up just about anything as well as quite competent at it.
She is now 7 and she is my cooking co-pilot!
The other day we made something we haven't in quite a while. Both of my kids had been asking for these recently, so we got down to business!!
I was introduced to these pretty little treats by my next door neighbor, Amanda, a number of years ago. Amanda is a super-mom! She home schooled her kids for a couple of years, can take on any home imporvement project inside or out with success, loves power tools, grows an awesome garden, and never cares just how many kids end up a her house (and believe me…tons are always there)! As a matter of fact…Amanda is one of my partners in Picture Me Cooking (my cookbook for kids) and this recipe was one of her contributions to the book. Her family enjoy's these best with banana slices.
My family prefers grapes. Other fruits we have used include strawberries, blueberries and Mandarin oranges. It's fun to mix them up and they are just so pretty! My kids are crazy for the cookie crust.
Samantha hard at work pressing the dough into the molds, something little hands do well.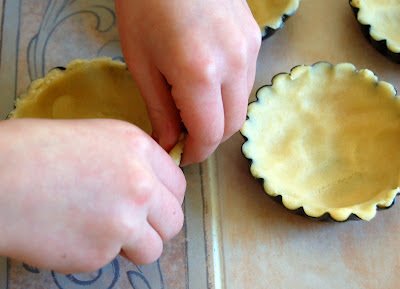 Fruit Jewels
-Picture Me Cooking
1/2 cup sugar1 stick of butter, room temperature
1/2 cup sugar
1 egg yolk
1 TBS orange juice
1 tsp vanilla
1 3/4 cup flour
1 1/2 cups sliced or whole small fruit
Preheat oven to 350 degrees.
In a medium bowl beat the butter until fluffy, add in the sugar beating until light & fluffy. Add in the egg yolk, OJ and vanilla. Mix until a dough-like ball forms. Press balls of dough into your 2-3 inch tartlet molds or a cupcake pan then bake for 15-20 minutes or until lightly browned.
Orange Glaze
1/2 cup sugar
3 1/2 teaspoons of cornstarch
1 cup of orange juice
Mix sugar, cornstarch and OJ in a small pot, stir until smooth. Bring to a boil, stirring constantly. Boil for 2 minutes, until thickened. Cover and cool.
Fill tart shells with your chosen fruit, sliced accordingly. Spoon cooled glaze over top. These are best the day you make them.
Enjoy!!