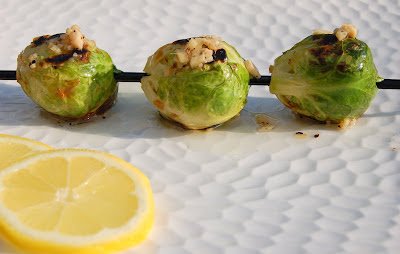 I just love this time of year…the grilling, the outdoor parties, the picnics and the fires at night all make it so fun!
I love food, so anytime I can cook and or eat my food outside…well that just brings it to a whole new level! Can you see me doing the happy dance? Really…I am!
In addition to meats, I love using the grill for fish, seafood, veggies and fruits. For me, vegetables in particular take on amazing flavor when grilled.
As a kid, I wanted nothing, and I mean nothing , to do with brussel sprouts! If I even had a hint they were about to show up for dinner…I started to turn green myself. Well, I found out years later that was because my parents only served them boiled or from a bag (ouch). It's a whole new world when you roast brussels at a high temperature in the oven or pan fry them (especially with a bit of bacon or pancetta, fan-tastic). They have a whole new flavor and texture, trust me!
So with my love of the grill and my husbands and my enjoyment of brussel sprouts, I wondered about grilling them…and boy was I happy that I did! They were delish and will be a regular part of my griling rotation going forward.
Head on over to Char-Broil Live where I am one of the Char-Broil All Stars to see this recipe as well as fantastic ideas and recipes for your grill this grilling season!
Happy Grilling!