Grandpa's Pasta Pockets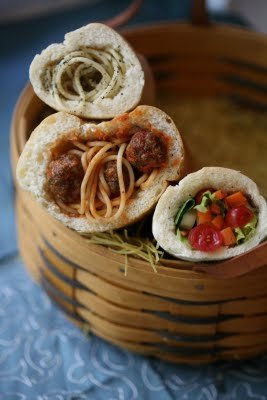 MANY years ago after coming home from a trip to the Jersey shore, I turned to my husband and said "Let's move to the shore!!" He said "what will we do for jobs?" I said "ummm let's open a Boardwalk food stand…we can sell Grandpa's Pasta Pockets!!"
He was like…"what are you talking about"!
He knew I had never met one of my grandfathers, both had passed away before I was born. And he thought, just what the heck was a pasta pocket?
You see, my husband had a habit of digging out the insides of French or Italian bread and eating it that way and one day, I filled the insides of the leftover bread shell with his favorite pasta and a whallah Grandpa's Pasta Pockets were born…well at least in MY head anyway lol!
I remember thinking…why not, I love the name, it's not fast food, folks LOVE pasta, you can fill the bread with so many things from pasta to salads to meats and it's fun! I had him sold on the idea!
Well of course we never did move to the shore or opened the stand. However, many years later I did include Grandpa's Pasta Pockets in the children's cookbook I wrote, so in the end I was satisfied.
My kids LOVE eating their pasta this way. These are great when you are on the go, for a picnic or to please a crowd of kids….and let me tell you adults dig them too, especially if the bread is fantastic!
Grandpa's Pasta Pockets
2 fresh French bread or Italian loaves
Pasta of your choice
Halve your bread. Hollow out the inside of the bread halves to make the pockets. Do your best to keep from putting holes in the roll.
Fill with your favorite pasta!
Note: Push the pasta mixture down into the bread pocket to allow more spaghetti to fit inside.
Once hollowed out, you can stuff your bread with any pasta. Try it with a butter sauce, olive oil, pesto, tomato sauce or anything you like. Go all out and add sausages and peppers, chicken, or mini meatballs. You can even throw in a Caesar or mixed green salad tossed with dressing. You are only limited by your imagination 🙂
Have fun with these!