Grape & Goat Cheese Bruschetta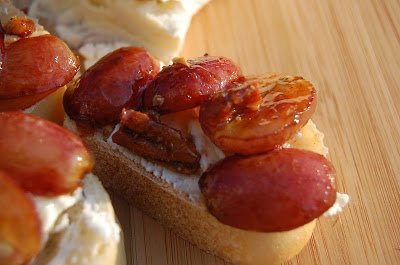 I had a get-together recently and as I was planning what apps I wanted to make, I immediately thought of one of my very favorite apps – Honey Goat Cheese Stuffed Grapes. Knowing I didn't have much time that day, I thought – how can I get a similar flavor but save time?
I ended up sauteing grapes and putting them over goat cheese – bruschetta style. I also put some over a goat cheese log the next day, I drizzled it with some balsamic reduction and mmmmm!. This were both great bites plus it was different, simple and easy!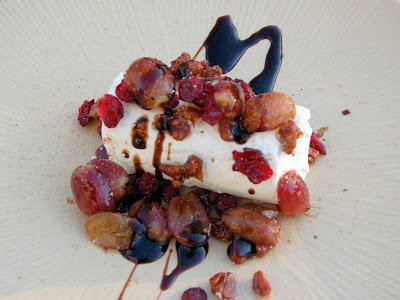 One reason it was a hit was I used one of my favorite spices EVER Chicago Old Town Premium Sugar from The Spice House.
My friends…THIS is worth EVERY penny it is amazing and you will find uses for it everywhere from toast to, breakfast to desserts! It's the addition of Cardamom that makes it incredible I think!! In January I will be having a fun giveaway of some of my favorite things and THIS sugar will be one of the giveaways and you will thank me!!! Love, love love it!
Now I hope I didn't make you feel bad if you don't have this sugar – don't worry you can still make these apps 🙂 Just combine some sugar, vanilla and cinnamon (and if you have it Cardamom) and your good to go!
Grape & Goat Cheese Bruschetta
1 loaf French bread, sliced thin
About 40 seedless red grapes, halved
1 tsp olive oil
1 tsp Chicago Sugar (or make your own version by combining 3/4 tsp sugar, a dash of vanilla, a few shakes of cinnamon, a dash of red pepper and if you have it a couple shakes of cardamom)
6 to 8 ounces of goat cheese, room temperature
1/4 cup sugared nuts
Honey for drizzle
Saute grapes in a bit of olive oil over med-high heat for about 3-4 minutes. Remove from heat and sprinkle in flavored sugar, tossing well until grapes are evenly coated. Set aside. Combine goat cheese and honey in a small bowl and mix until incorporated. Spread your bread slices with goat cheese mixture, top with grapes and a little bit of sugared nuts. Drizzle with a bit of honey if you like and serve.
* I actually made the grapes about an hour prior to when I planned on serving them. Left them in the pan and reheated them and they were perfect 🙂
To make quick sugared nuts Combine 1/4 cup of chopped pecans or walnuts with 2 1/2 TBS of white sugar, a dash of red pepper & a dash of cinnamon in a frying pan. Over medium heat, stir gently until the sugar melts and becomes syrup-like. Remove from heat, stir well and turn out on a piece of parchment or waxed paper. Let cool, break apart and store in an air tight container. I love these over a salad as well.
Enjoy!