Grilled Chicken Salad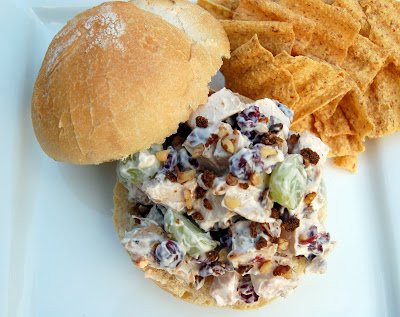 I love a good chicken salad. I am a white meat chicken girl, and I think that is one of the reason my husband and I get along…lol.
He is digs the dark meat, and the white me at is all for me and the kids!
We are opposites on wine as well…he is red and I am white…that one is a bit more difficult…especially if when out we are looking to order a bottle (which means 2)…no driving for us in that situation. So ordering a bottle of wine is reserved for vacations when no driving is necessary – or at home!
Out, we stick to a cocktail or two!
This is one of my favorite sandwiches, and I often set aside a piece of grilled chicken from a dinner for a sandwich for one…I don't care if it has BBQ sauce on it, if it's been heavily seasoned with some good spices or has been marinated – in the end it just makes the sandwiches all the more interesting!! I enjoy using Jerk Chicken for this as well…man I am getting hungry typing this!!
I hope you love this chicken salad as much as I do!!
I often pack this for a day on the beach!
Col's Grilled Chicken Salad
4 boneless chicken breasts
1/2 cup sliced grapes
1/4 cup sugared nuts
1/2 cup cranberries
Mayonnaise to your taste
S&P
Sprinkle your chicken with a bit of salt and pepper then grill you over medium-high heat until done, approximately 6-8 minutes a side for a 4 oz piece.
Time will vary according to the size chicken used.
NOTE: You do NOT want to use the thin slices of boneless breasts for this.
In a large bowl. combine 1/2 cup mayo, the grapes, nuts and cranberries, mix it up and set it aside.
Once the chicken is done, let it rest for 10 minutes on a plate.
Slice the chicken in to cubes for your salad.
Dump the chicken and any juices into your prepared mixture. Stir until incorporated.
Adjust mayonnaise to your liking, chill until ready to use.
For a sweeter salad go ahead and add a bit of honey as you are tossing it together, if you are looking for a little kick instead and a few dashed of red pepper.
To make sugared nuts combine 1/4 cup of chopped pecans or walnuts with 2 1/2 TBS of white sugar in a frying pan. Over medium heat, stir gently until the sugar melts and becomes syrup-like. Remove from heat, stir well and turn out on a piece of parchment or waxed paper. Let cool, break apart and store in an air tight container. I love these over a salad as well.
Enjoy!!
Colleen