Grilled Eggplant, Tomato & Mozzarella Stacks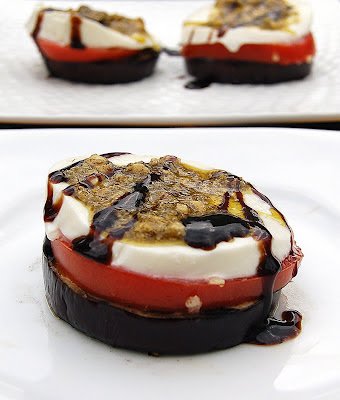 Ooooh Baby! This is one of those oh so simple dishes that can either be a great side dish or a excellent main course…I just LOVE the flavors. This came about one evening while I was digging about to see what I had on hand to make a meal.
The key to a dish like this is cooking in season. Grab a beautiful eggplant, a perfectly ripe tomato or two, some amazing mozzarella and a few leaves of basil and you will be on your way to not only a beautiful dish but an amazingly tasty one as well! Plus it's nice and light too!
Grilled Eggplant, Tomato & Mozzarella Stacks
Marinade
1 1/2 TBS minced garlic
Kosher Salt & pepper
1/4 cup olive oil
Stacks
1 Eggplant, sliced into rounds about 1/2 inch thick
2 big tomatoes, slices into rounds about 1/2 inch thick
1-2 Mozzarella Balls, sliced into rounds about 1/4 of an inch thick (depends on how large your eggplant is)
Enough Basil leaves for each stack
Pesto
Balsamic reduction
Mix your marinade in a small bowl and allow it to sit while you prep your stacks, be a little liberal with the salt and pepper.
Brush your eggplant and tomato rounds liberally with the marinade on both sides, and sit them on a plate or cutting board. Grill your eggplants over medium high heat for approximately 4-5 minutes, then turn. Watch your eggplant closely if your like me and not a fan of mushy eggplant. Place a tomato slice atop each eggplant round and cook for about 3 minutes. Place a basil leaf, then your Mozzarella slice atop each stack and grill for another 1-2 minutes. Gently remove from grill and spread a bit of pesto atop each stack, drizzle with a bit of balsamic reduction and dig in!
Enjoy!!